JOE CHADIC IS NEW V8 RANCH HERDSMAN
V8 Ranch has selected Joe Chadic as new herdsman for the 77-year-old program that is one of the largest and most decorated herds of registered Brahman cattle in the world.
"We are pleased to announce that Joe Chadic will be the next herdsman for our family owned operation. We feel he has the knowledge, background and character that we want in our team members and he brings valuable work and communication skills that will be used daily as he works with our show cattle and interacts with our customers, youth, and fellow breeders. He is the next in a long line of tremendous men who have served as V8 herdsmen and we look forward to introducing him to the Brahman world," said V8's Jim Williams.
Chadic brings a broad range of work and educational experiences to the position.  He is a 2015 Texas A&M University graduate with a bachelor's degree in Rangeland Ecology and Ranch Management. He most recently served as a division foreman of IX Ranch, where he managed the day-to -day operation of a 400 head herd of three-year-old calving cows, the production of 10,000 plus round bales of hay annually, and oversaw the employees.
CHADIC BRINGS EXTENSIVE CATTLE EXPERIENCE
Prior to that, his work experiences included managing an all natural beef and backgrounding cattle operation, and along with the cattle and hay management, tracked and coordinated the meat inventory and product sales to local vendors. In addition, he trained and taught youth at the Christian horse camp, Sky Ranch.  He also was an assistant ranch manager at DHI Ranch in West Texas, a hunting and cattle ranch that hosted over 400 guests a year.
Chadic grew up in South Texas, where he showed Santa Gertrudis cattle, which set the foundation for his educational and career choices.
"I'm excited about joining the V8 program and working alongside the Williams' family to continue building upon the ranch's historic and winning foundation," said Chadic.
Joe and his wife, Laura will make their home in Iago near the ranch.
V8 Ranch welcomes Joe to our family operation and we invite you to visit with him at the upcoming shows or the next time you visit V8.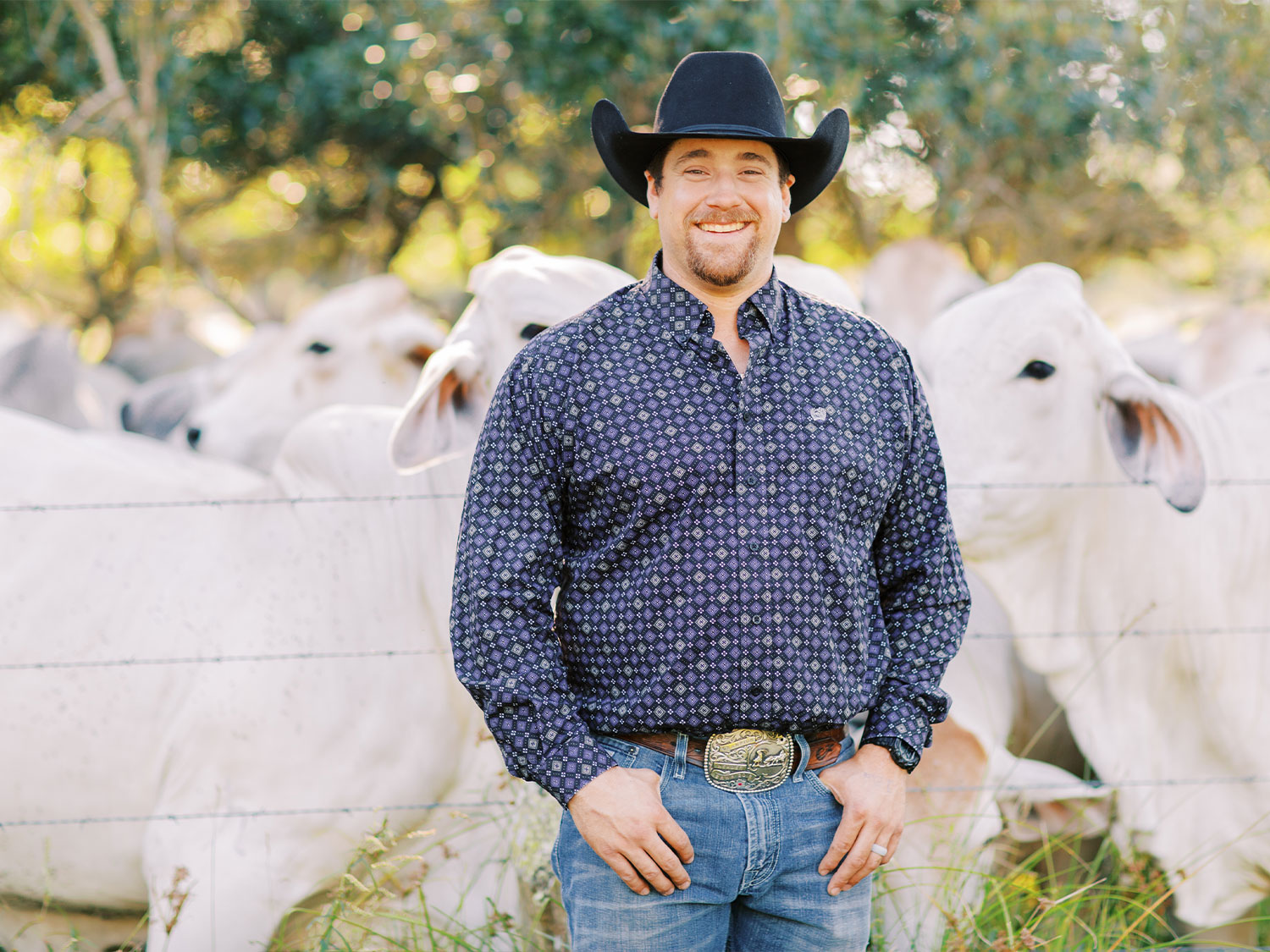 New V8 Ranch Herdsman
Joe Chadic