When Sloan and Mollie Williams decided to gamble on their love of livestock and buy V8 Ranch in 1971, they knew just what they were doing. And it's quite the story, too.
Sloan and Mollie Williams both come from deeply rooted Texas ranching families. Sloan's family had been pioneering ranchers in Millican, Texas for more than 100 years. Mollie grew up on the J.D. Hudgins Ranch, and today, we still keep a special place in our hearts for our cousins at J.D. Hudgins.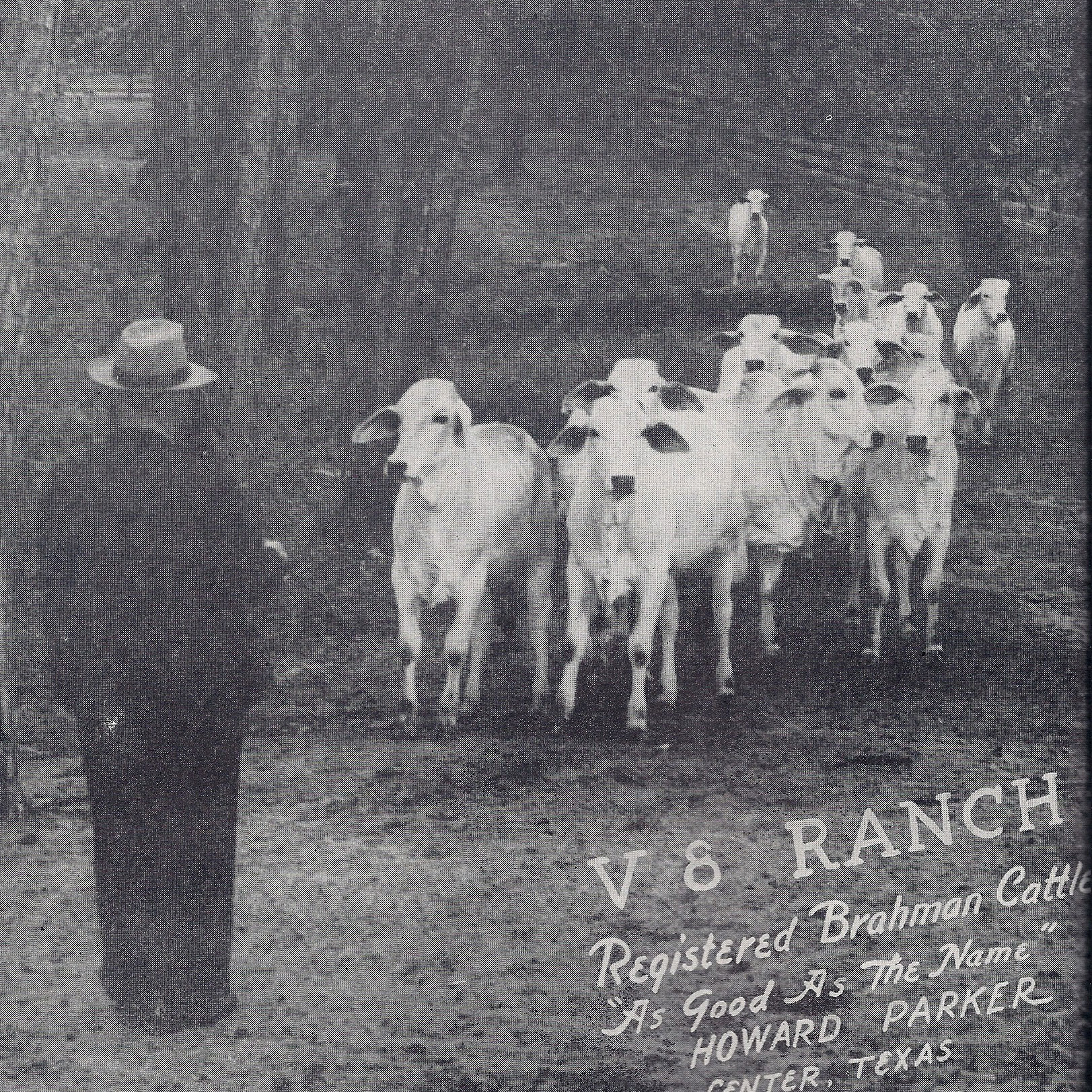 How V8 Got Its Start
Before we can tell you how we got V8 Ranch, we have to tell you how it came to be such a catch. V8 was established long before Sloan and Mollie bought it, back in 1944. It was founded by Howard Parker of Center, Texas. Parker was a Ford automobile dealer and named his cattle ranch 'V8', after the engine. Over time, his herd became well-known throughout the country for its outstanding cow families with gentle dispositions. It's no surprise that today, more than 75 years later, the guiding force behind V8 breeding is still its legendary cow families.
Becoming V8
A Call from Destiny
In 1971, word got out that Parker was looking to sell the V8 herd, brand, and ranch in Center, Texas. It was just one week before Christmas when Sloan heard the news. Even back then, V8 was known as one of the better Brahman ranches in the United States. The cattle were good cattle, and Sloan knew it. Not only was the ranch on the market; Parker wanted the deal to go through before the New Year! Problem was — Sloan was out of town, in New Mexico, on his first (and only) Williams family ski trip.
These were the days before e-mail and cell phones. Communication was going to be tricky, but this was destiny. And, when destiny's calling, you call back. Sloan negotiated the million-dollar deal via a pay phone in Red River, New Mexico. He recruited investors to purchase the real estate from the ranch but acquired the registered cattle herd and V8 brand himself. After his vacation, Sloan relocated the herd to Wharton County, where they've lived ever since. 
Building V8 Ranch
A Family Affair
Building a world-famous ranch takes hard work, sleepless nights, and unwavering dedication. Sloan knew that as the owner of V8, he would need to draw on the talents of his wife and family. After all, ranching is a family tradition, and everyone was happy to help out with the effort.
In 1976, Jim Williams graduated from Texas A&M University with a degree in animal science, and he and his wife Luann returned to the ranch. Jim began work as manager of the purebred Brahman herd, and Luann took over ranch office duties.
Jim has a keen eye for cattle breeding and a passion for Brahman herd improvement—two qualities of a successful cattleman. He quickly began implementing the strict selection and culling guidelines that we still follow to this day. He adopted performance record keeping. He began to assemble what has become one of the most detailed and complete cow herd production histories available on any herd in the United States.
Sloan Williams had the vision to make the ranch internationally known. He and wife, Mollie, traveled to South America, Central America, Thailand and Australia, building strong relationships with other ranching families that we maintain to this day.  Jim and Luann Williams continued that work as international ambassadors for Brahman ranching, traveling worldwide in the 1980's and 1990s.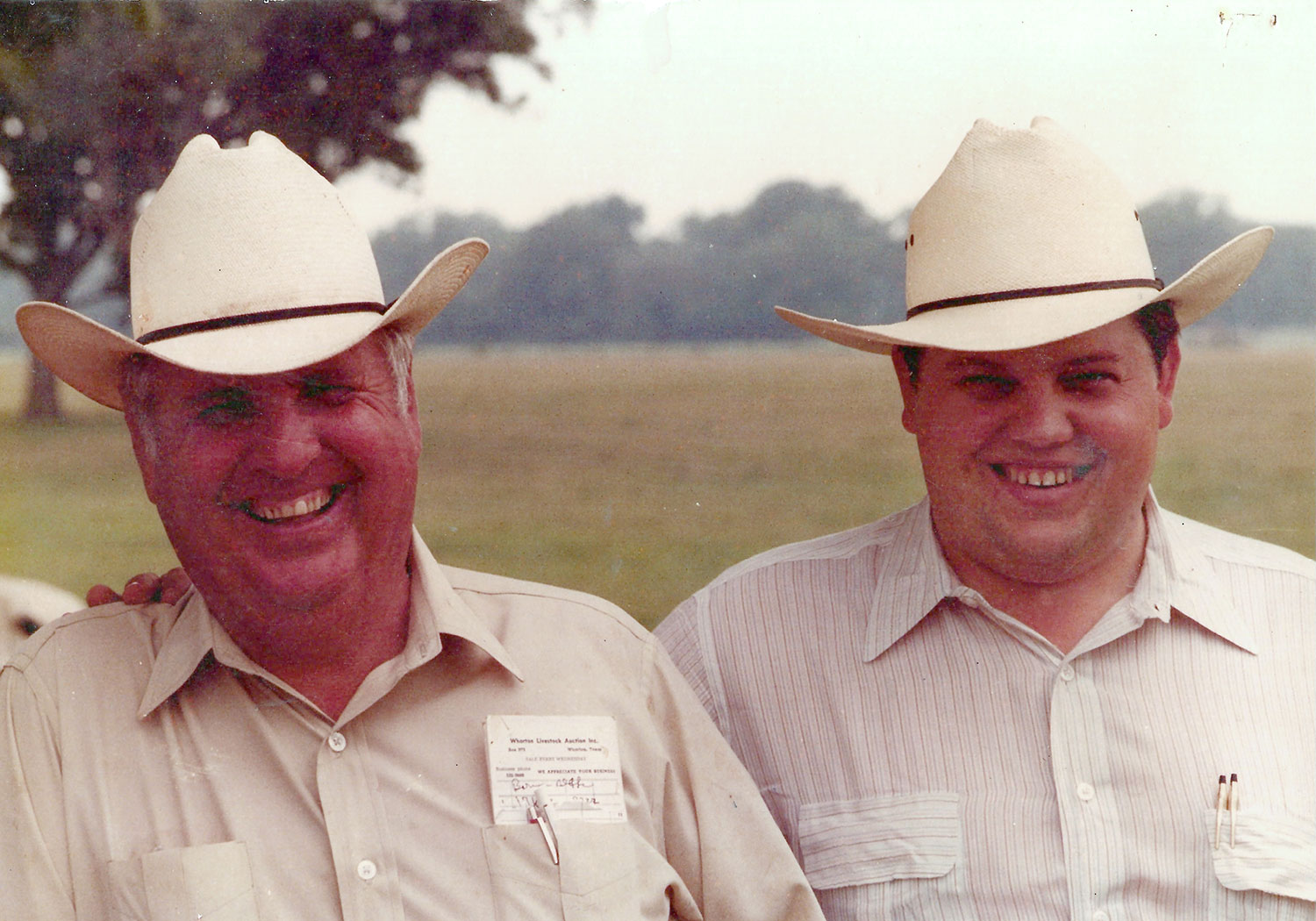 Sloan Williams and Jim Williams, 1979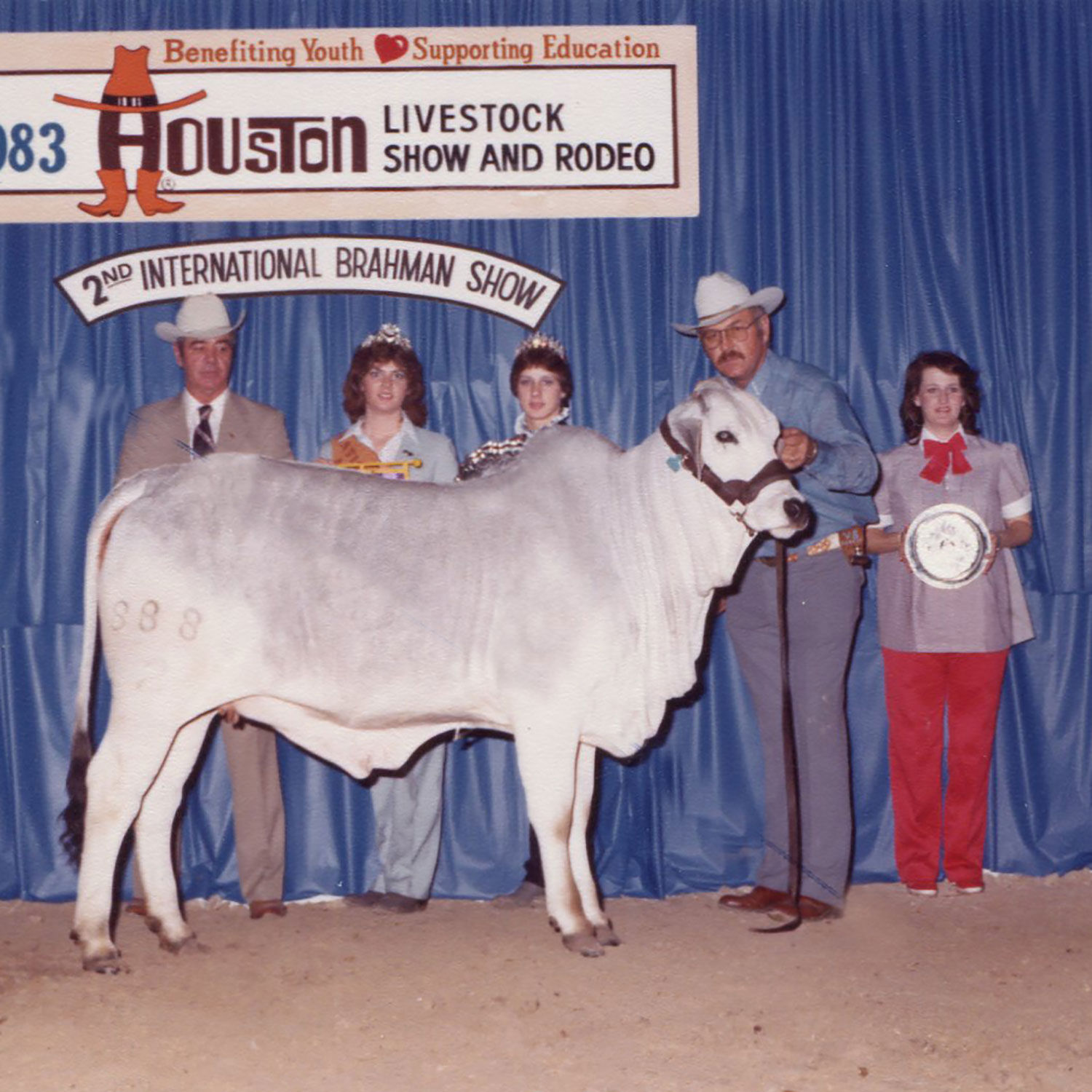 Miss V8 888/2
1984 National Champion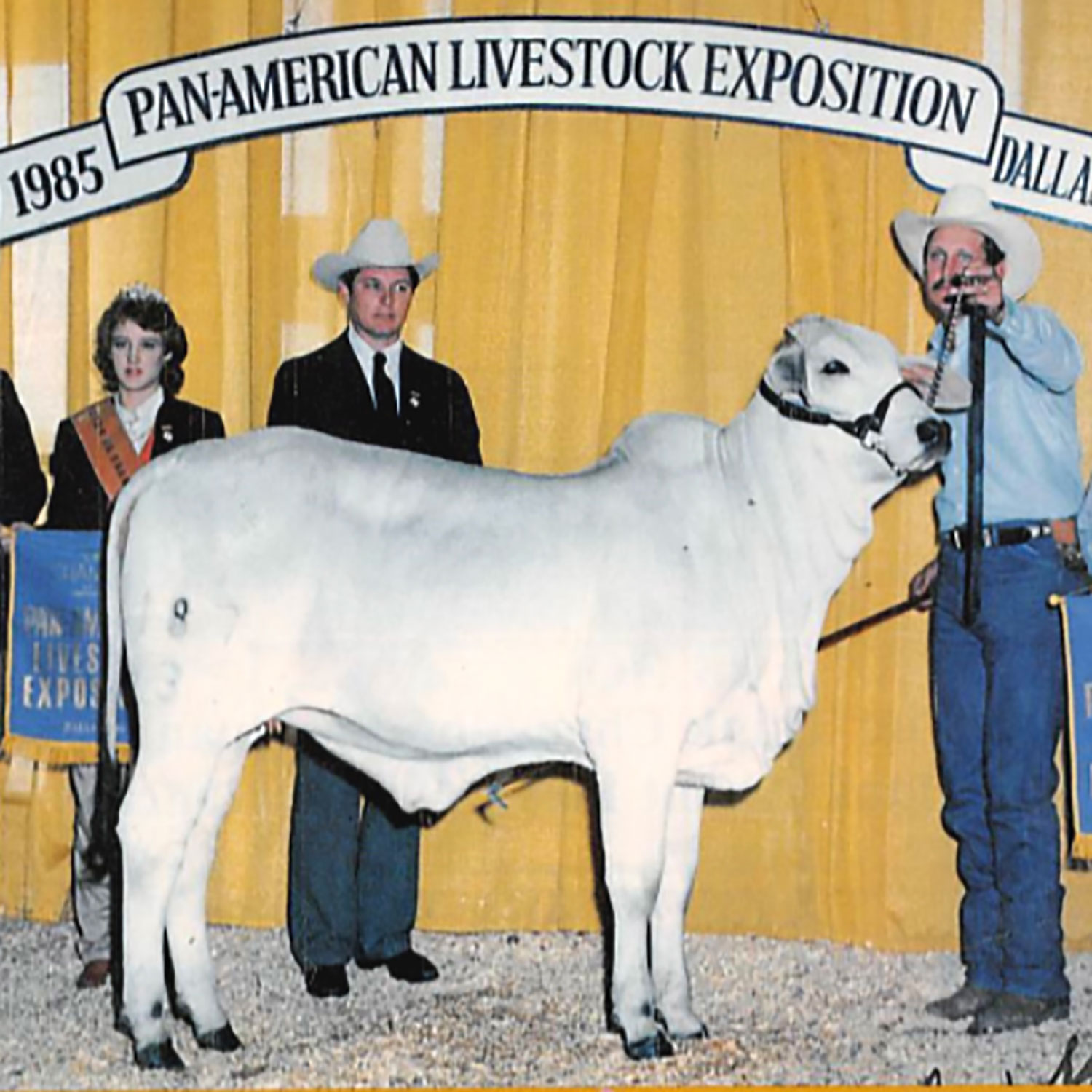 Miss V8 187/3 "Cover girl"
1985 National Champion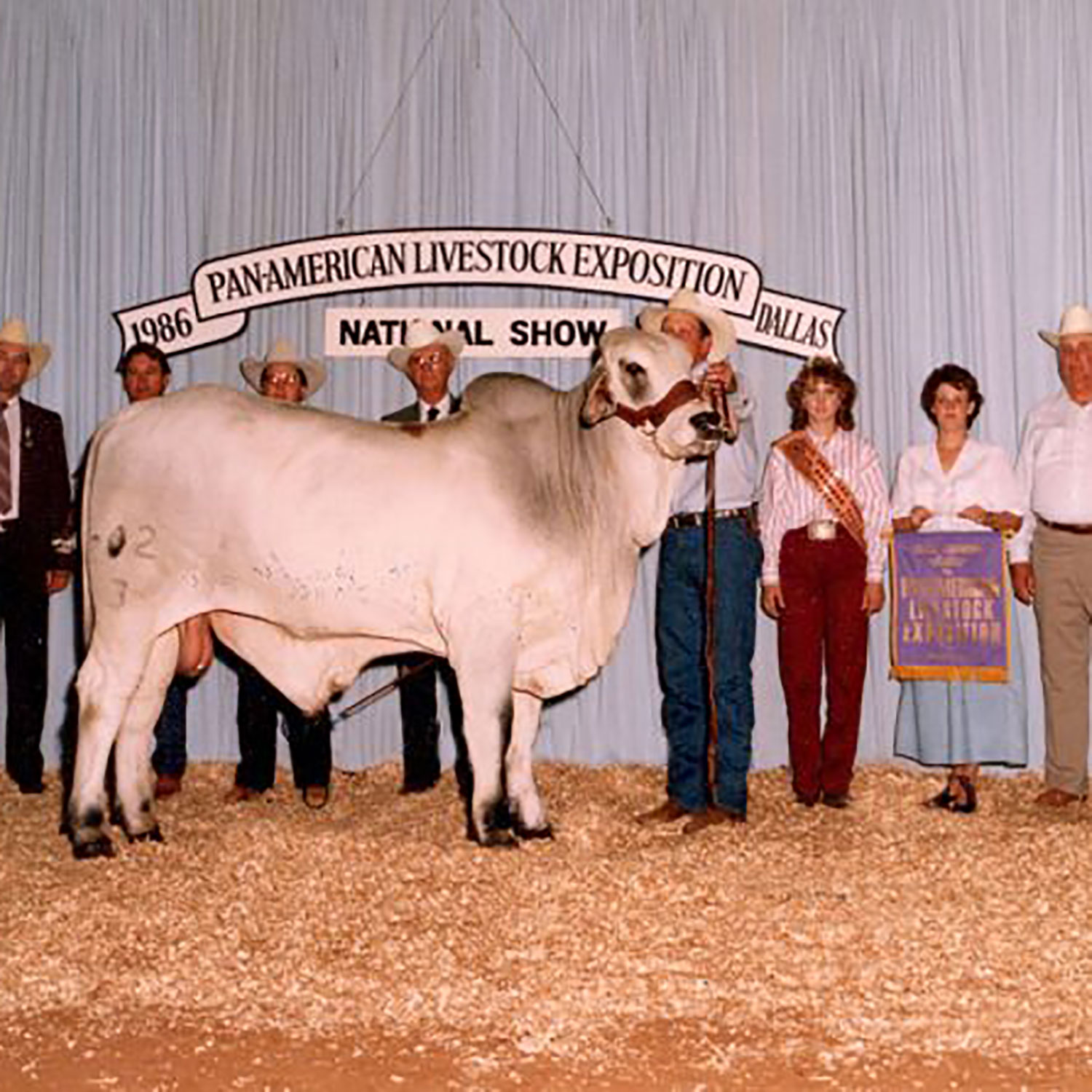 Mr. V8 202/3
1986 National Champion
That V8 Style:
Our Rapid Rise
Although V8 had a high level of notoriety dating back to its foundation in the 1940s; and we exhibited our first National Champion Female in 1976; and our first National Champion Bull in 1979, it wasn't until the early '80s that the ranch really exploded onto the worldwide Brahman scene. Under Jim and Sloan's expert breeding, V8 Ranch became best known for its outstanding cow families.
What made us famous? Our remarkable ability to consistently breed and market large volumes of cattle specifically produced for fertility, conformation, Brahman breed character, and structural correctness. By focusing our energy on developing these characteristics, we unconsciously developed something else: an unmistakable V8 look, carried by our females, that's become recognizable the world over. Breeders everywhere claim they can identify a V8-bred animal without even looking at their brand or pedigree. "It's that V8 style," they tell us.
We hosted our first ranch production sale in 1981: "The Golden Gate Sale." It was a runaway success, breaking six world records for Brahman sales. From then, the popularity of V8 Ranch skyrocketed. 
Always passionate about improving the herd, Jim spent a great deal of time studying the U.S. Sugar Corporation's cattle, and when the herd dispersed in the mid-1980s, we purchased their top animals. One of the females we incorporated into the V8 herd produced (+)Mr. V8 202/3, an elite Vanguard sire and the winningest U.S. Brahman bull of all time. 202/3 launched our legacy of producing championship cattle, one right after the other. Since then, several bulls have had their own eras of success and influence on our herd, including:
+Mr. V8 287/5 "Superstroke," born in 1998, a six-time undefeated International Champion Get-Of-Sire Winner (2001-2006).
+Mr. V8 380/6 "The Machine," born in 2006, the #1 Sire of USA Champions from 2011-2018 and again in 2021 as reported by The Brahman Journal. In 2021, 380/6 moved into the number one position of all time in the Register of Renown.
+Mr. V8 146/8 "Sloan," born in 2017, the breed's only three-time International Champion. We feel that he will lead the next generation of all-time great V8 sires.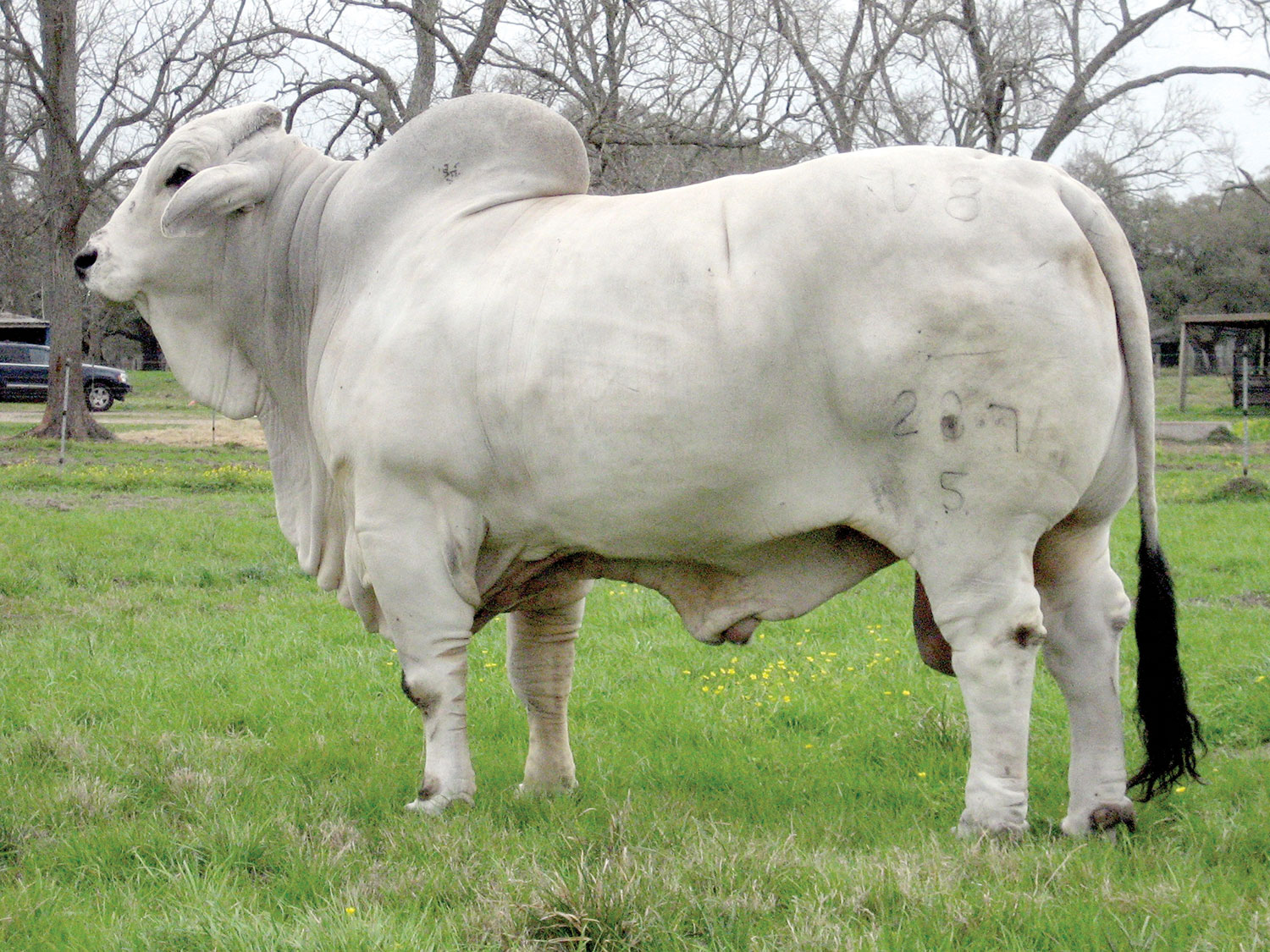 +Mr. V8 287/5 "Superstroke"
Six Time Undefeated International Champion Get of Sire
+Mr. V8 380/6 "The Machine"
#1 Brahman Sire of All Time in ABBA Register of Renown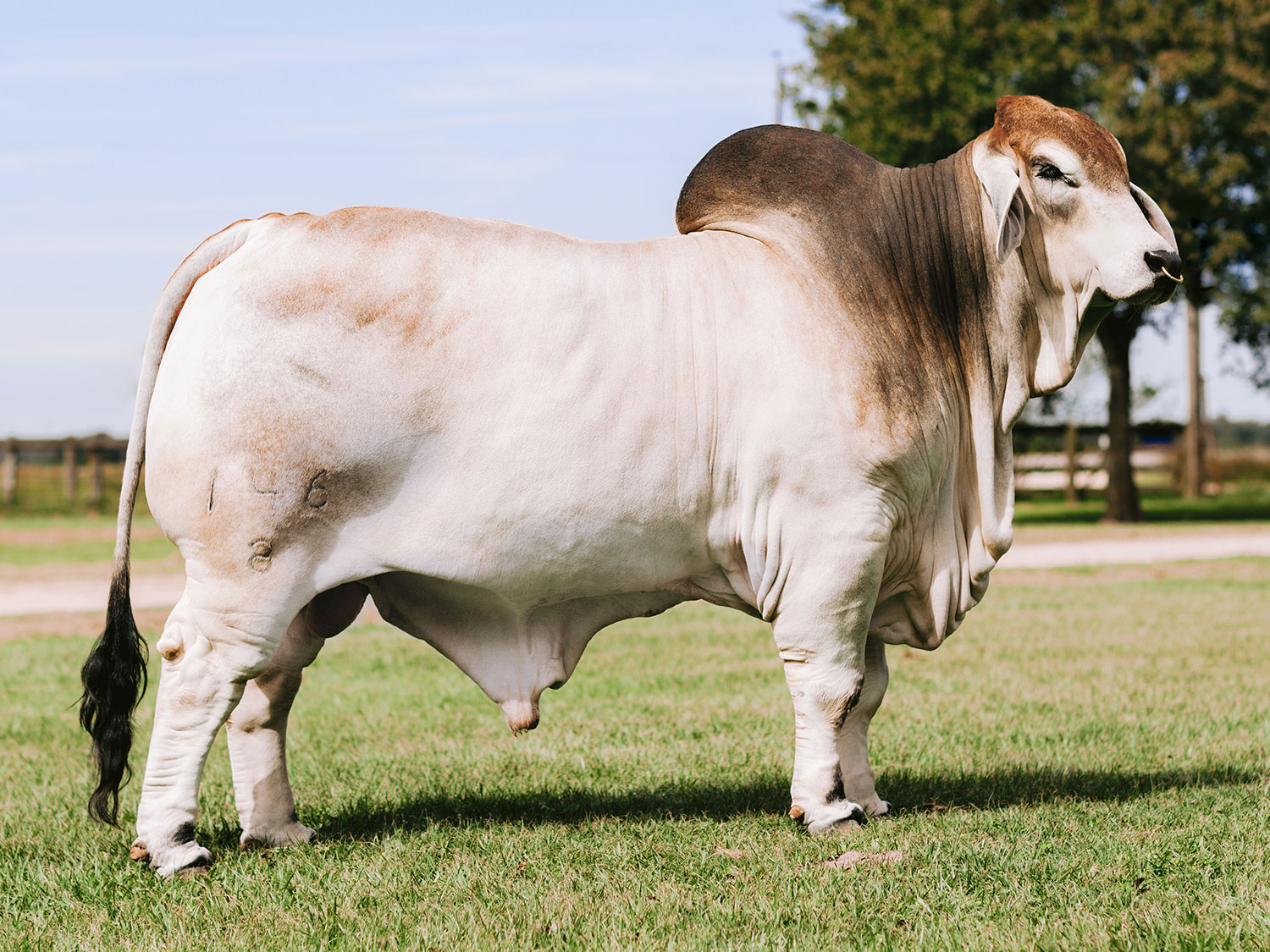 +Mr. V8 146/8 "Sloan"
Three Time International Champion
Sales At V8
The Magic Touch
After our first Golden Gate Production sale, we hosted 1986's Visions of The Future Sale, and 2000's Power of Production Sale, which grossed more than $1 million dollars from buyers spanning the globe. In 2015, we embraced the online sales platform and returned to public auctions. Since then, we have consistently broken Brahman records with the highest-averaging bull and cow sales. In 2021, we sold one-half interest in Miss V8 472/9, for the record-setting price of $150,000, breaking the previous record of $120,000 set earlier that year by Miss V8 367/9. Currently, we host two online sales per year (our "Made for Magic" events) where we sell our top-end heifers. 
SHOW RING SUCCESS
At V8 Ranch
Since 1976, the ranch has exhibited more than 100 National, International Grand or Reserve Grand Champions. We've won the prestigious HK Memorial Trophy for Premier Exhibitor of the International Show 12 times. And we feel like we're just getting started!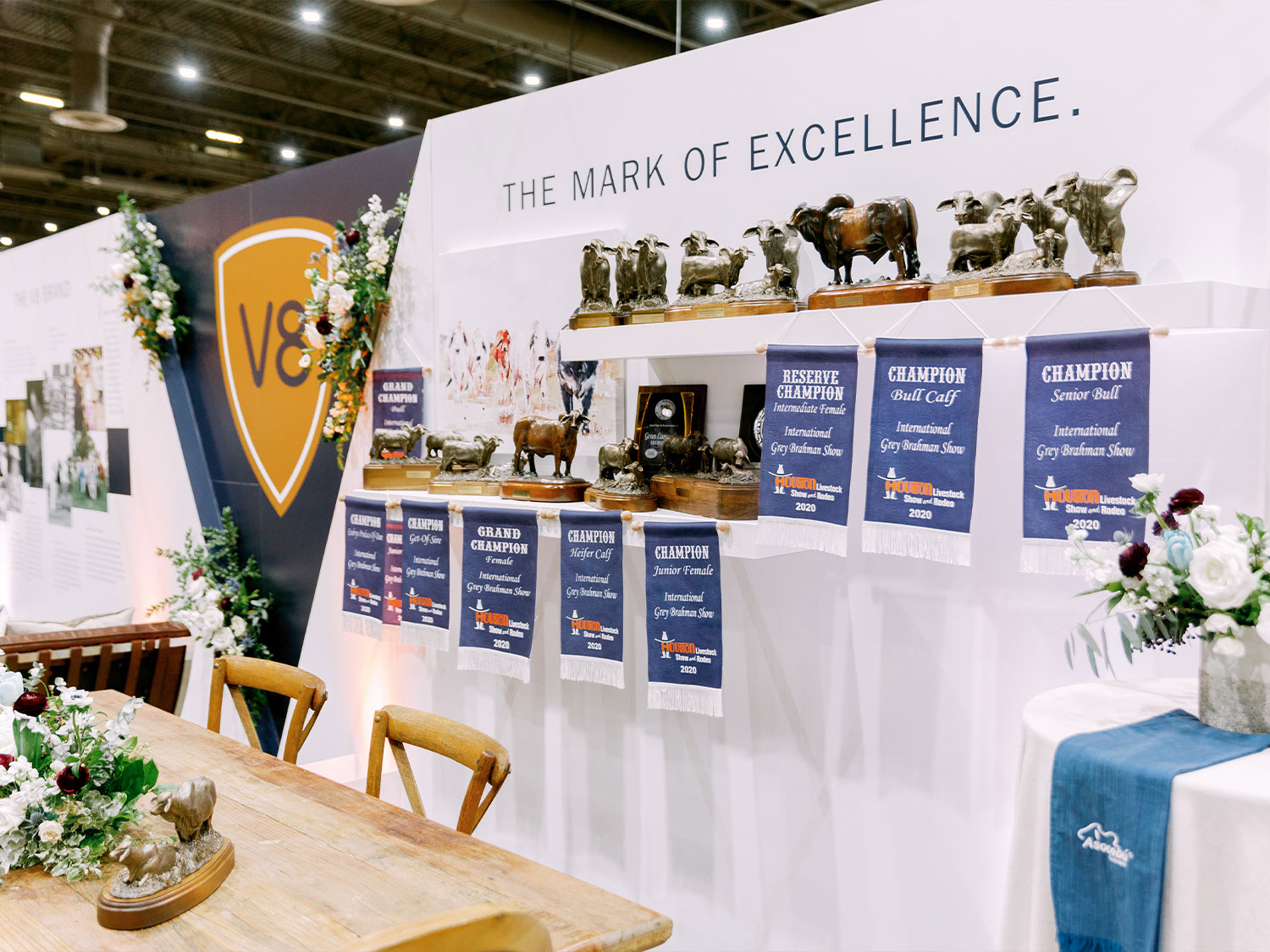 Reaching New Heights
As a Family-owned ranch
Sloan and Mollie Williams achieved their lifelong dream of ranching together, and now that dream includes their children, grandchildren, and great-grandchildren. At the ranch, on any given day, you'll find at least three generations of family members working side by side. 
Having marketed more than 18,000 head of purebred Brahman cattle worldwide, the Williams family takes great pride in being a hands-on, working family ranch. Today, Jan Williams Powell (Sloan and Mollie's daughter) and her family live and work on the Hungerford Ranch and manage the ranch's 2000+ commercial cattle. Jan heads up the ranch's horse division. Jan's daughter and son-in-law, Payton and Joe Dodge Jessee, are responsible for our sale bulls and supervise the ranch's hay operations. Jim and his family live and work on the Boling ranch which houses the purebred Brahman cow herd and show barn. Jim and Luann's daughter and son-in-law, Catherine and Luke Neumayr, are the art directors behind all of V8's marketing materials. And little four-year-old Knox Neumayr, 8th generation rancher, already has a role caring for and managing the ranch's keeping heifers (with an assist from his parents, of course!)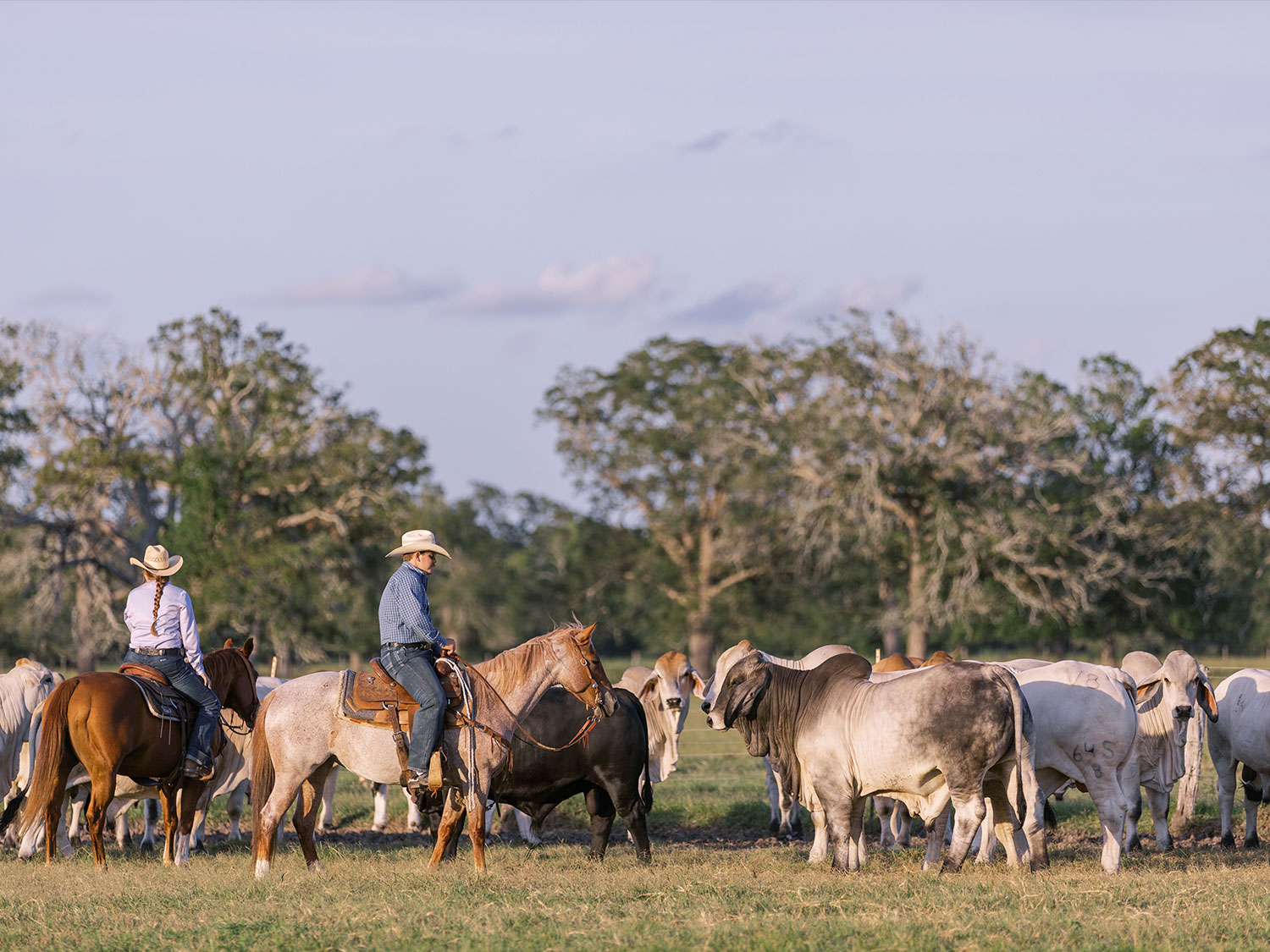 A Tradition of Excellence
At the ranch, the entire family knows not to drive mules on the roads when they're wet. The tires make unsightly ruts in the roads when they dry – Jim's biggest pet peeve! He takes great pride in V8's pristine paths. At shows, every detail is considered – from the booth décor to the design of the brochures. 
If we had a coat of arms, our motto would be: Excellence. Whether you're breeding cattle or setting up a stall party, it takes commitment, care, determination, and extra effort to excel. We believe hard work is worth it. That philosophy is ingrained in each and every generation from the day they can toddle in their first pair of cowboy boots until the day they make the big jump.
SHARING THE SPIRIT OF EXCELLENCE
At V8 Ranch, we raise Brahman cattle every day of the year. We know them well, and if our cattle fail to function in our pasture, there is no need for them in yours. Dedicated and sincere in producing sound, common-sense cattle, every member of our family is honored and humbled to show our program to potential customers. For us, there's nothing more gratifying than driving through our pastures and visiting about many things, especially Brahman cattle. In doing so, we have the opportunity to meet and become friends with many of the finest people in the world.
John W. Gardner said that excellence is "doing ordinary things extraordinarily well."  Our success lies not only in striving for excellence on our ranch, but in helping our customers achieve excellence in their own operations. As such, we're always willing to guide and counsel customers when they have questions and concerns.
Our pledge to the future will continue to be one of honesty and integrity with you and ourselves with the goal of producing an honest product that proves profitable for all phases of the industry. Why do we do it? 
Because we believe in Brahman cattle and the people who raise them.
We believe in Brahman Cattle and the people who raise them.
Office Location
6329 FM 1096
Boling, Texas 77420
Phone Contacts
979-533-2056
979-657-3223 (fax)
Hours
M-F:  9:00 AM to 5:00 PM 
Weekends: Appointment Only

V8 Ranch, and the V8 brand are registered trademarks in the United States of America and may not be used without permission.