Pioneer Days
What you might not know about V8 is this: Sloan and Mollie Williams both come from deeply rooted Texas ranching families. Sloan's family has been in the cattle business in Millican, Texas for more than 100 years. Mollie's great-great-grandmother, Rachel Ann Hudgins, bought her first ranch in 1882, at the start of a Texas ranching boom—11,000 acres outside of Houston. Rachel Ann was an extraordinary woman, not to mention a rarity in nineteenth-century Texas: a landowner and businesswoman.
What does it take to be a ranch pioneer? For starters, hard work. Also, persistence, Christian values, and hands-on experience. Mollie grew up on the J.D. Hudgins Ranch, and today, we still keep a special place in our hearts for our cousins at J.D. Hudgins. After all, our legacy has been built on family ties and traditions.
When Sloan and Mollie decided to gamble on their love of livestock and buy V8 Ranch in 1971, they knew just what they were doing. And it's quite the story, too!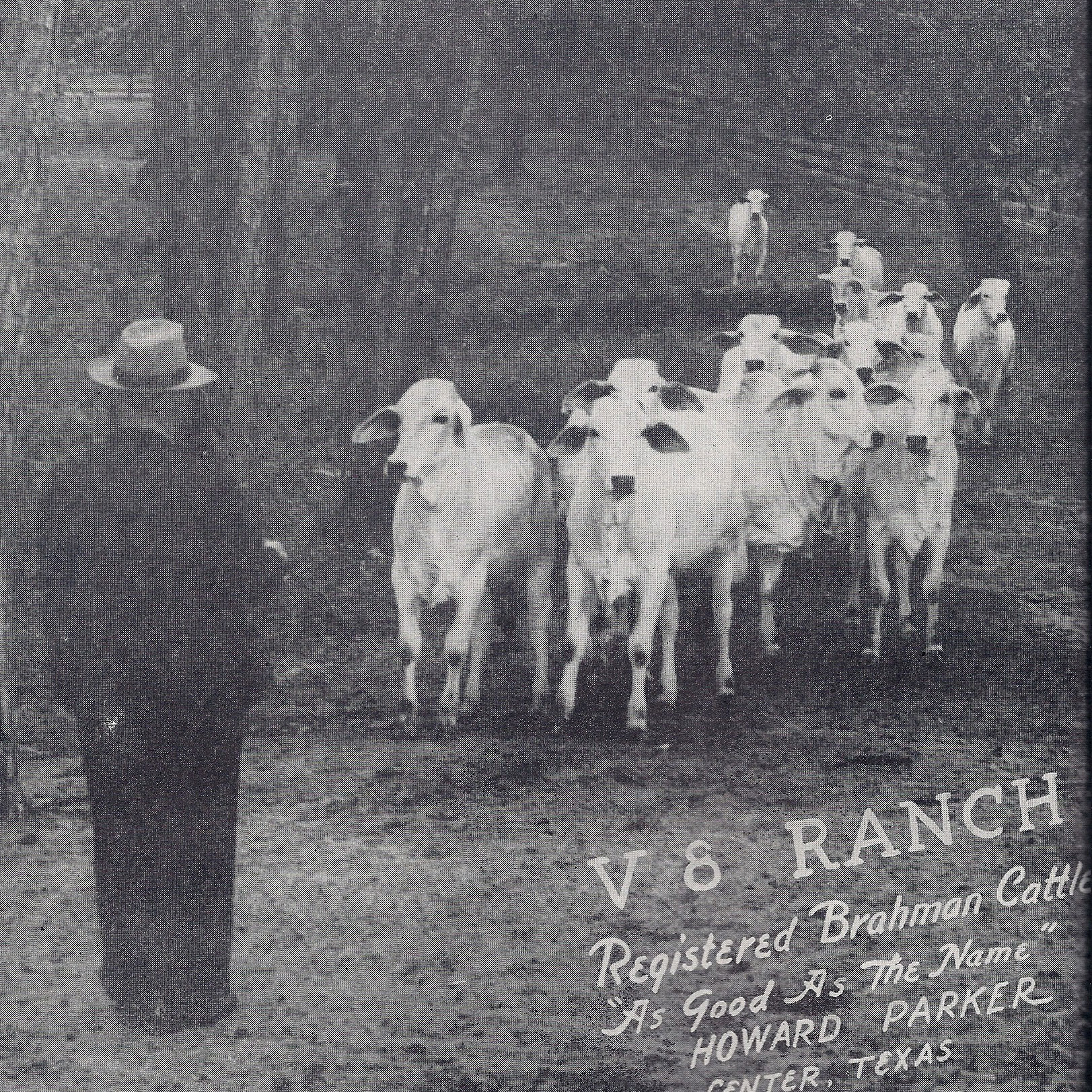 How V8 Got Its Start:
Howard Parker and Dr. Jacobs

Before we can tell you how we got V8 Ranch, we have to tell you how it came to be such a catch. V8 was established long before Sloan and Mollie got to it, back in 1944. It was founded by Howard Parker of Center, Texas. The original cattle were acquired from Dr. William States Jacobs, a pioneer Brahman breeder who established his herd with cattle imported directly from India in 1924 and 1925. That's right—Brahman cows are a tropical breed, which is why they do so well in warm climates all across the globe.
Jacobs' breeding is known as AA cattle, an ABBA classification that signifies cattle of pure Indian descent. Early foundation animals from Jacobs' herd include Hattie Cleo (ABBA C1409), who's famous for being the most significant female in the history of the Brahman breed. From Hattie Cleo, Tippu the Great and Optimus lines of cattle developed two lines that could be found in the bloodlines of Howard Parker's foundation herd.
Parker was a Ford automobile dealer and named his cattle ranch V8, after the engine. Over time, his herd became well-known throughout the country for its outstanding cow families with gentle dispositions. The foundation herd came first from Jacobs' bloodlines, then later with the addition of some Manso breeding, and even later with Imperator influence. The Optimus bull—descended from the great Hattie Cleo—was deeply influential in the early V8 herd. It's no surprise that today, more than 70 years later, the guiding force behind V8 breeding is still its legendary cow families.
Becoming V8
Sloan and Mollie Williams Take a Call from Destiny
We promised you a story, and this one's a gem. When Sloan Williams was inducted into the ABBA Hall of Fame, the award presenter actually joked, "The way Sloan made the deal to purchase the V8 cow herd is cause enough to induct him into the Hall of Fame!"
So how'd he do it? In 1971, word got out that Parker was looking to sell the V8 herd, brand, and ranch in Center, Texas. It was just one week before Christmas when Sloan heard the news. Even back then, V8 was known as one of the better Brahman ranches in the United States. The cattle were good cattle, and Sloan knew it. The ranch was not only on the market—Parker wanted the deal to go through before the New Year! Problem was —Sloan was out of town, in New Mexico, on his first (and only) Williams family ski trip.
 These were the days before email and cell phones. Communication was going to be tricky, but this was destiny. And, when destiny's calling, you call back. Sloan negotiated the million-dollar deal via a pay phone in Red River, New Mexico. He recruited investors to purchase the real estate from the ranch, but acquired the registered cattle herd and V8 brand himself. After his vacation, Sloan relocated the herd to Wharton County, where they've lived ever since.
Building V8 Ranch
A Family Affair
Building a world-famous ranch takes hard work, sleepless nights, and unwavering dedication. Sloan knew that as the owner of V8, he would need to draw on the talents of his wife and family. After all, ranching is a family tradition, and everyone was happy to help out with the effort.
In 1976, Jim Williams graduated from Texas A&M University with a degree in animal science, and he and his wife Luann returned to the ranch. Jim began work as manager of the purebred Brahman herd, and Luann took over ranch office duties.
 Jim has a keen eye for cattle breeding and a passion for Brahman herd improvement—two qualities of a successful cattleman. He quickly began implementing the strict selection and culling guidelines that we still follow to this day. He adopted performance record-keeping. He began to assemble what has become one of the most detailed and complete cow herd production histories available on any herd in the United States.
The entire family takes great pride in being a hands-on, working family ranch. The Williams family has marketed more than 10,000 head of purebred Brahman cattle worldwide.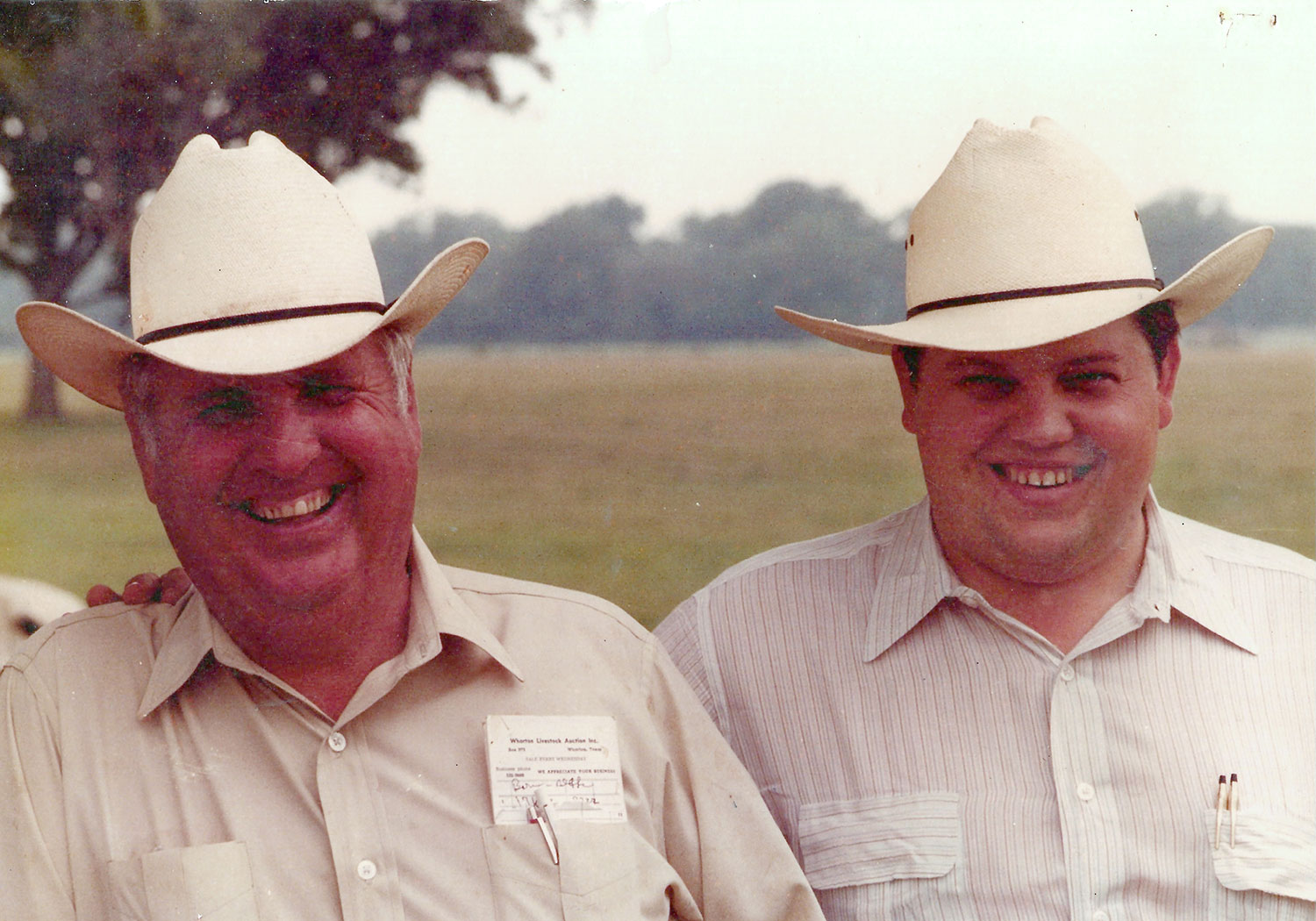 Sloan Williams and Jim Williams, 1979
How far have V8 cattle and genetics traveled?
Every state in the southern United States

North America

South America

Europe

Asia

Australia

Africa

More than 40 countries worldwide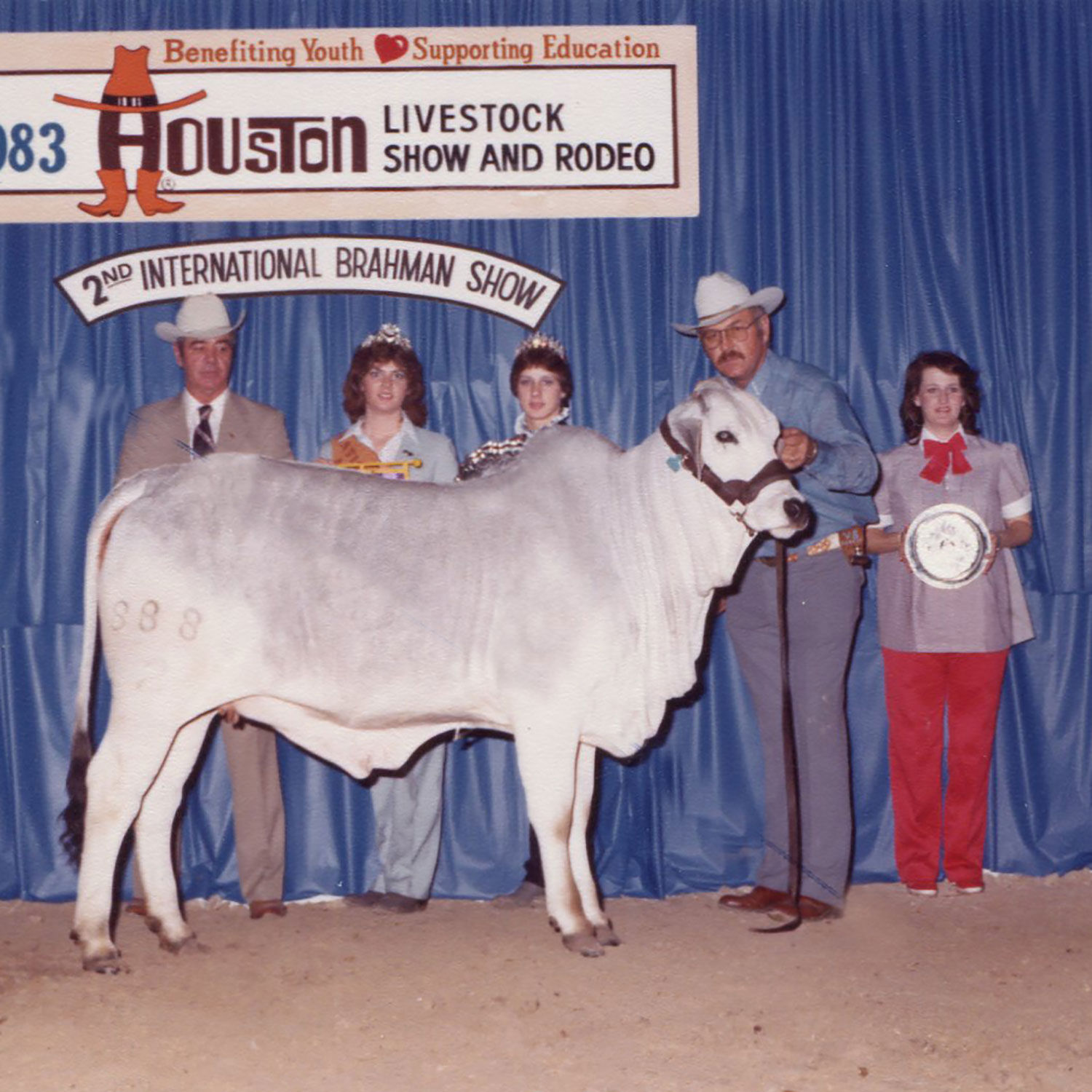 Miss V8 888/2
1984 National Champion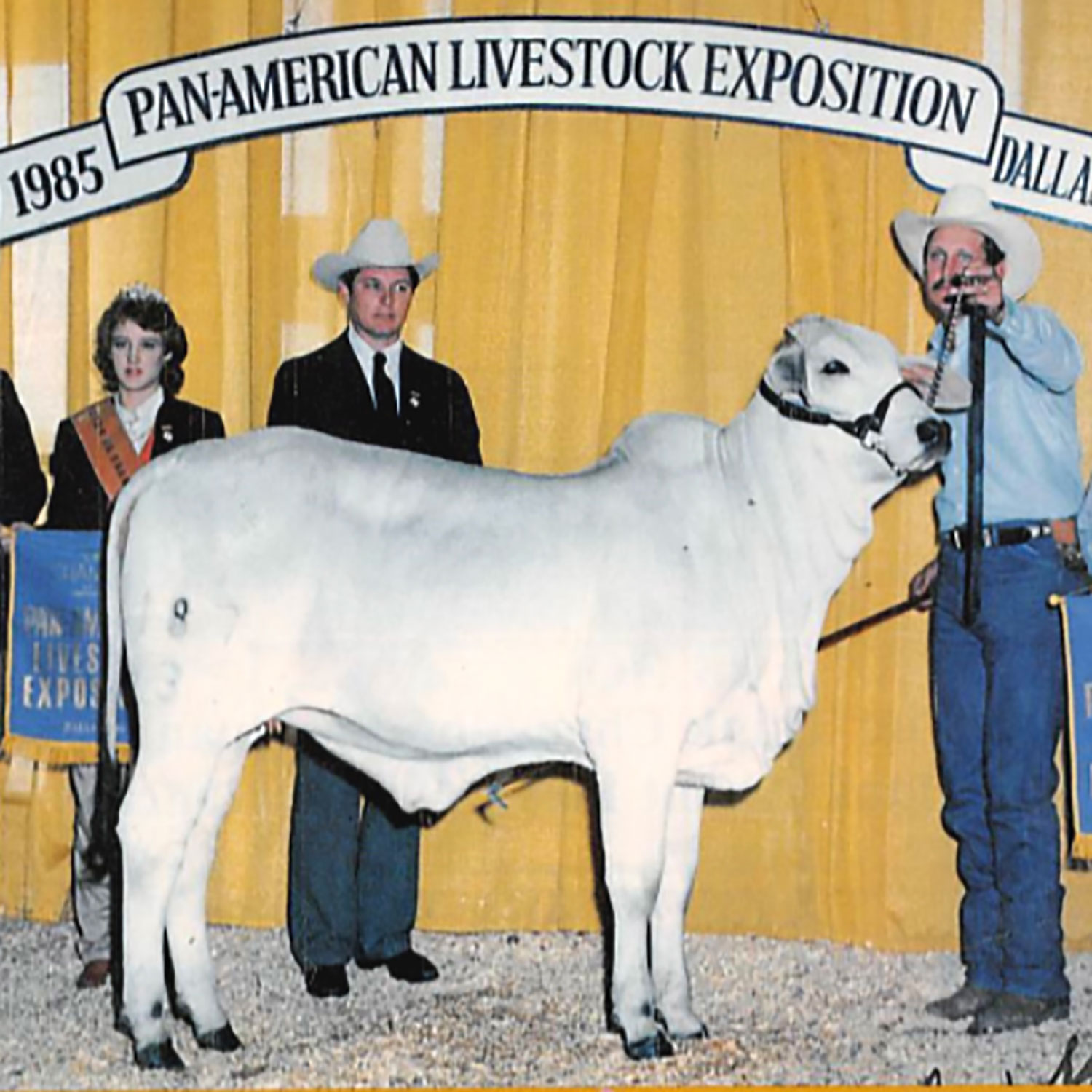 Miss V8 187/3 "Cover girl"
1985 National Champion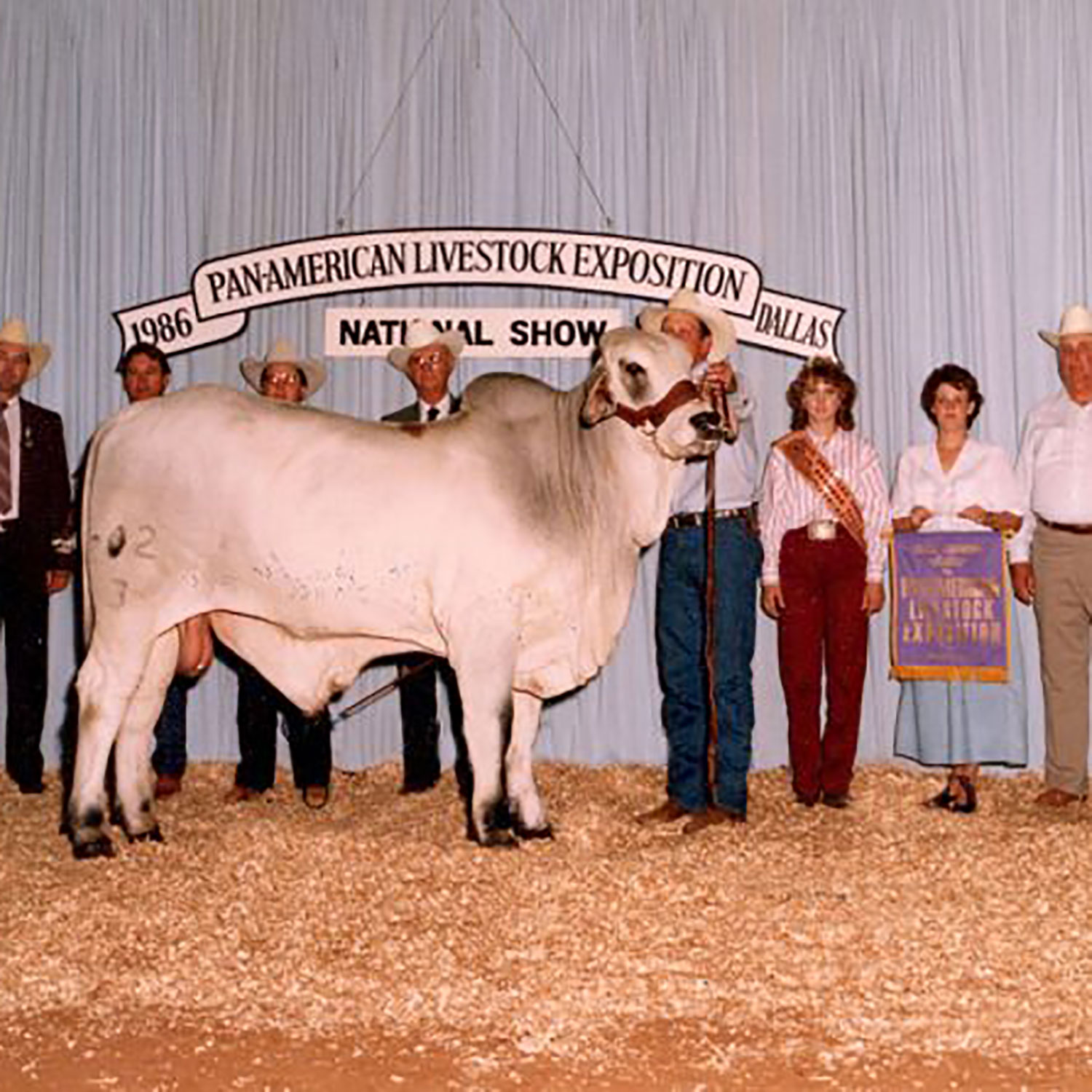 Mr. V8 202/3
1986 National Champion
That V8 Style:
Our Rapid Rise
Although V8 had a high level of notoriety dating back to its foundation in the 1940s, and we exhibited our first National Champion Female in 1976 and our first National Champion Bull in 1979, it wasn't until the early '80s that the ranch really exploded onto the worldwide Brahman scene. Under Jim and Sloan's expert breeding, V8 Ranch became best known for its outstanding cow families.
 What made us famous? Our remarkable ability to consistently breed and market large volumes of cattle bred specifically for fertility, conformation, Brahman breed character, and structural correctness. By focusing our energy on developing these characteristics, we unconsciously developed something else: an unmistakable V8 look, carried by our females, that's become recognizable the world over. Breeders all across the world claim they can identify a V8-bred animal without even looking at their brand or pedigree. "It's that V8 style," they tell us.
 We hosted our first ranch production sale in 1981: "The Golden Gate Sale." It was a runaway success, breaking 6 Brahman sale world records. It still holds the record for the highest-averaging Brahman sale of all-time, with an average of $14,357 per head.
 In the mid-'80s, we acquired a significant group of cattle from the dispersal of the U.S. Sugar Corporation. As a student, Jim had spent a great deal of time with the USSC managers, learning about their breeding program and history. When the herd dispersed, we purchased their top animals to incorporate into the V8 herd.
What did the influx of U.S. Sugar genetics bring us?
 

(+)Mr. V8 202/3, one of the breed's elite Vanguard sires, and the winningest U.S. Brahman bull of all time

He's the breed's only three-time National Champion (1986, 1987, and 1988) and two-time International Champion (1987 and 1988)

After 202, V8 began its legacy of producing championship cattle, one right after another.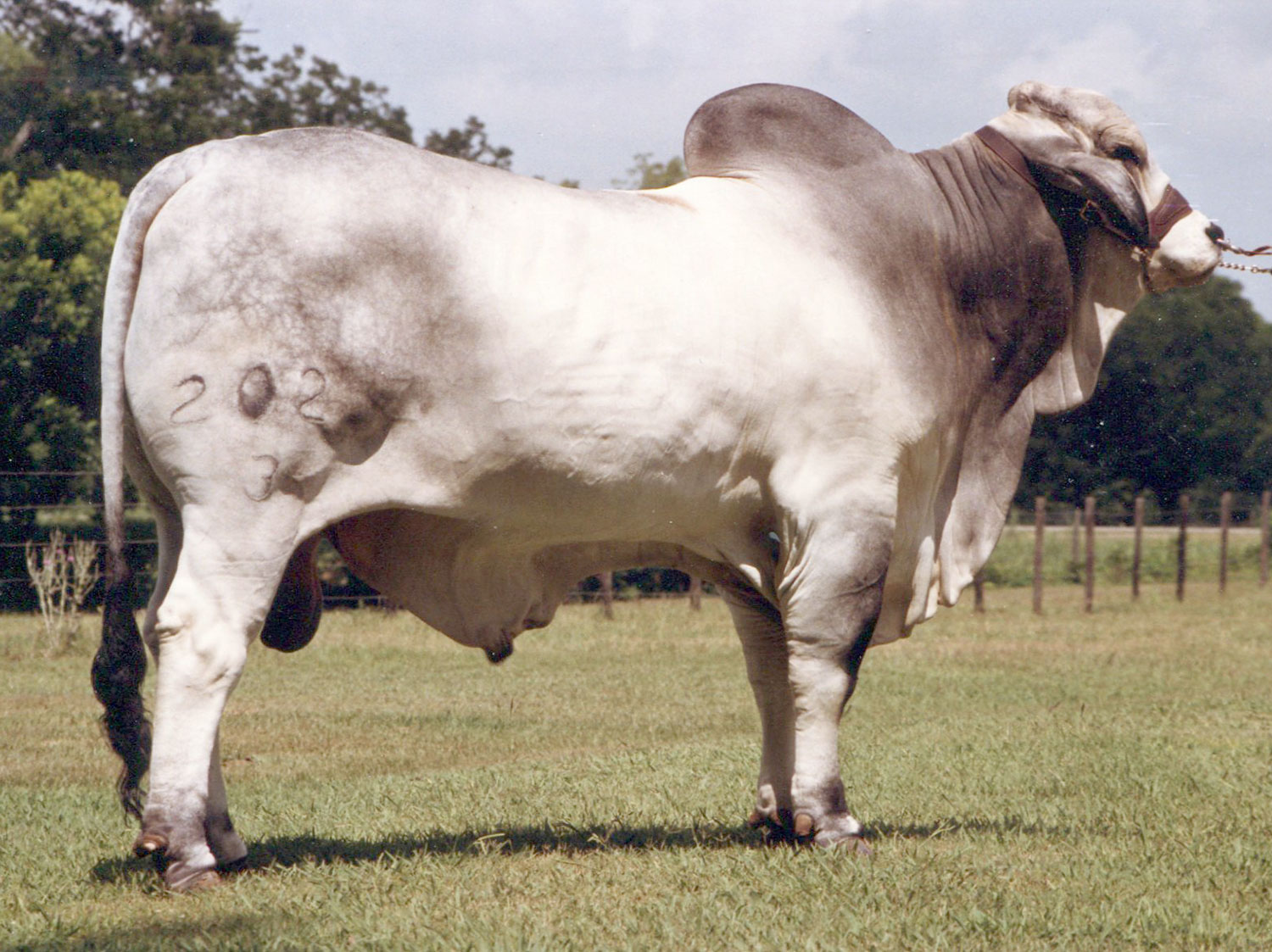 (+)Mr. V8 202/3
The breed's only three-time National Champion and 2 time international champion.
Superstroke Fast Facts
He was the six-time undefeated International Champion Get-of-Sire winner (2001-2006)

His notable offspring include:

Two International Champion bulls

One National Champion bull

Two International Champion females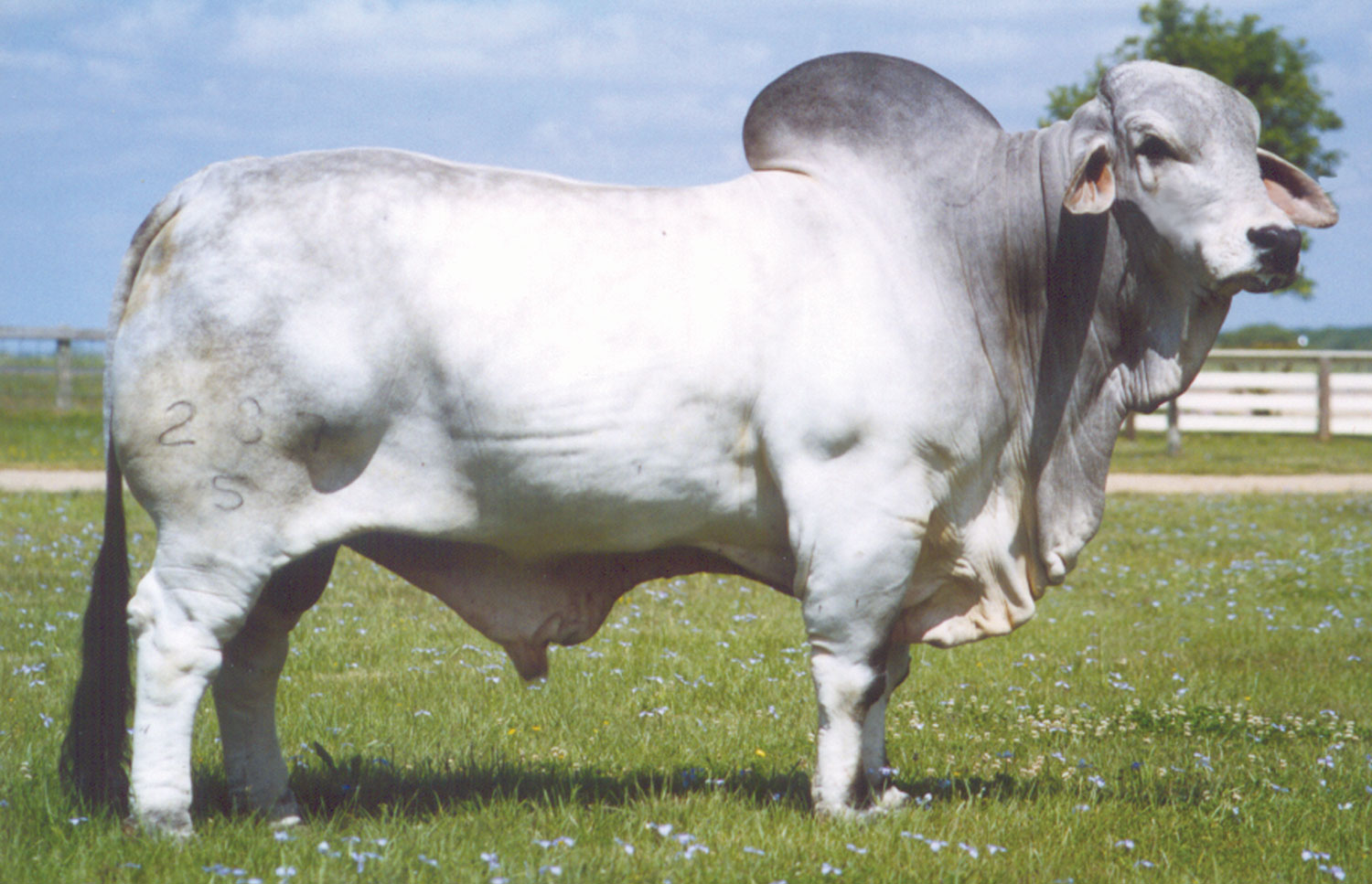 +Mr. V8 287/5 "Superstroke"
In 2000, we hosted our third production sale—"Power of Production"—which grossed more than $1 million, with buyers spanning the globe.
In 2005, V8 Ranch claimed all four of the International Grand and Reserve Grand Championships at the Houston show—an incredible achievement.
Our follow-up sire to Superstroke, +Mr. V8 380/6, emerged in the 2010s. He was recognized by The Brahman Journal as the #1 Sire of Champions from 2011 to 2018, making him the most winning Brahman sire of champions in USA in modern history.
He produced the 2014, 2015, 2016, 2018, and 2020 U.S. National Champion Females. In September 2018, his semen sold for over $18,000 per unit at auction – the highest-valued U.S. semen at the time.
Currently, 380 is ranked as the #2 bull of the Brahman breed for the ABBA Register of Renown and climbing. He passed away in 2019 and remains relevant and in high demand to this day, most recently siring the 2019 International Grand Champion Female, and 2020 National Grand Champion Grey Bull and Female. He also holds the titles of the 2020 National and International Champion Get-of-Sire.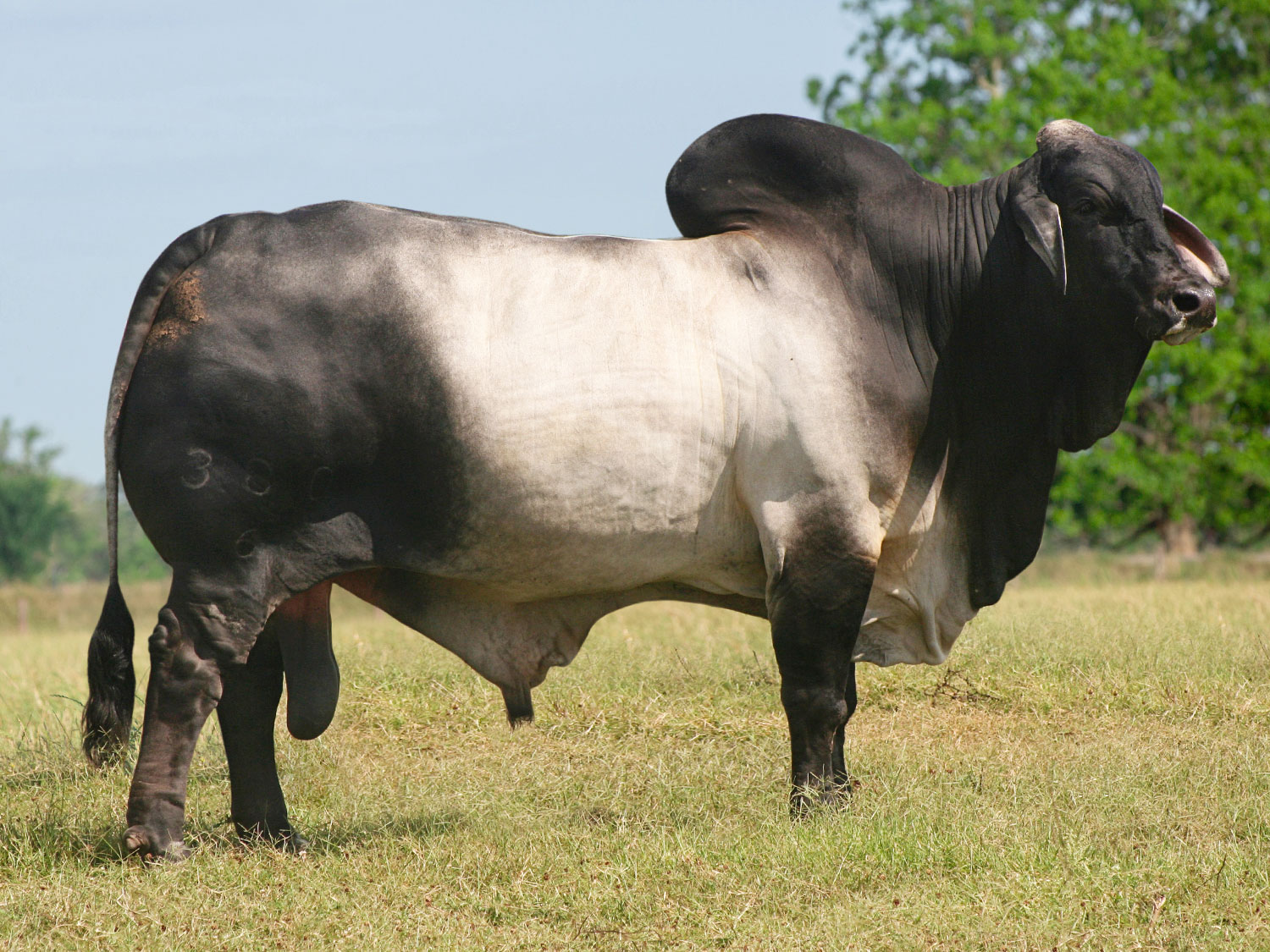 +Mr. V8 380/6 "The Machine"
We have also held several tremendous sales in the past few years. In 2015, 2016, 2017, 2018, and 2019 we had the highest-averaging bull and cow sales—breaking even more Brahman records. In 2020, our Made for Magic Sales broke our own records and had the highest two females to sell at auction, selling for $85,500 and $91,250 (for one-half interest.) The current record-setting female, Miss V8 203/9 "Dreamgirl," went on to be the 2020 National Champion Female.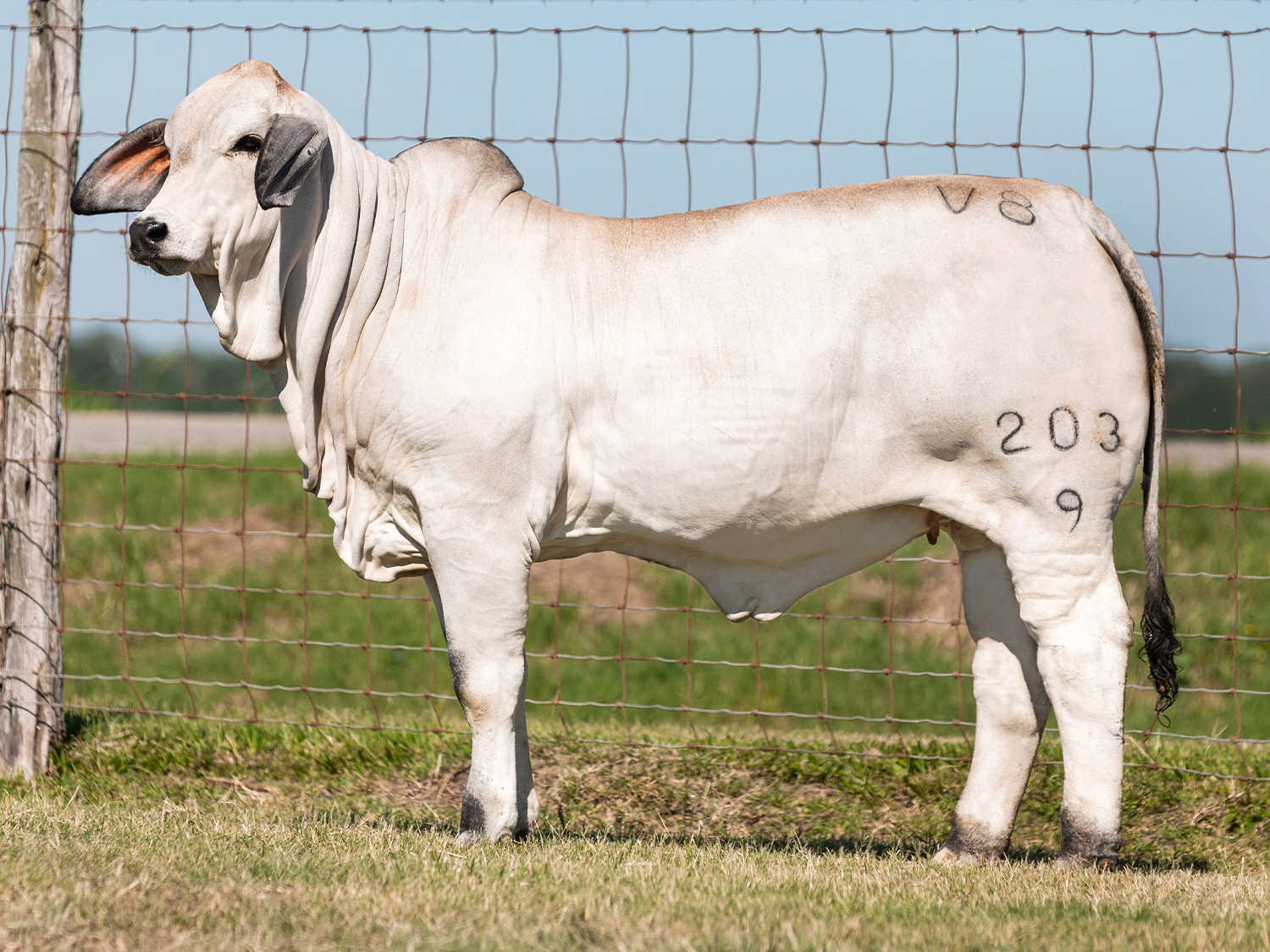 Miss V8 203/9 "Dreamgirl"
Looking to 2021 and Beyond…
Since 1976, the ranch has exhibited more than 100 National, International Grand or Reserve Grand Champions. We've won the prestigious HK Memorial Trophy for Premier Exhibitor of the International Show 11 times. And we feel like we're just getting started! Our goal is to continue to serve the global cattle industry with great cattle and great service. We believe it's our dedication to excellence in Brahman breeding and our focus on serving the customer. Our basic philosophy as seedstock breeders is that our goal should be to see others excel using our genetics.
Our purpose is to raise outstanding replacement Brahman females… for our customers. 
Our purpose is to sell Brahman bulls that raise heavier calves (and make more money)… for our commercial customers.
Our purpose is to contiunually raise AI sires that will make a difference in the Brahman breed.
Our purpose is to raise the most outstanding Brahman females on the planet… for our customers.
Our purpose is to raise wholesome, healthy beef… for the world.
Meet the V8 Family
the people behind the brand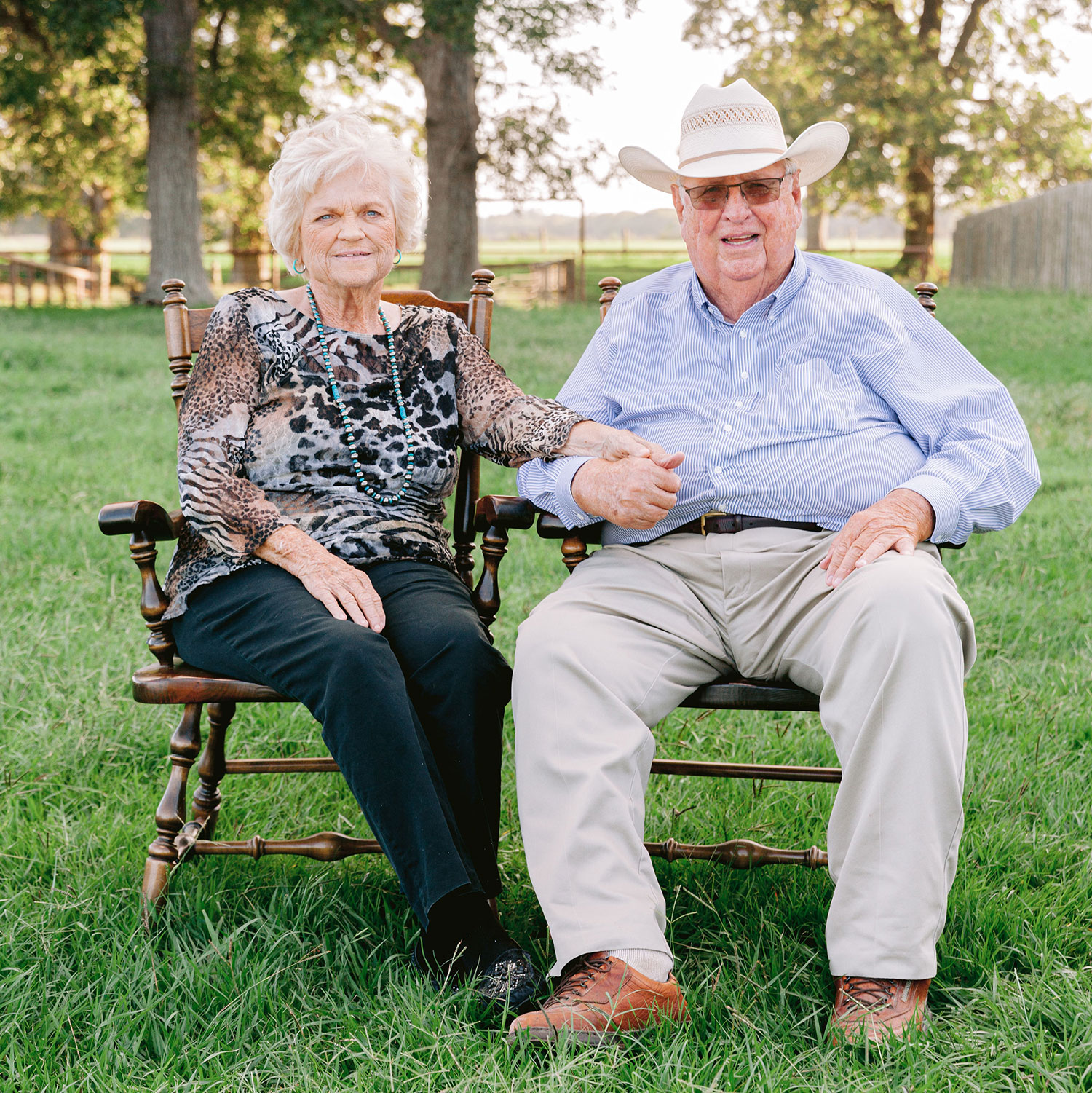 Sloan and Mollie Williams
In the 1980s and 1990s, Sloan was an avid traveler for work.

He visited South America, Central America, Thailand, and Australia to see fellow breeders.

He is a member of the ABBA Hall of Fame and the Texas Rodeo Cowboy Hall of Fame.

He was also a past president and approved judge of ABBA.

Up until her retirement, Mollie was part of every activity on the ranch, from working cows to handling the ranch's accounting.

Sloan passed away in late 2020. He ranched up until the final year of his life.
Sloan and Mollie have two grown children, Jim and Jan.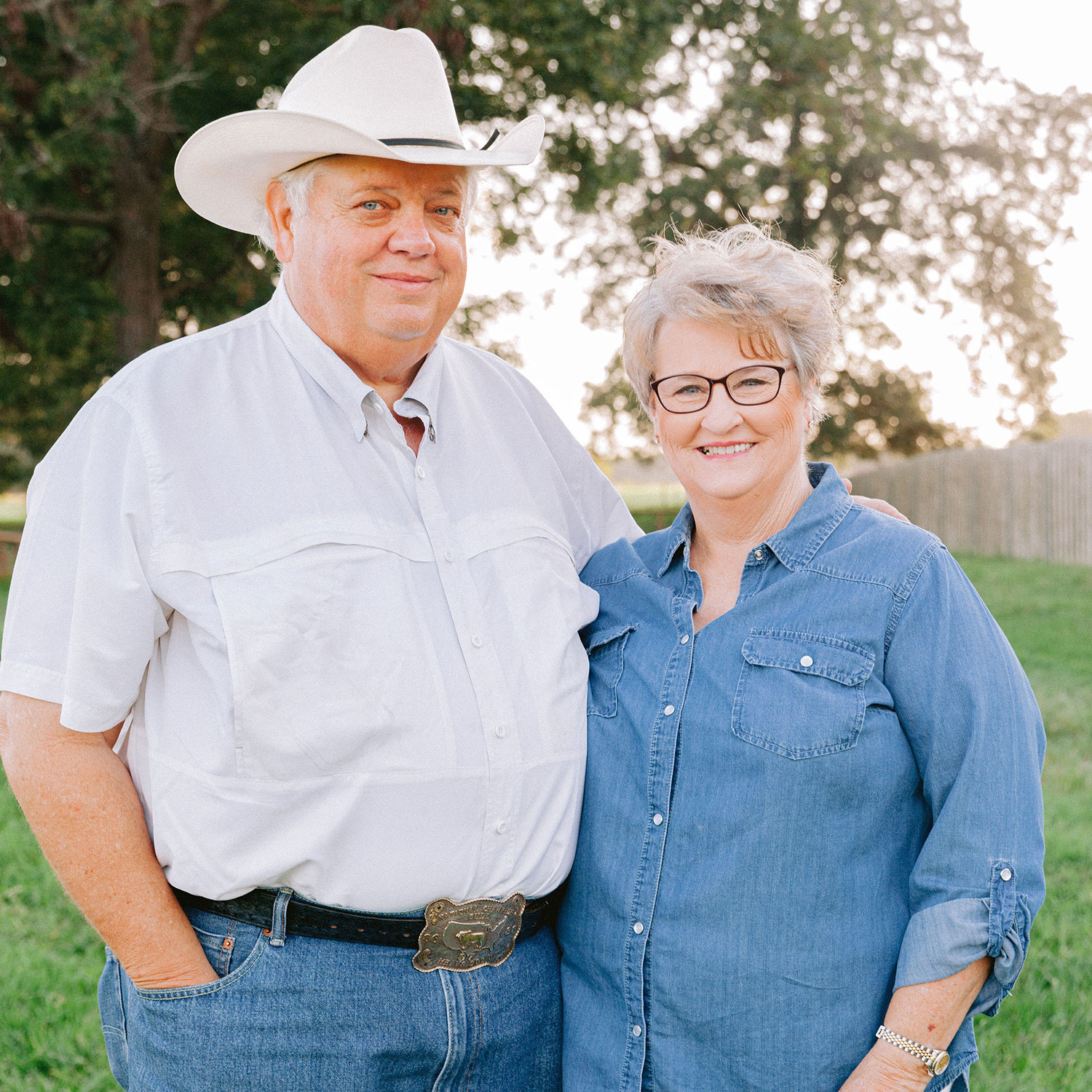 Jim and Luann Williams
Jim is past president of ABBA and the only three-time president in the history of the American Shorthorn Association.

He's an approved judge of all major U.S. beef brands and has judged national shows, international shows, and 26 different state fairs.

He is recognized as one of the world's leading judges of Brahman cattle.

Jim judged the 2008 International Brahman Show, the 2002 National Brahman Show, the 2006 World Brahman Congress in Mexico, and the 2010 World Brahman Congress in Brazil.

Luann married Jim in 1976, and together they had two daughters, Rachel and Catherine.

Luann held the position of ranch office manager for more than 30 years. Today, she handles all registrations and transfers of cattle.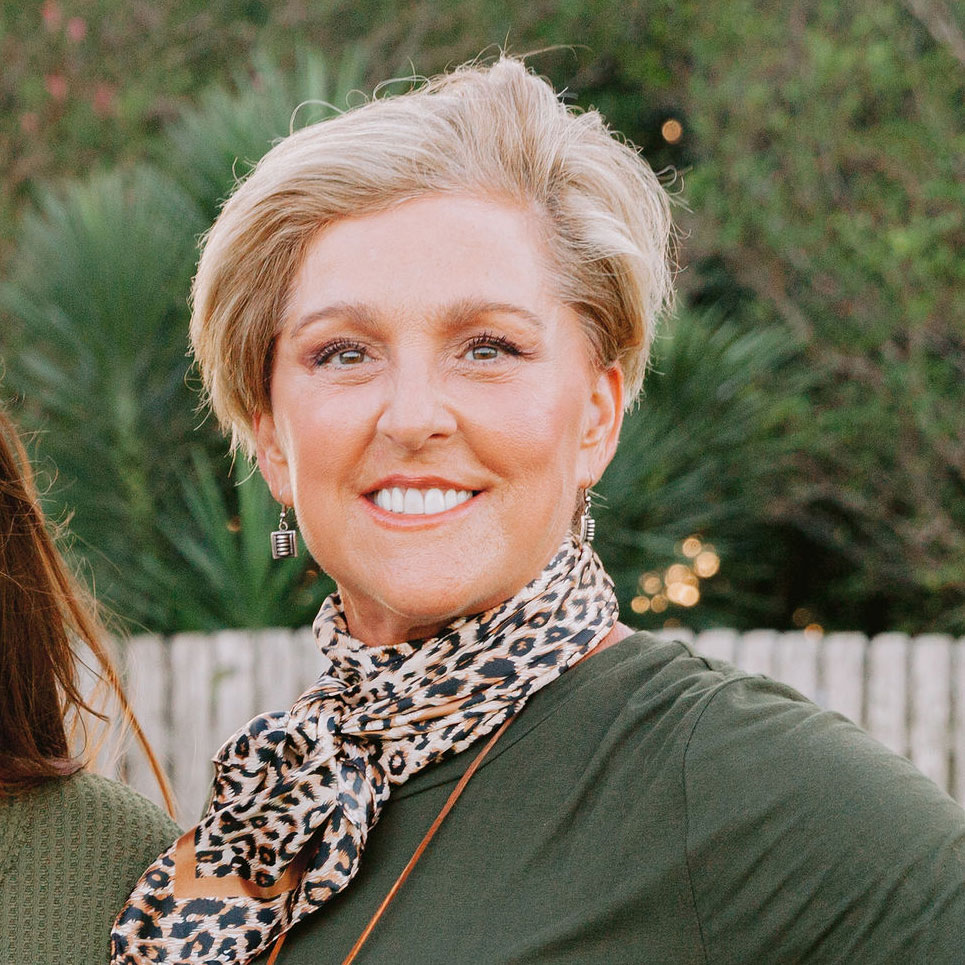 Jan Williams Powell
Jan operates the V8 Horse Division which includes ranch and rodeo horses.

Jan is an accomplished and in demand horse trainer and equine instructor. She conducts riding lessons at her horse facilities in Hungerford.

She is a many-time qualifier for the CPRA championship finals and has won hundreds of saddles in her lifetime.
She is an accomplished cattlewoman and owns a herd of crossbred cattle.
Jan is an expert floral and interior designer, and is responsible for the design and decor of most V8 Ranch events as well as our Houston display booth.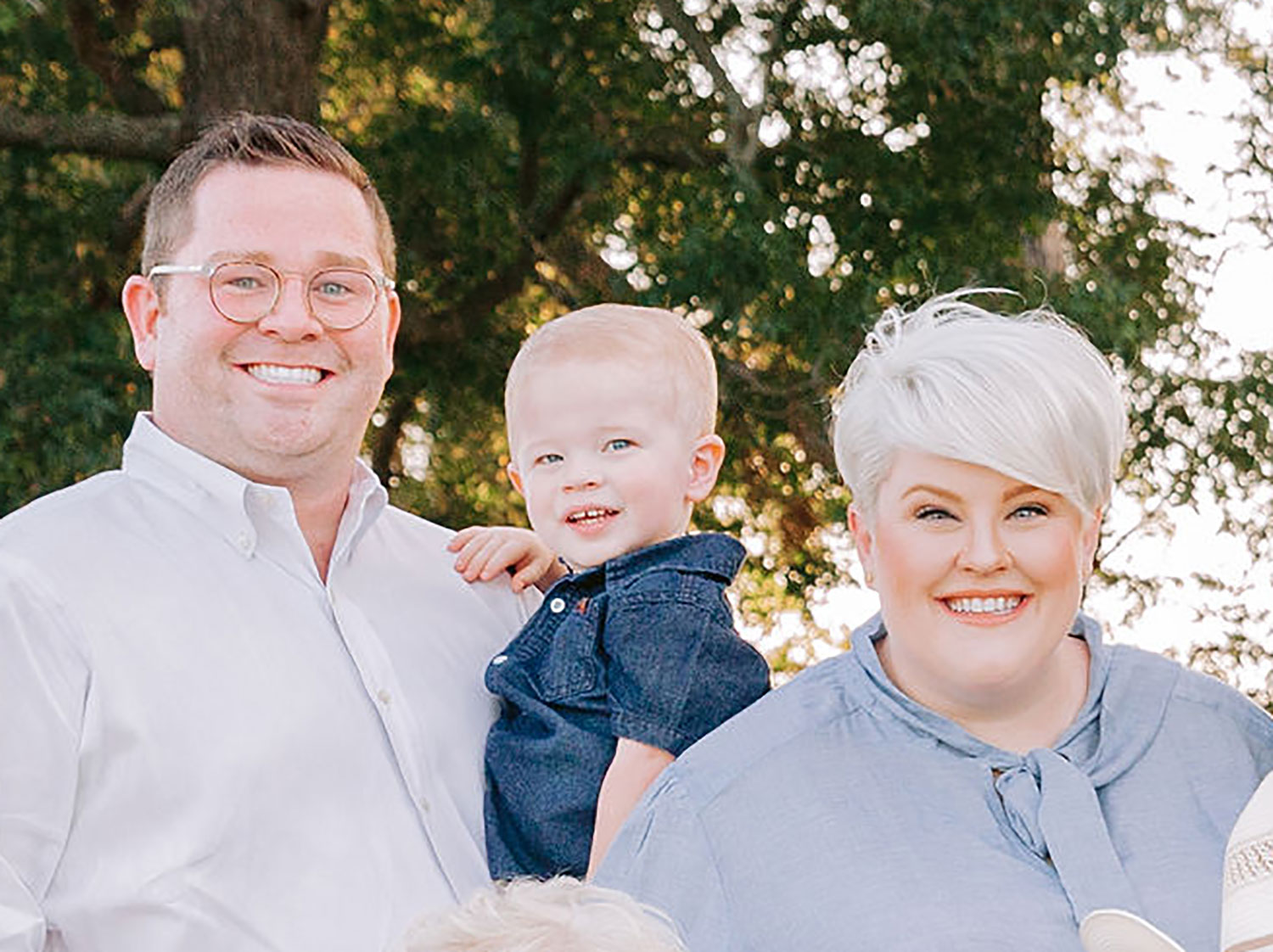 Luke and Catherine (Williams) Neumayr
Catherine primarily showed Shorthorn cattle and holds the breed record of exhibiting three back-to-back Junior National Champion Females (1999, 2000, and 2001).

Catherine won both national leadership contests and national champion showman awards from the AJSA. She was also

 awarded the Junior Breeder of the Year.
Luke was a highly acclaimed collegiate livestock judge, including winning the National Western (Denver) Intercollegiate Livestock Judging Contest. He has judged in the U.S. and Canada.
Both graduates of Texas A&M University with degrees in Animal Science.

Are professional wedding photographers and assist the ranch in advertising, photography, and marketing.

Are represented by the C and the K shoulder brands at V8 Ranch.
Luke and Catherine have one son, Knox Harrison Neumayr.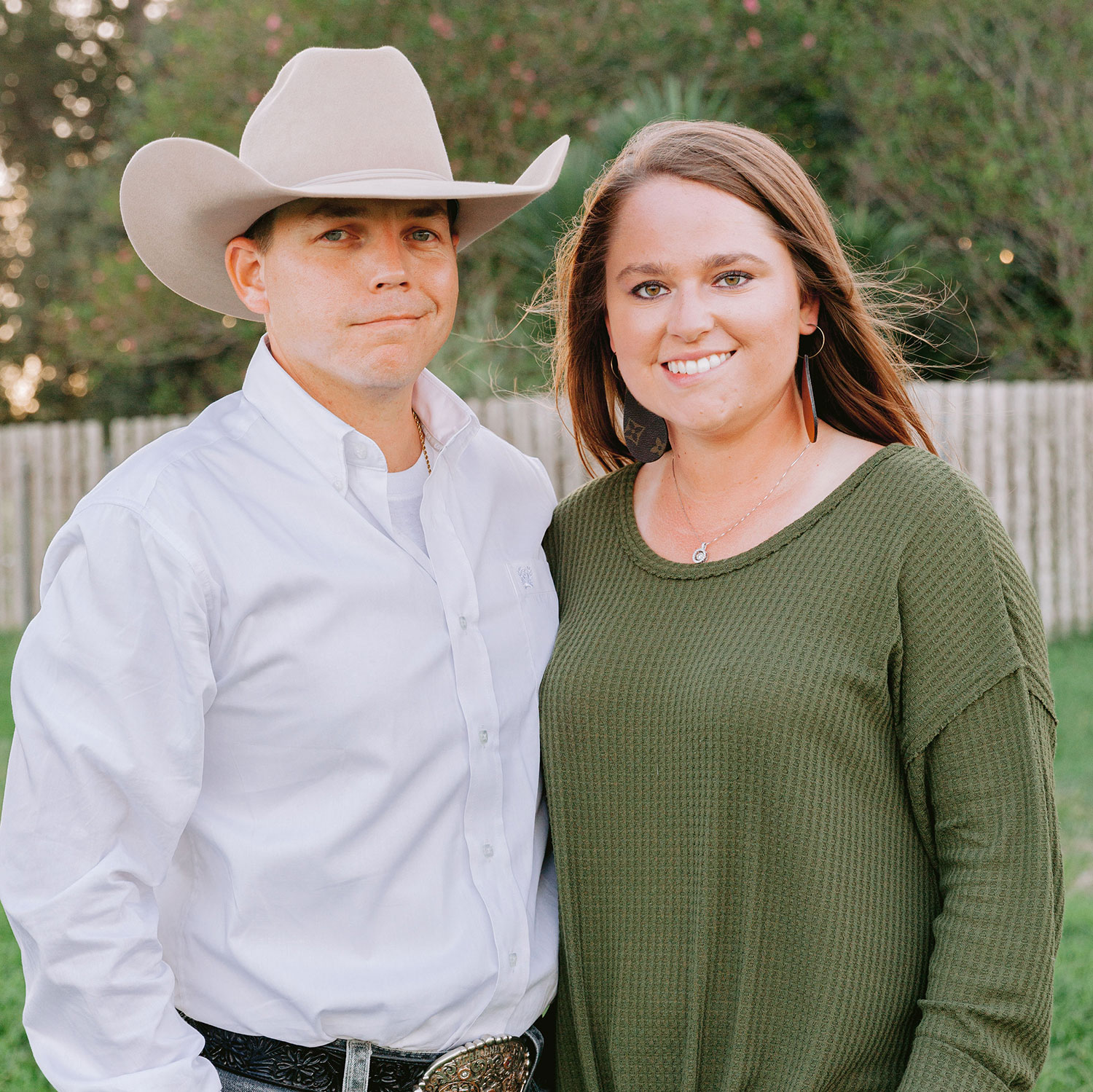 Joe Dodge and Payton (Powell) Jessee
Payton grew up competing in Texas youth rodeo competitions and won many championship titles in barrel racing, roping, and all around.

Payton qualified for The American rodeo in breakaway roping in 2019.

Joe Dodge is originally from La Vernia, Texas and he also grew up competing in youth rodeo. He is also a multiple year qualifier for the CPRA championship finals.

Payton graduated from Texas A&M University with a degree in Agribusiness.

Joe Dodge graduated from Sam Houston State Universtity with a degree in Criminal Justice.

Joe Dodge works as a firefighter and first responder for Houston Fire Department.

Are represented by the P shoulder brand at V8 Ranch.

In addition to their roles within the V8 Brahman operation, Payton and Joe Dodge manage the ranch's commercial cattle as well as oversee our grass and hay operations.
The Shoulder Brands at V8 Ranch
Customers often ask us about our different brands. Initially, when Sloan purchased the herd, all the cattle carried the V8 brand on their left hip. This tradition still holds true today. Because Jim was older when the herd was purchased, his cattle are branded the same way as Sloan's, using the same V8 brand.
However, as the family grew, Sloan & Mollie wanted to find a way to make sure all their children and grandchildren would be able to continue their heritage as Brahman breeders. So, they gave each child and grandchild the best heifer calf of that year's calf crop. Sloan and Jim decided to come up with a way to let the children know which cattle were theirs when they drove through the pastures. They decided on shoulder brands, named for each of their granddaughters and great-grandchildren, which can now be seen on a number of the ranch's cattle.
Who's who in shoulder brands?
C: Established 1983, signifies cattle owned by Catherine Sloan Williams 

P: Established 1997, signifies cattle owned by Payton Sloan Powell

K: Established 2017, signifies cattle owned by Knox Harrison Neumayr
Reaching New Heights
Sloan and Mollie Williams achieved their lifelong dream of ranching together, and now that dream includes their children, grandchildren, and great-grandchildren. Come to the ranch on any given day, and you'll find at least three generations of family members working side by side. The future is brighter than ever—not just for our ranch, but the whole Brahman breed.
For more than forty years, we've kept true to our strong ranching roots. The livestock industry has been built on passion and tradition. Those in the business know why we do it: the love of our cattle. While we work hard each day to reach new heights with our herd, we're proud to honor and preserve V8's time-honored traditions of excellence, enthusiasm, and single-minded determination. In 2012, we were awarded the "Seedstock Producer of the Year" award from the Beef Improvement Federation. This prestigious award recognizes our commitment to the industry and our efforts to produce gentle, high-quality Brahman seedstock with carcass merit.
In 2015, V8 Ranch was featured on the RFD TV show, The American Rancher. At V8, we take pride in our heritage, our Christian values, our work ethic, and above all our hands-on family atmosphere. We wake up each day excited to face the future and continue working toward our common goal: sustaining our family-owned and operated ranch for generations to come.
To learn more about the V8 Ranch family and our cow families, be sure to click around our website, or stop by and visit us in person.
Office Location
6329 FM 1096
Boling, Texas 77420
Phone Contacts
979-533-2056
979-657-3223 (fax)
Hours
M-F:  9:00 AM to 5:00 PM 
Weekends: Appointment Only

V8 Ranch, and the V8 brand are registered trademarks in the United States of America and may not be used without permission.