The +Mr. V8 380/6 bull claimed another American Brahman Breeders Association (ABBA) International Get-of-Sire championship at the 2020 International Show held at the Houston Livestock Show and Rodeo (HLSR). He has earned the international award in 2014, 2016, 2018 and 2020, plus the National Champion Get-of Sire in 2016 and 2017,which provides further proof that he is a "consistency machine".
"Winning the get-of-sire honor is something we place tremendous importance on at V8. It gives credibility to a bull's siring power and that they can calf after calf, and in 380's case, year after year, add quality individuals to the breed. To win this honor at the International Show in Houston, adds to the significance of the title and 380/6 has now done it four times. To say he stamps his calves with quality consistently is an understatement," explained V8's Jim Williams.
The Brahman Journal reported that he was the #1 sire of champions in the United States from 2011-2018. 
He has sired four International Grand Champion Females and four Reserve International Champion Females, five National Champion Females, and his wins are in both Red and Grey Brahmans.
Members of the winning 2020 Get include:
Mr. V8 322/8, out of Miss V8 33/8. He is a two time division winner at HLSR.

Mr. V8 365/8, out of +Miss V8 805/6, owned with 79 Cattle Company of Boerne, Texas

Mr. V8 460/8, out of Miss V8 498/7, owned with KI Cattle Company of San Augustine, Texas

Miss V8 796/8, out of Miss V8 33/8
In addition to the wins on the big stage at Houston, he has sired numerous calves that have won at all levels of competitions.
He is sired by (+)JDH Karu Manso 800 and his dam, Miss V8 170/6 is a daughter of +Mr. V8 287/5 "Superstroke". 
"His value lies in the ability to consistently produce outstanding females with perfect structure, muscling, power and eye appeal,"  described Williams, adding that 380 ranks in the top 1% of the breed for weaning, yearling, carcass weight, and ribeye, while posting a top 5% for retail product, 8% for scrotal circumference, 10% for calving ease direct and a top 11% mark for tenderness.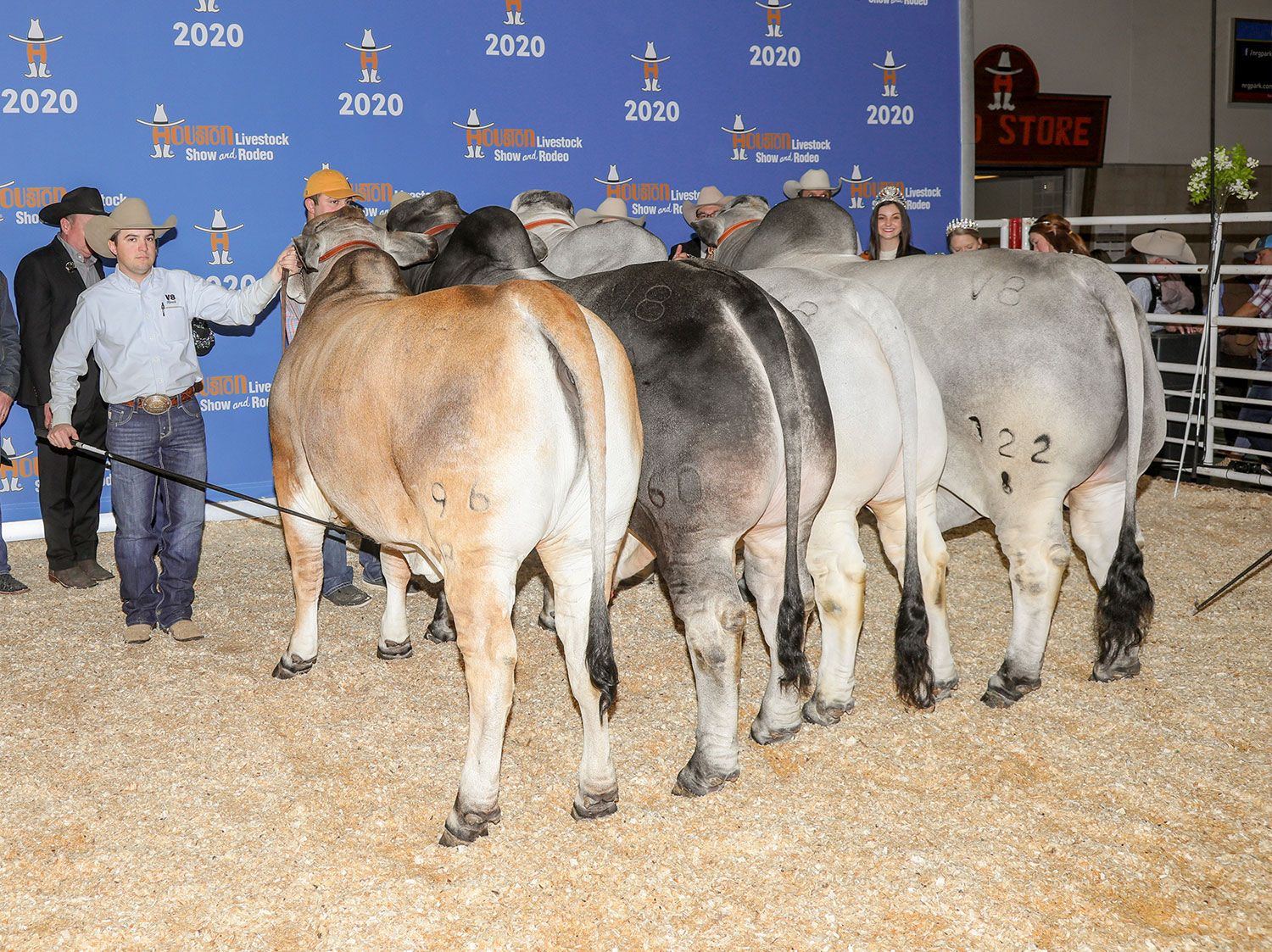 2020 International Champion Get of Sire, +Mr. V8 380/6
+Mr. V8 380/6 has repeatedly proven his value as a show ring sire, but his phenotype and his EPD data have made him a sire in demand, domestically and internationally, for cattle that can excel in production and performance arenas, too.
Semen is available on the +Mr. V8 380/6 bull at $25,000/unit domestically and $200/unit foreign. For more information on him and to place semen orders visit his sire page from V8 Ranch.