V8 Ranch: A Pillar of ABBA & Brahman Cattle Breeding
V8 Ranch, a proud and long-standing breeder of Brahman cattle and member of the American Brahman Breeders Association (ABBA), is thrilled to announce its integral role in planning the ABBA's upcoming 100th Anniversary celebration.
This monumental event will pay tribute to the rich heritage of ABBA, established in 1924, and honor the considerable contributions of the Brahman breed to the global beef industry. J.W. Sartwelle, the first recording secretary of ABBA, bestowed the name "Brahman" on this resilient and robust beef breed. 
ABBA Hall of Fame Family Legacy
V8 Ranch boasts a distinguished history of involvement with ABBA. A testament to this is the induction of three of our team members into the ABBA Hall of Fame: our founder, Howard Parker, in 1994; Sloan Williams in 2000; and Jim Williams in 2022.
V8
Cattle Ranch
: Leading ABBA Committees for the
American Brahman
Breed's Future
Continuing this legacy of service, both Jim Williams, in his capacity as a past president, and Catherine Williams Neumayr, elected to the ABBA Board of Directors in 2022, are proud to be invited to serve on the 100th Anniversary planning committee. Catherine, following in the footsteps of her mother, Luann Williams, a longstanding member of the communications committee, now serves as the current communications committee chairman for ABBA and is the vice chairman of the 100th Anniversary committee.

V8 Ranch family member Luke Neumayr upholds the tradition of active participation in ABBA. He currently serves on both the DNA Committee and the International Committee, embodying V8 Ranch's enduring commitment to the American Brahman breed's continual development.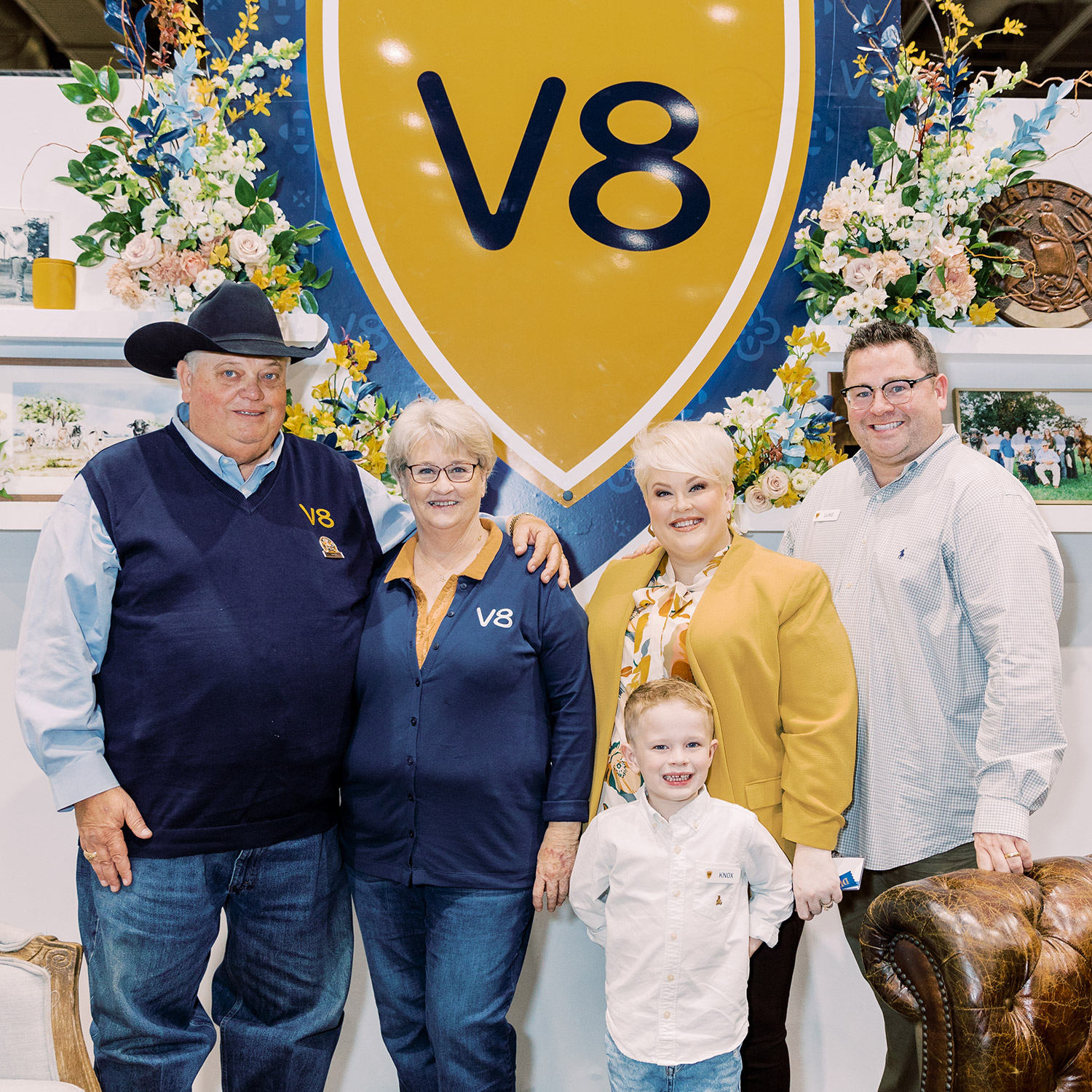 Jim and Luann Williams
Luke, Catherine, and Knox Neumayr
A New Look for Modern American Brahman Ranching
This summer, the 100th Anniversary Logo was unveiled at the ABBA Board of Directors Meeting. Catherine, who coordinates and oversees all V8 advertising and marketing, created the logo in collaboration with the ABBA Communications Committee as part of the 100th Anniversary event planning.
As we approach the 100th Anniversary of the American Brahman Breeders Association, V8 Ranch is both humbled and honored to play a key role in the planning process. Our involvement reflects our unyielding dedication to the American Brahman breed and modern cattle ranching. Stay tuned for more updates and details about this grand celebration.