At V8 Ranch, F-1 cattle play a major role in our large commercial herd. The F-1 is officially trademarked and recognized as the Queen of Cow Country. Why do commercial cattlemen view Brahman cross females as reigning royalty? Because of their many traits that enhance performance and add profitability to a herd.
Heterosis is the tendency of a crossbred individual to show qualities superior to those of both parents, and it's no secret that the American Brahman can generate maximum heterosis when crossed with other breeds.
Renowned for their environmental adaptability, Brahmans have genetic advantages for heat tolerance, disease- and pest-resistance, longevity, and fertility. Brahman cows consistently reproduce even under stressful conditions.
An F-1 benefits from these characteristics. She is a maternal machine, with bred-in environmental adaptability, increased milk production, and higher fertility. She will also wean faster growing calves with fewer inputs. Best of all, the F-1 female breeds back quickly, transmitting these fertility traits to her offspring.
ABBA's F-1 Certification Program


Since 1979, the American Brahman Breeders Association (ABBA) F-1 Certification program has enrolled over 85,000 head. Ranchers who raise and market the Brahman F-1 female report as much as $200 per head in added revenue.
F-1 female producers have also discovered that resulting steer calves excel in the feedlot. Brahman-hybrid steers remain healthy and make rapid, efficient gains while producing heavier, higher yielding carcasses that are free of excess fat – exactly what today's packers and health-conscious consumers demand.
ABBA recognizes two levels of classification for F-1s:
Golden Certified F-1 — a female that is the progeny of two registered parents.
Certified F-1 — a female with a registered sire and a qualified dam, which is to say a purebred cow with physical characteristics that have been inspected by an ABBA representative.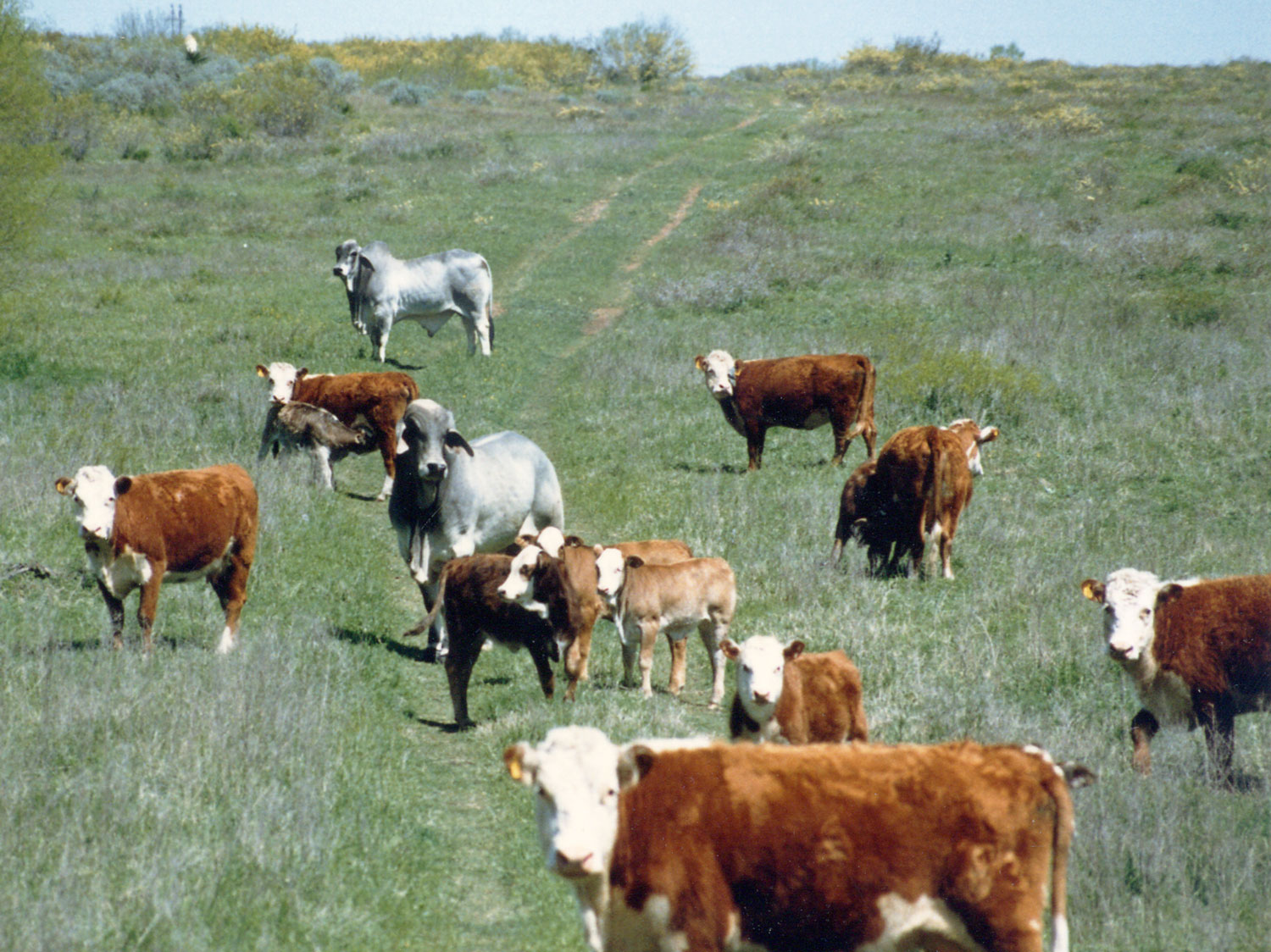 V8 Brahman Bulls on Hereford Cows
The program permits the use of registered Brahman bulls on registered or qualified, purebred non-registered cows of other breeds — or registered bulls of other breeds on registered or qualified, purebred non-registered Brahman cows.
Either system provides the same result — an F-1 Brahman hybrid: 1/2 Brahman x 1/2 Bos Taurus breed. The most common cross is the Brahman x Hereford, often referred to as Tiger Stripes, due to the brindle stripe pattern of their hide. Growing in popularity, Brahman x Angus is the second most popular certified F-1.
Stats and Stripes: F-1s by The Numbers

Listen to conversations where cattlemen convene, and you'll hear lots of positive conversation about the F-1 Brahman female.  But it's not just feed store or sale barn talk – the F-1 has the data to back up her reputation.
Dr. Todd Thrift and team at the University of Florida
published the following statistics after studying crossbred females from Brahman and Bos Taurus (Hereford, Angus, Shorthorn) breeds. The F-1 female exhibits:


10% greater fertility
5% greater calf survival
12.5% greater weaning rate
70 lb. greater calf weight at weaning, and
37% greater longevity compared to purebred females
The numbers validate why cattlemen see value in the F-1 for current economic and climatic conditions. Driving across pastures through the South, Southeast, and into the Mid-South, you'll find these queens converting grass to energy, raising big calves, and doing their jobs no matter the climate or environmental conditions. The F-1 has earned her title and ranchers depend on her to keep them in business.
To learn more about the Brahman F-1 female, visit brahman.org or give us a call at V8 Ranch.