The 4/5 Cow Family
+Miss V8 4/5 Cow Family at V8 Ranch
Born on V8 Ranch in Boling, Texas in 1994, +Miss V8 4/5 was one of our last Suva daughters to be born. In addition to Suva, her dark pigment comes from her mother and granddam, Miss V8 834/2, who was almost completely jet black. It was 1996 when Sloan negotiated a deal to sell one-half interest to our family's good friend, Mr. Bobby Dickens of Lazy D Farms in Mississippi. One of our few multiple owned matriarchs, her direct impact can be seen in two different herds. Eventually, the Dickens loved 4/5 so much that they ended up owning all of her.
+Miss V8 4/5 is the daughter of (+)WR Mr. Suva 203. Pedigree records can be traced back through the lineage of herd bull Mr. V8 232/1 to start with V8's original Brahman cow, Carmencita 116.
Mr. V8 13/1
HCK Sir Suvaneldo 308/1
HCK Ms Suva Ann
SIRE: (+)WR Mr. Suva 203
Mr. V8 11/1
+HCK Princess Val Suvan 192/1
HCK Princess Suva 973
(+)JDH Gregory R Manso 386/5
(+)JDH Mr. Charley Manso 590/6
+JDH Ldy Equito Man438/2
DAM: Miss V8 407/4
JDH Lewis B Manso 411/5
Miss V8 834/2
Miss V8 685/1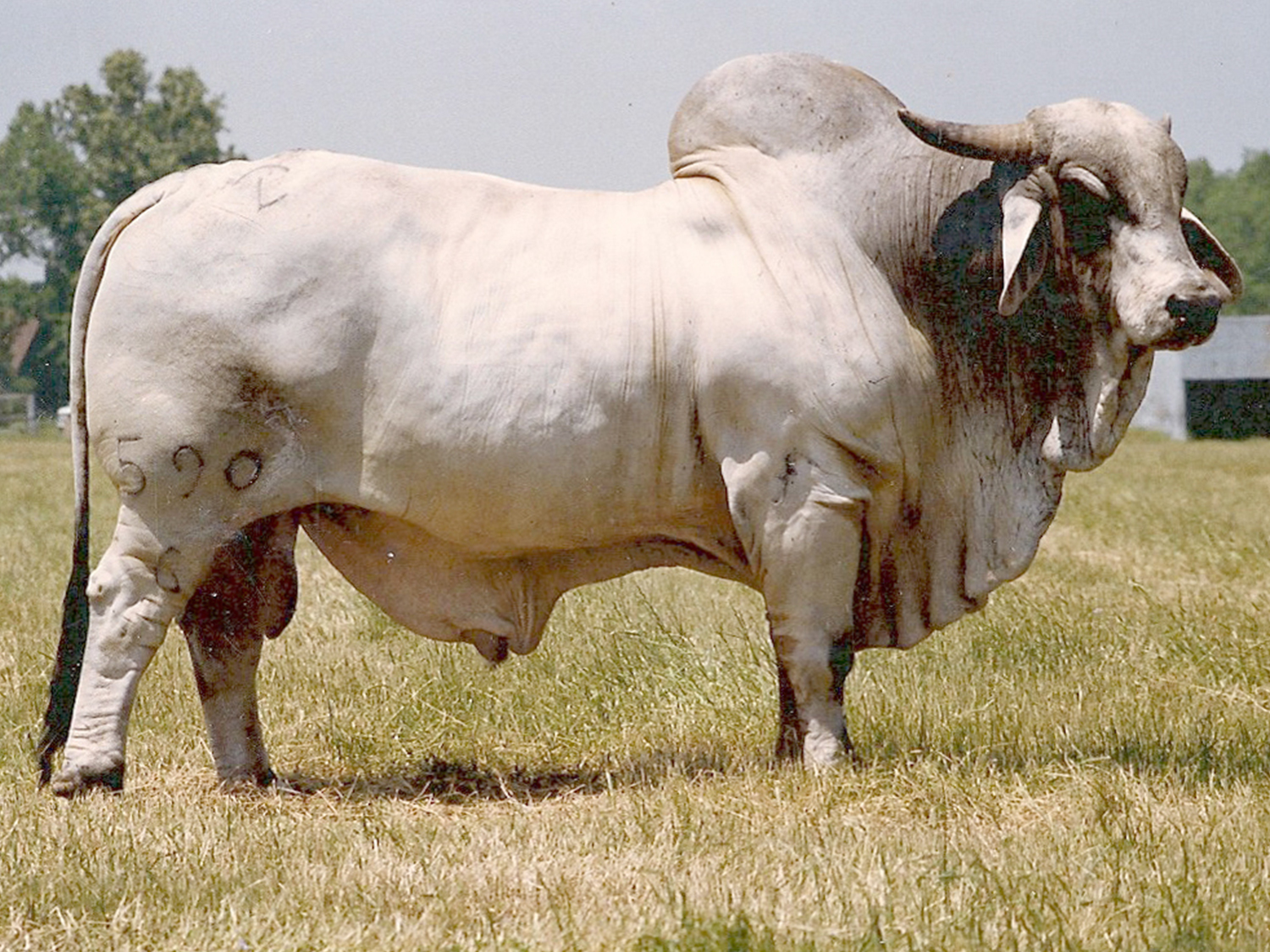 (+)JDH Mr. Charley Manso 590/6, maternal grandsire of +Miss V8 4/5. Charley is one of the most famous Brahman bulls of all time.
If we could describe her impact in one word, it would be "widespread.". Her very first daughter, +Miss V8 552/6, was a National Champion and is the dam of two very important V8 bulls. Her son, +Mr. V8 960/5 was an International Champion. Another son, Mr. V8 736/5 was sold to Valley Ranch and then leased back by Jim to breed cows naturally at V8; during this time he sired the National Champion +Miss V8 100/7 (P), who is the dam of +Mr. V8 458/7 "Noble."
Born: Spring 1994, Boling, TX
Death: Unknown, Sumrall, MS

Number of Sons: 4
Number of Daughters: 11

Today at V8 her influence is carried through descendants of her three impactful daughters, +Miss V8 552/5 (by Mr. V8 440/4) ,+Miss V8 933/5 and +Miss V8 14/6 (both by Powerstroke). A V8-raised female from the +Miss V8 4/5 cow family, Miss V8 775/7, is the dam of the 2021 International Champion Female (sired by +Mr. V8 380/6).
News Updates From This Cow Family…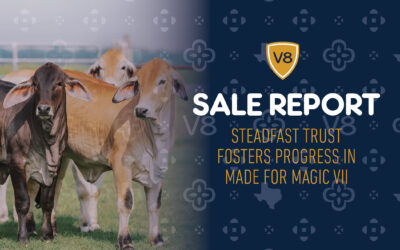 V8 Ranch Upholds Trust and Trajectory at Made for Magic VII Sale A captivating selection of five fall-born heifers...
For further study, explore the +Miss V8 4/5 cow family through these sires and donors at V8 Ranch that are in production at this time.
Office Location
6329 FM 1096
Boling, Texas 77420
Phone Contacts
979-533-2056
979-657-3223 (fax)
Hours
M-F:  9:00 AM to 5:00 PM 
Weekends: Appointment Only

V8 Ranch, and the V8 brand are registered trademarks in the United States of America and may not be used without permission.