A Grand Finale as Spectacular as the Holiday Fireworks
On Monday, July 4th and Tuesday, July 5th, 2022, V8 Ranch hosted Made for Magic V, an online auction featuring the top six heifers from its fall-born calf crop. The online sale, hosted by DVAuction.com, proved to be just as spectacular as the holiday weekend fireworks, building up to an exciting finale with a final flurry of bids.
The fifth sale of its kind, V8 Made for Magic V featured six lots; five heifers were sold in their entirety and one lot sold as a half-interest only. The much-anticipated offerings garnered final sale prices averaging $72,182.  Winning bidders included repeat customers and an international buyer, underscoring the level of trust the Brahman breed places in V8 seedstock and the Williams family.
"We have always strived to produce the highest quality of individuals we can", said V8's Jim Williams, but gaining and maintaining the trust of our fellow breeders is an equally important goal. We are currently facing drought, sky-high gas prices, inflation, and other obstacles, but V8 continues to take an aggressive, progressive, and positive approach to provide cattle that can help Brahman breeders face the challenges ahead," he added.
A "Smidge" Over Six Figures
Topping the sale and generating much discussion in the Brahman world was the Lot 4 heifer, Miss V8 554/9 "Smidge". Mexico's renowned cattleman, Hernando Guerra, purchased this heifer on order for Mexico, paying $105,250 for half -interest.
Producing a black heifer of this quality has been a goal of Jim's for more than 50 years, since he first admired 914/1, one of the original V8 cows. Since then, he has been looking for black genetics that meet all the other V8 breed specifics. Miss V8 554/9's sire, +JME Mr. Suva Crat 225 (P) did just that, and he has been crossed with select dark-pigmented V8 cows.
Lot 4's dam, Miss V8 507/7, is 380-daughter out of the dam of 146/8 (Sloan). She not only has the pedigree, but she also the phenotype and EPD profile that breeders desire. "Smidge" currently ranks in the top 15% for seven EPD categories. This heifer represents both the legendary V8 female "magic' and the future of the breed because in Jim's words, black Brahman cattle are "the next big thing."
A Marvel of Outcross Genetics
Repeat V8 Ranch customers, GKB Cattle of Waxahachie, Texas, added the Lot 1 heifer, Miss V8 532/9, to their growing herd for $90,250. This female, a rare V8 genetic outcross, carries the sire power of the 2020 National Champion, Mr. V8 322/8. Her dam is a product of J.D. Hudgins breeding. Boasting a signature V8 profile, Miss V8 532/9 ranks in the top 10% of the breed for five growth and maternal traits, including the top 1% for weaning. She also has two top 10% rankings in the carcass category.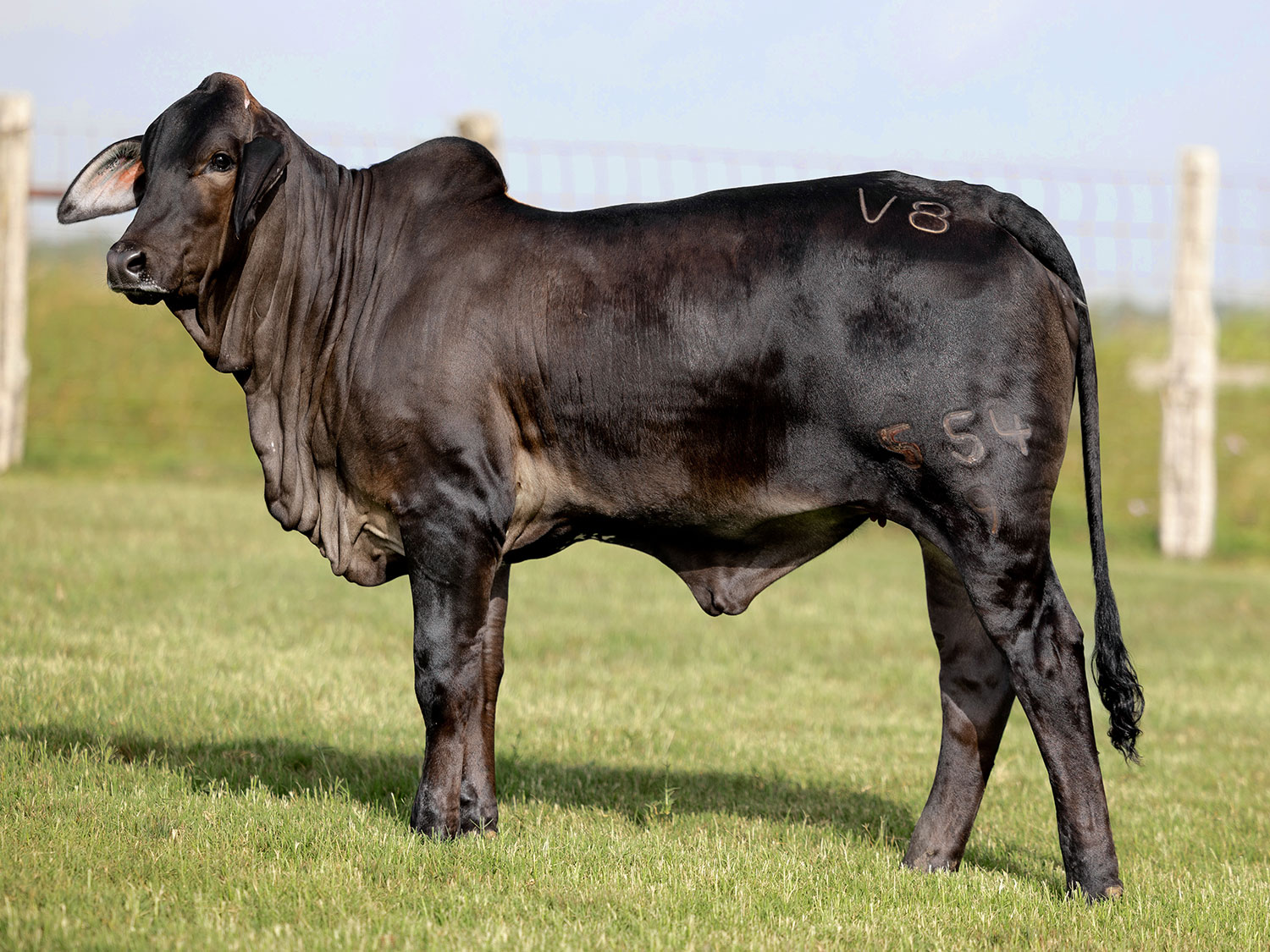 Lot 4, Miss V8 554/9
Sold for $105,250 to Hernando Guerra, on order for Mexico.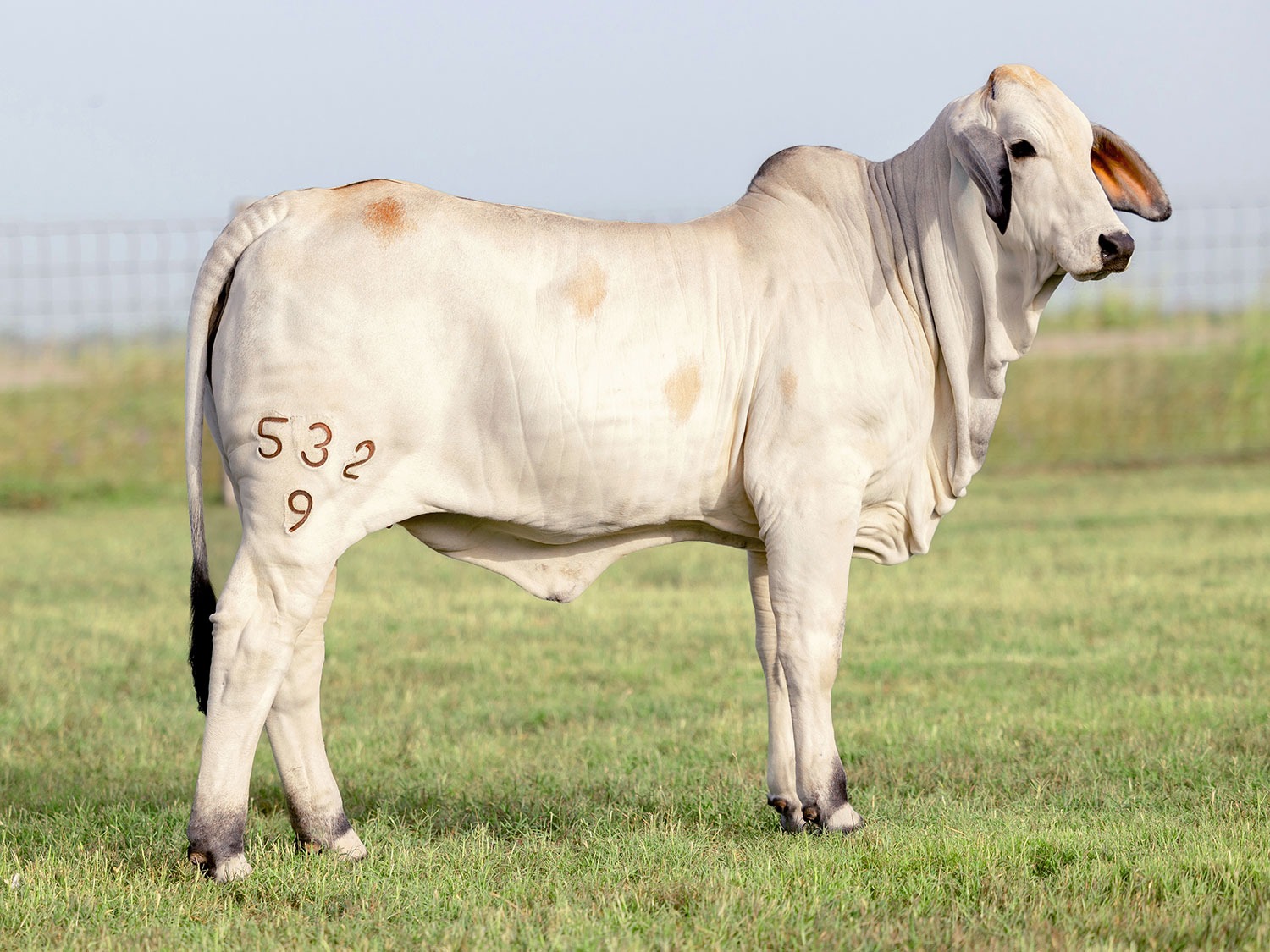 Lot 1, Miss V8 532/9
Sold for $90,250 to GKB Cattle of Waxahachie, Texas.
A Rich Historical Pedigree
Our Lot 6 heifer has a new home in neighboring Louisiana; Skipper Williams of Keithville added Miss V8 567/9 to his program. Miss V8 567/9 is a daughter of "Sloan", the breed's only three-time International Champion, and dam from our +Miss V8 4/5 cow family which has a rich and proven history at the ranch. This breeding combination classifies as a proprietary Superblend™, an animal from a prominent V8 cow family crossed with bulls who boast the power from one of our other cow families. She exudes what we call "V8 magic" as she ranks in the top 15% for ten EPD categories and possesses an elegant profile with a proven pedigree.
A Superblend™ for Super Competitors
Repeat buyers, Walters Livestock Enterprises of Brenham, Texas also added another Superblend™ product, Miss V8 543/9, to their herd and always-competitive show string. The Lot 3 heifer is a Sloan daughter and her dam, Miss V8 77/8, is a 380-daughter and young donor in the V8 program. Miss V8 77/8 has already produced two daughters retained by V8, and a three-quarter sister has been a many-time champion in her first year on the circuit. The +Miss V8 410/6 cow family is building a legacy; and with top 15% rankings in six EPD categories, 543/9 is destined to write a few chapters of her own.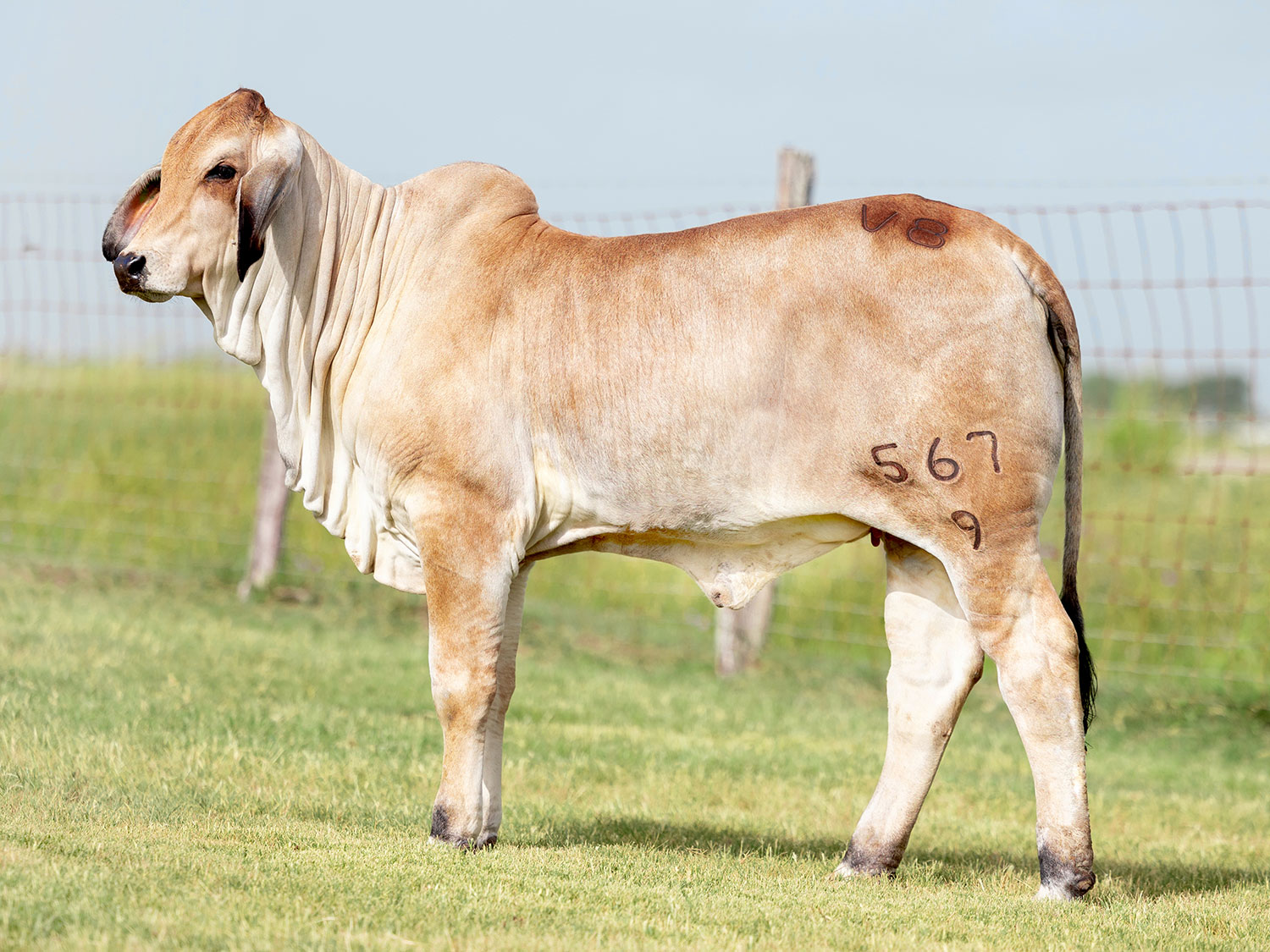 Lot 6, Miss V8 567/9
Sold for $51,750 to Skipper Williams of Keithville, Louisiana.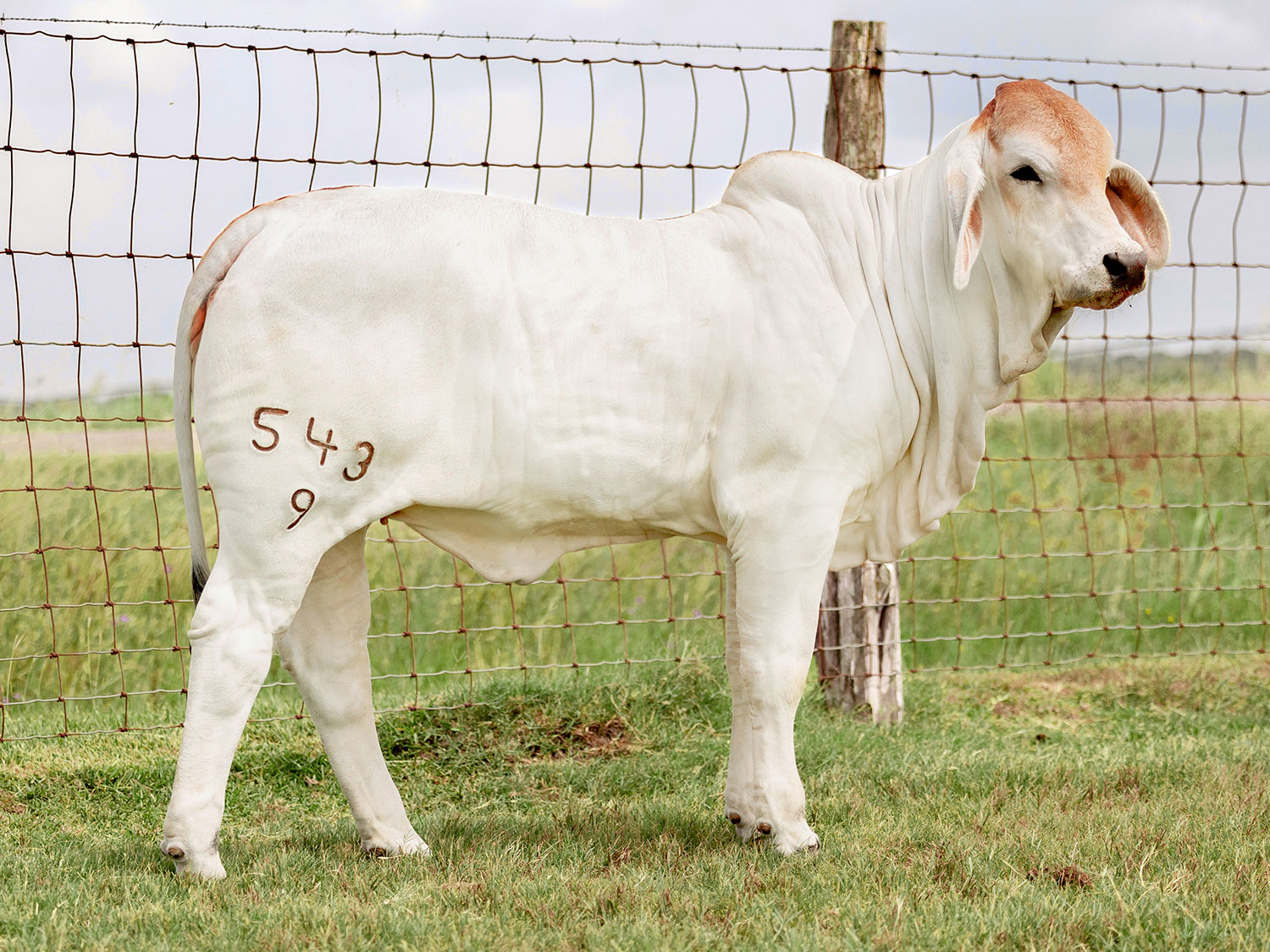 Lot 3, Miss V8 543/9
Sold for $51,250 to Walters Livestock Enterprises of Brenham, Texas.
Magic and Muscle in Lot 5
Lot 5, Miss V8 562/9, brought magic and muscle to Made for Magic V. Jake and Britt Mathews of KI Cattle in San Augustine, Texas own her now with their final bid of $50,250. "Sloan" entered the Register of Renown at the age of 5, and this Sloan daughter is sure to add to his legacy. Her dam, Miss V8 174/8, is a 380-daughter hailing from a proven maternal line, the +JDH Ms Water Manso cow family. Miss V8 562/9 is also Superblend™ ranking in the top 15% for six EPD profiles. Although she has abundant muscle, she is elegant in every way.
Excellence By the Numbers
Talk about data—Miss V8 538/9, the Lot 2 heifer, ranks in the top 15% in eight categories, including top 1% for weaning, yearling, total maternal, and carcass weight gain. In addition, she adds a balanced and attractive phenotype with a royal pedigree. She is a daughter of Mr. V8 322/8, and her dam is Miss V8 997/6, the dam of Yeti and a cow that has now generated over $510,000 in sales of her own sons and daughters. 76 Ranch of Timpson, Texas played the numbers just right, securing a final price of $48,250.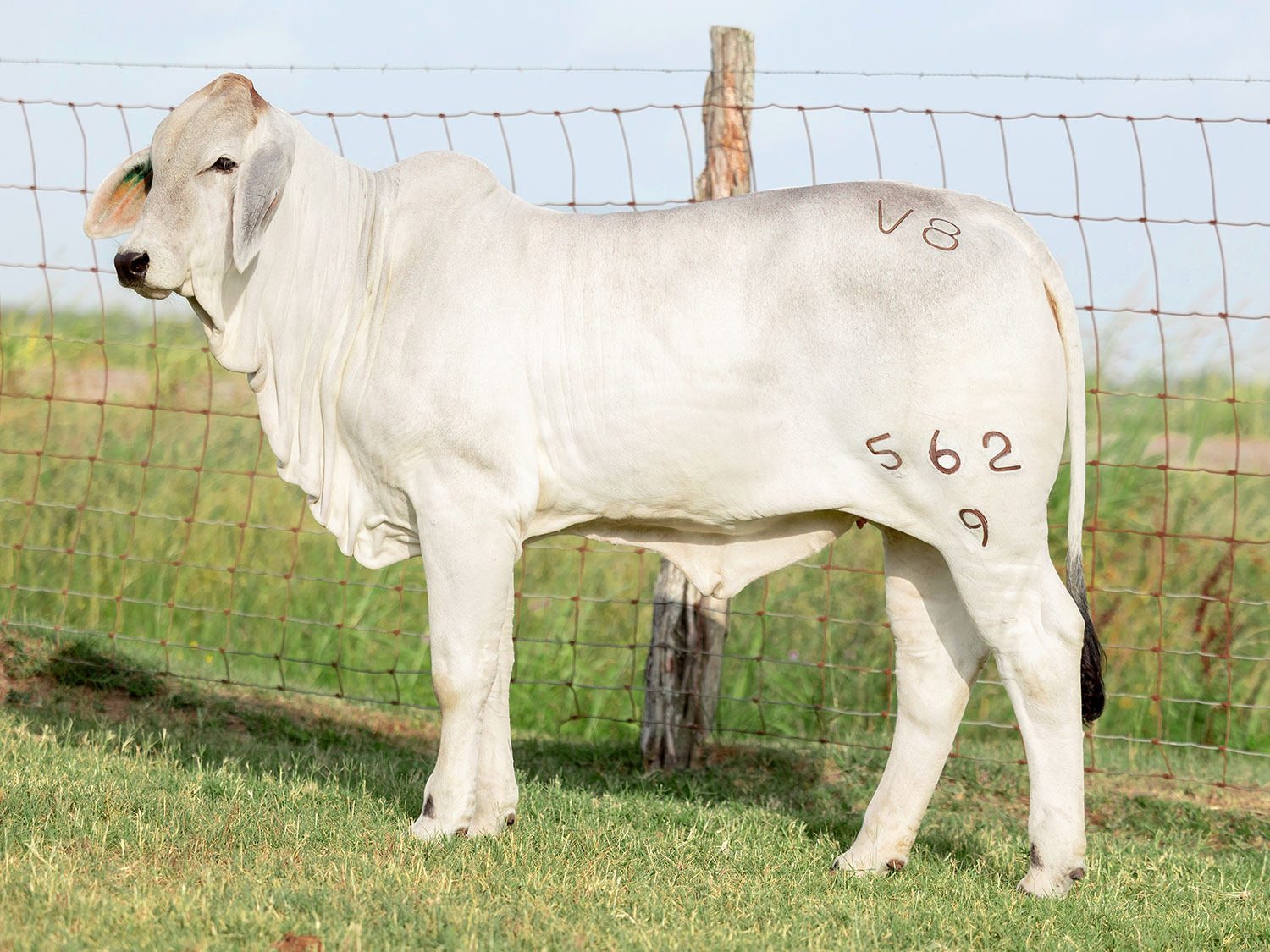 Lot 5, Miss V8 562/9
Sold for $50,250 to Ki Cattle Company, San Augustine, Texas.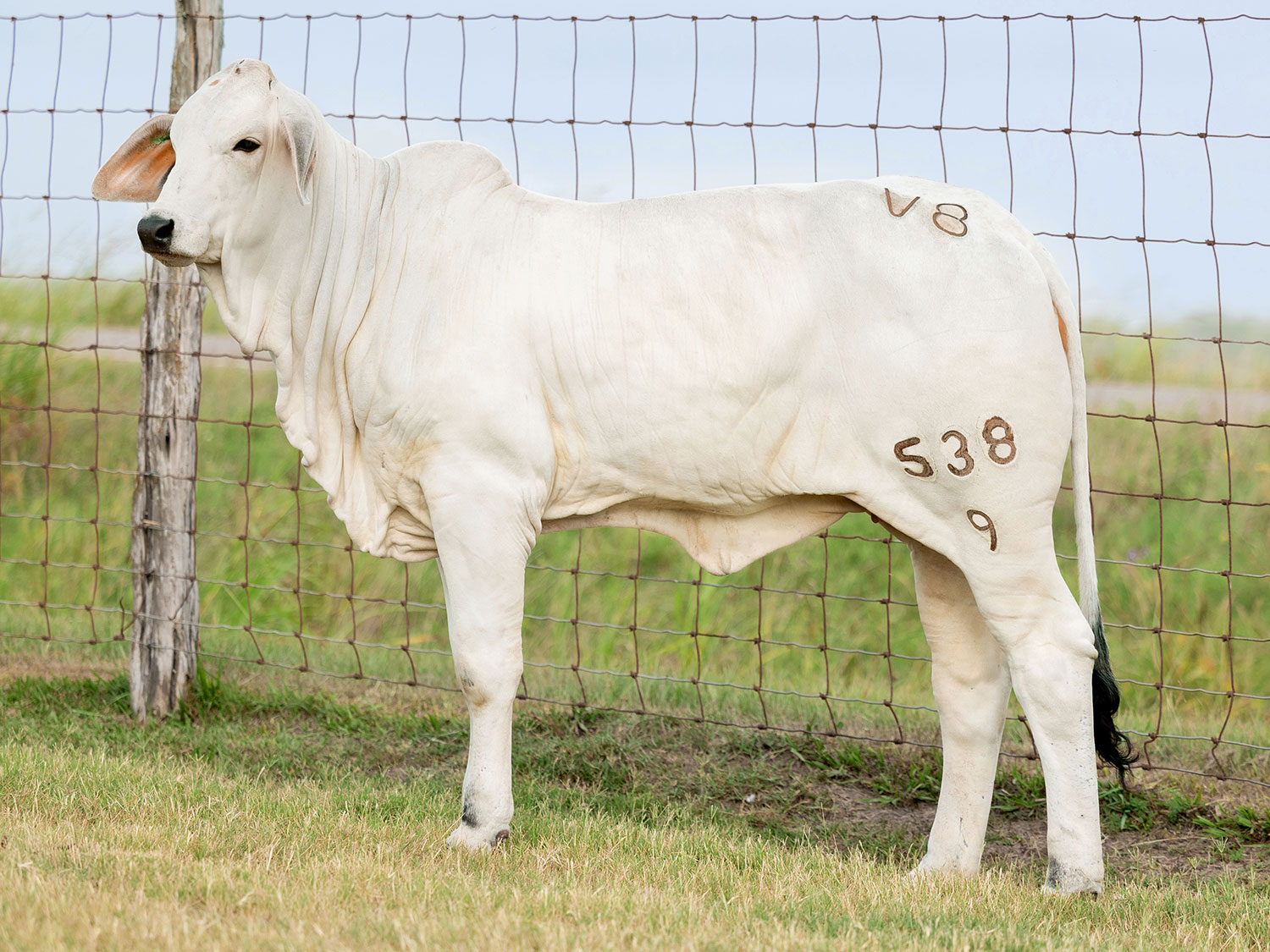 Lot 2, Miss V8 538/9
Sold for $48,250 to 76 Ranch of Timpson, Texas.
The Final Word on the Final Sales
Reflecting on the Made for Magic V sale, Jim Williams said:
"Our biggest source of pride comes from watching our customers create their own magic with V8 genetics. On behalf of our family, we want to say thank you for your interest and we will be cheering for your success with these females." 
To learn more about the Made for Magic V heifers, please visit our website.
The next V8 sale is Made for Magic VI, which will feature top V8 Ranch's curated pick of spring-born heifers. The sale dates are October 17-18, 2022. To request a catalog for Made for Magic VI, or follow the V8 program, find us on Facebook or Instagram.