On March 6, 2020 history was made in the Brahman breed by Mr. V8 146/8 at the Houston Livestock Show and Rodeo. For the first time in the association's existence, which dates back to 1924, a bull won the prestigious International Grand Champion Bull title for a third time. That bull is Mr. V8 146/8.
He won his first title in 2018 as a 13-month-old calf, under Mitch Thomas' judging. Then in 2019, Blake Nelson selected him as champion and fellow Brahman breeder, Pasquale Swaner slapped him for the historic win in 2020.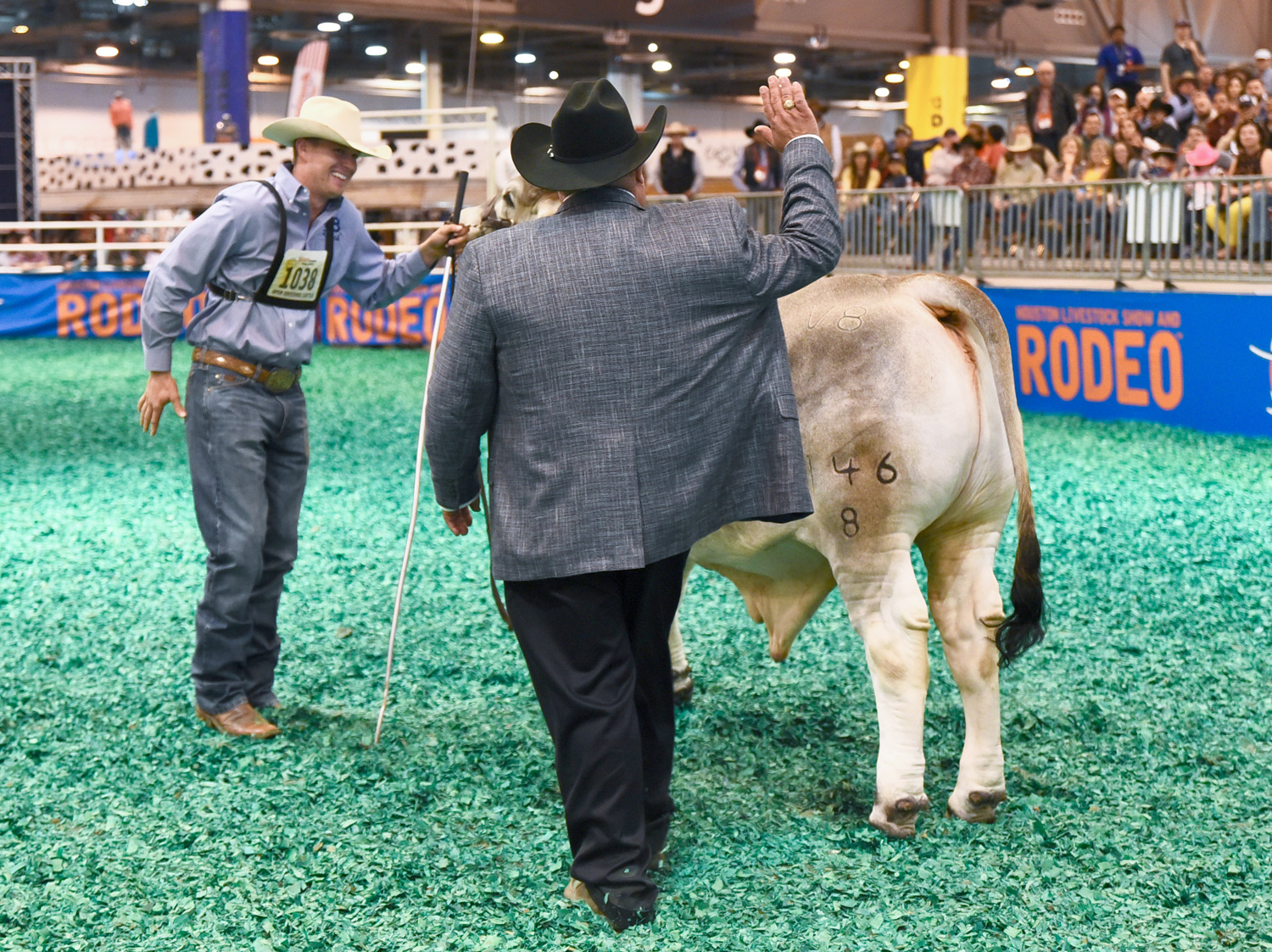 Judge Mitch Thomas selects Mr. V8 146/8 as 2018 International Champion Brahman Bull as a calf.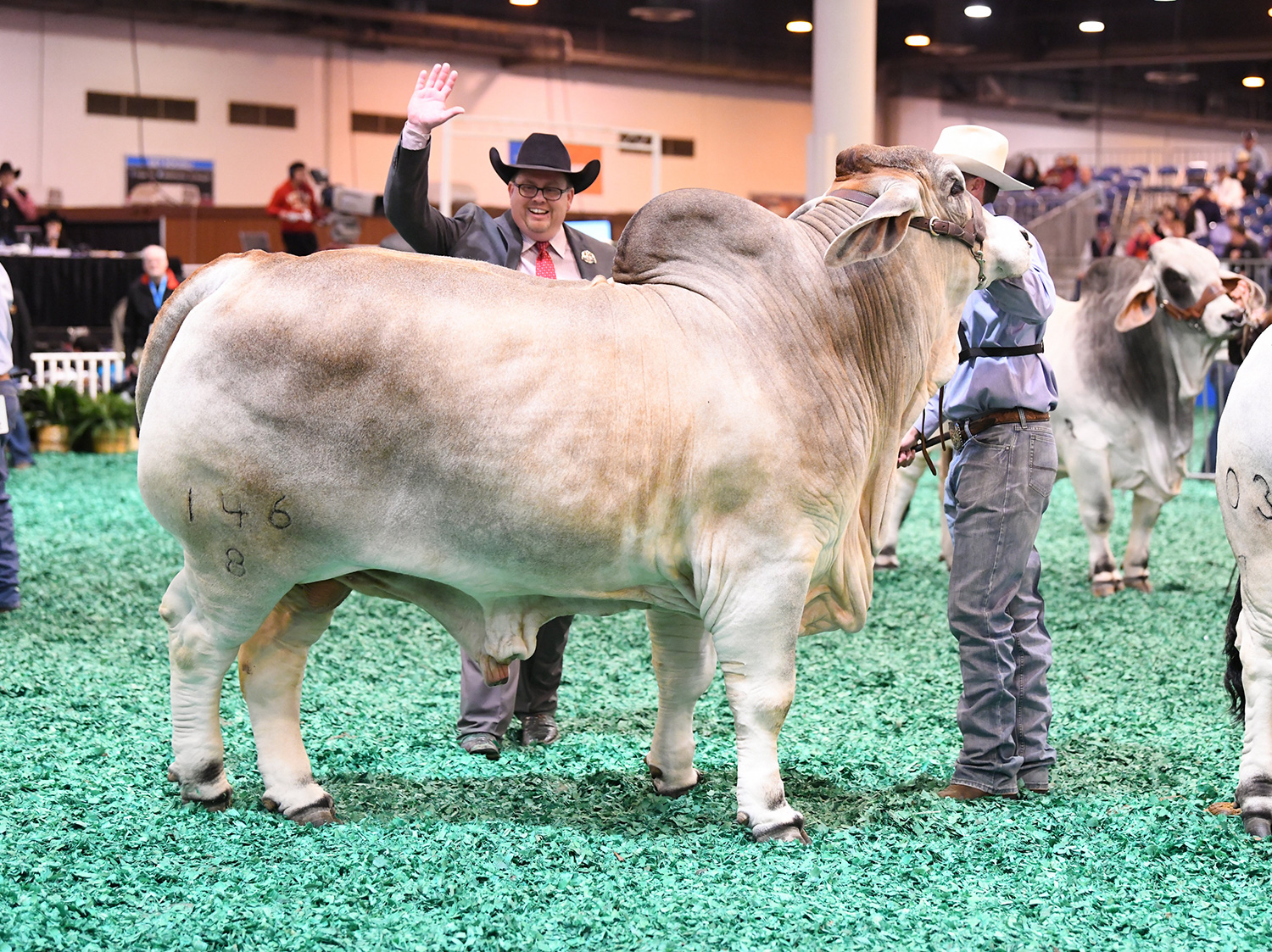 Judge Blake Nelson selects Mr. V8 146/8 as 2019 International Champion Brahman Bull.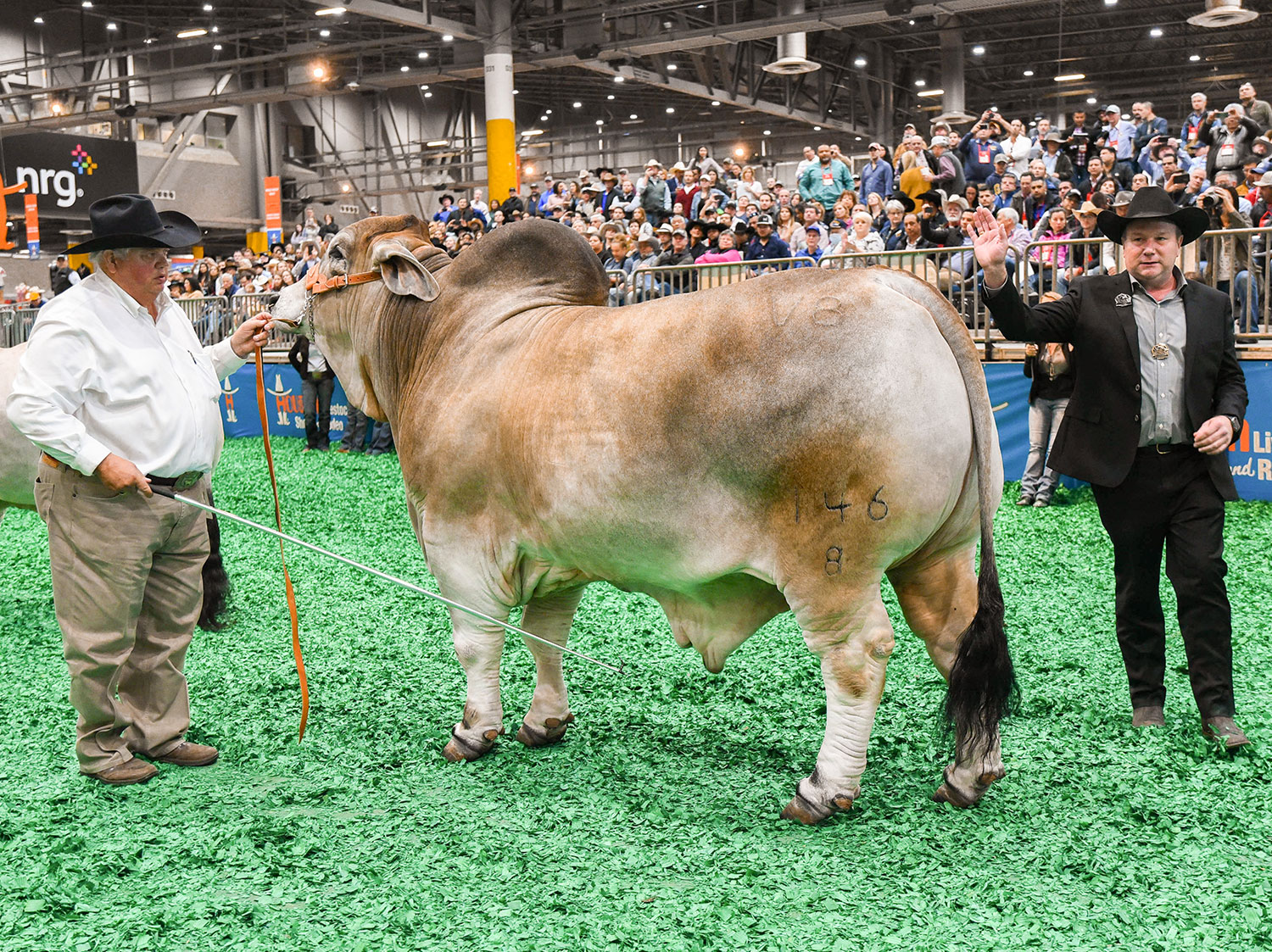 Judge Pasquale Swaner selects Mr. V8 146/8 as 2020 International Champion Brahman Bull.
"We've always said Houston was the Super Bowl for our breed, as we work all year to have our cattle ready for that competition. To win a grand title there one time makes you ecstatic. Then there's tremendous pressure if you bring an individual back to try and win it the second time. A third opportunity is a rare occasion and a steep challenge. 146/8 met that challenge. He was a standout from a calf and he has only continued to impress and become a powerful bull," said Jim Williams.
Top V8 Genetics in Mr. V8 146/8 Pedigree
He is sired by +Mr. V8 458/7, "Noble." His dam is +Miss V8 805/6, who has to her credit, Miss V8 293/8, the 2016 National Grand Champion Female and many donor daughters in production at V8 Ranch. Her profile is impressive, and her pedigree brings a unique combination of bloodlines. In her tabulation you find, +Avery, +Liberty and +Datapack on the top side, and Mr. V8 700/3 and Imperator on the bottom side. She excels at passing on depth of body, spring of rib, volume, capacity, muscle shape, and sound skeletal features.
"146/8 has already earned a special place in ranch and breed history. We have always valued the show ring and yes, we place a great emphasis on it, but we know the real test comes in an animal's production. 146/8  has calves on the ground that we think are contenders, as he is stamping them with power, quality and he is transmitting his superiority. We have great excitement here for what's ahead for this sire," described Jim.
SEmen on Mr. V8 146/8
The limited domestic offering of semen on Mr. V8 146/8 sold out at the V8 Ranch Stall Party held during the Houston Livestock Show Brahman Week. Semen is available internationally by contacting V8 Ranch.