V8 Ranch Introduces a New Type of Magic to Polled Program: NCC
Municipal
V8 Ranch was the winning bidder of Lot 23, NCC Municipal [(IVF) (POLL/SCURR)], in NCC's October 2022 Brahman Sale. The Williams family participated in the auction as online bidders, watching the sale from the comfort of their ranch is it unfolded over 8,000 miles away in Duaringa, Queensland, Australia.
Born to Breed
Featuring top JDH genetics on the top side of his pedigree, Municipal's grandsire is (+) JDH Woodson De Manso; his sire is JDH Clanton De Manso.  Both were National and International Grand Champions. Raised by Brett Nobbs of Nobbs Cattle Co., the moment the Williams family saw Municipal's photo in the sales catalog, they could see his potential for V8's growing polled genetics program.
Correct and sound on his feet and legs, Municipal has a quiet nature, an excellent muscle pattern, squareness through the body, good constitution, easy-doing softness, and strength of loin. Jim Williams said:
"What I like about this bull is the quality – excellent breed character, great depth of body, and good muscle shape. He has a lot of balance to him in length, width, and height. Both Municipal and his sire have a very clean, tight sheath. We've been quietly looking for a good polled bull for the last 5 years, and we like Municipal because he's an outcross to every V8 ranch cow and 99% of the polled cattle here in the United States."
#NCC Municipal (IVF) (Poll/Scurr)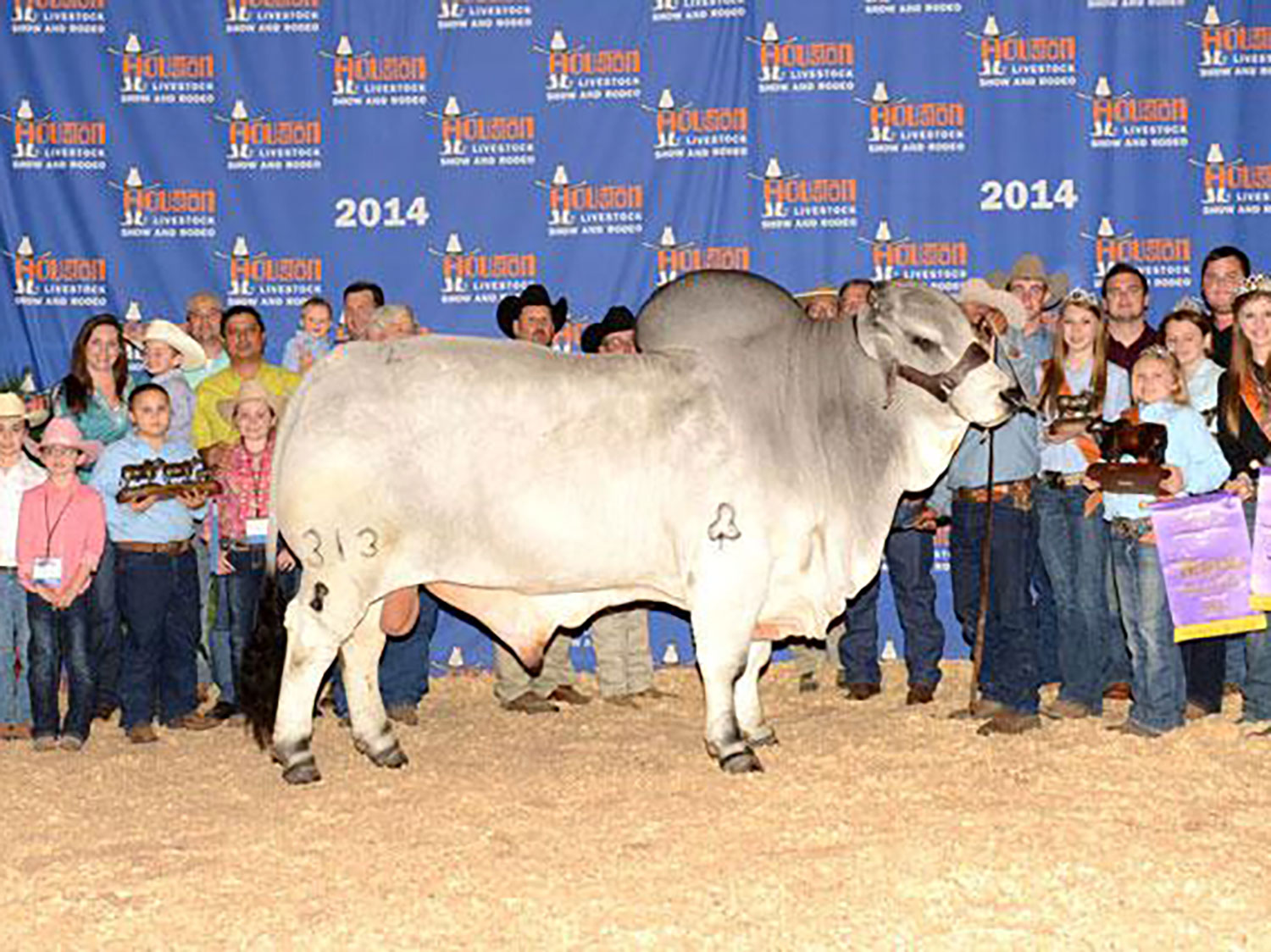 JDH Clanton de Manso 313/8, sire of Municipal. International and National Champion
Poised to Poll
V8 Ranch is no stranger to polled cattle; back in 1989, polled cow Miss V8 490/3 was both a National and International Champion. As Jim Williams puts it: "Without question, polled cattle have become more and more popular here in the United States. We've been looking to develop polled cattle for quite some time but haven't rushed it because our primary concern is quality polled cattle, not just polled cattle." 
As Jim points out, one of the major concerns with polled cattle in the United States is that these cattle are very closely related, tracing back to several lines of cattle. Bringing in outstanding genetics from one of Australia's very best Brahman breeders has a few distinct advantages for U.S.-based Brahman breeders. He explains: "Municipal's sire was an International Grand Champion bull in Houston, out of one of J.D. Hudgins' top bulls, Woodson. I don't think any of those Woodson cattle, have been incorporated into the polled line. And more importantly, Municipal's dam [NCC Philine 3712 (AI) (PS)] is a full Australian animal, so she would be a complete outcross to any of the polled lines of in the United States.
Primed to Partner
One of the things we love best about our work, is the ability to partner with other passionate, skilled Brahman breeders. Having partnered with Brett Nobbs on Mr. V8 179/8 Big Mack and Mr. V8 660/7, we are very familiar with his discerning eye, his exceptional standards, and the outstanding, world-renowned program he has created at Nobbs Cattle Co.  Our investment in NCC's Municipal represents our commitment to creating a world-class polled program consistent with the quality for which V8 is renowned.
Brett Nobbs said: "Municipal ranks among one of the best Brahman bulls we've raised; it's an honour to see him return to his roots for a US-based polled program."
Municipal has been sent to Rocky Repro, Queensland, Australia's most comprehensive bovine reproduction center, for semen collection; we look forward to sharing further updates as on our Australian import who we believe will be a keystone in our polled program's history.
To learn more about our cattle – whether horned, scurred or polled – visit V8 Ranch or give us a call.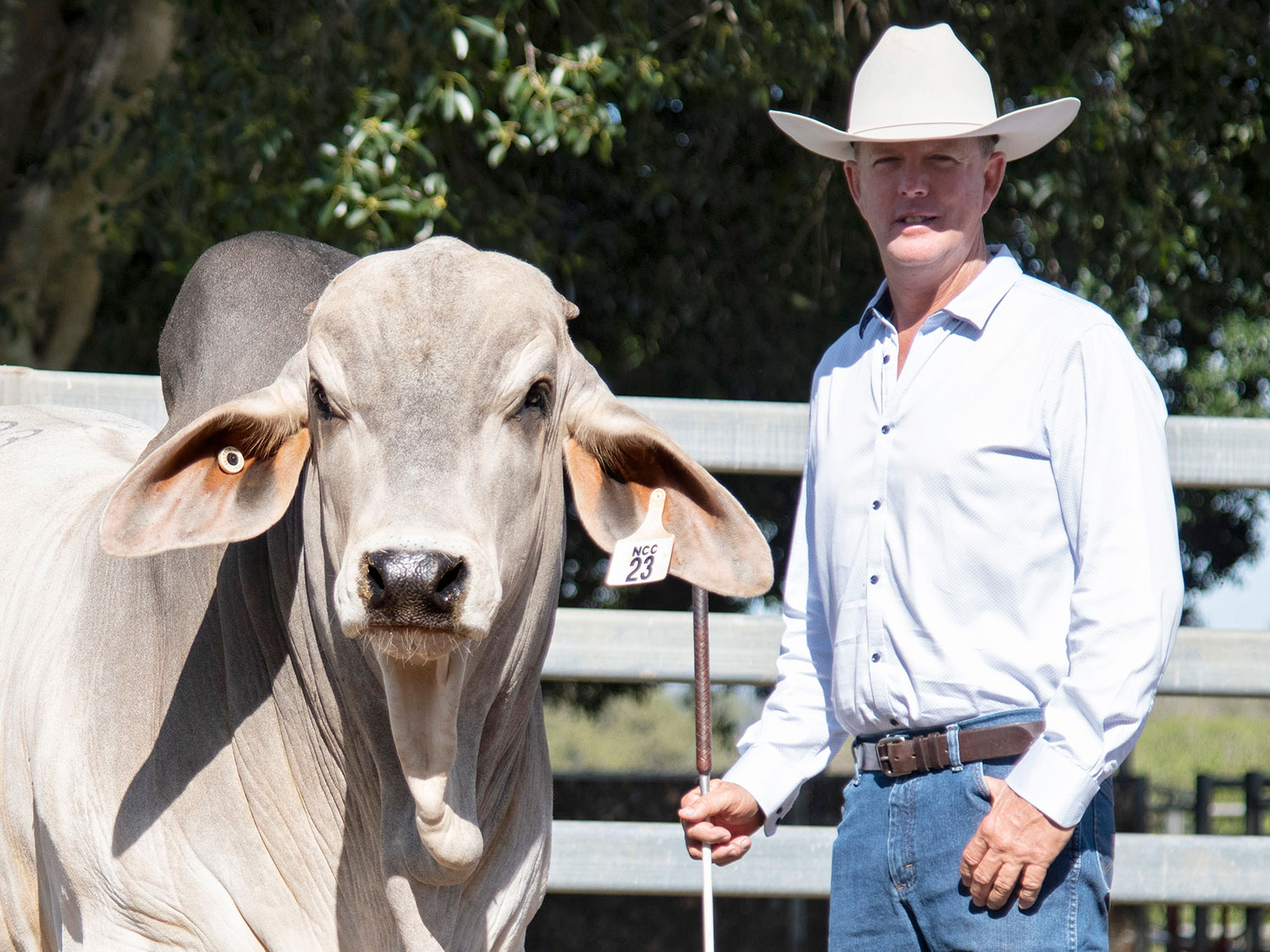 NCC Municipal with breeder Brett Nobbs of NCC Brahmans in Australia.