Australian Cattle Rancher Gets Exclusive Rights to Genetics for Mr. V8 179/8 "Big Mack"
A Very Big Deal
We say that everything's bigger in Texas but try telling that to an Australian!  Australia is more than ten times the size of Texas and it boasts the largest cattle ranch in the world; Anna Creek Station in South Australia is approximately seven times the size of King Ranch!
Of course, land mass isn't the only "big" thing you'll find in Australia. There are over 150 examples of novelty architecture and sculptures throughout Australia, all featuring very big things like a giant banana, a towering pineapple, an oversized boxing crocodile, and a wine bottle that stands nearly 120 feet (36 meters) tall! Culturally speaking, in both Texas and Australia, people have a reputation for possessing that enviable blend of down-to-earth friendliness and over-the-top swagger. We think big, we talk big, and we do things in a very big way!
So, it should come as no surprise that during the world's largest and most prestigious livestock show, Houston Livestock Show 2022, Jim Williams and Catherine Williams Neumayr of V8 Ranch in Texas and Brett Nobbs of NCC Brahmans in Australia sat down together to negotiate a very big deal – the Australian semen exclusive on Mr. V8 179/8 "Big Mack".  This is the second time that V8 Ranch and NCC Brahmans have partnered together on a bull; several years ago, Brett Nobbs purchased the Australian exclusive on Mr. V8 660/7 and has since raised some exceptional cattle sired by Mr. V8 660/7.
The Road to Choosing Mr. V8 179/8 "Big Mack"
Catherine Williams Neumayr says:
"Brett is one my favorite fellow cattle breeders to watch. He is a visionary with a great program that sets records every year. I have incredible respect for his marketing prowess, which is second to none. Brett is a very discerning cattle breeder. My Dad and I rode him around on the ranch for several hours, looking at almost every cow and bull. Brett seemed to enjoy looking at all the cattle, but he was on a mission to see Big Mack, having previously viewed his video on our YouTube channel. Mr. V8 179/8 "Big Mack" was out breeding cows, and when Brett saw him, he said that Big Mack 'was impressive in the video, but even better in real life.'"
After negotiating the Australian semen exclusive on Big Mack while seated on the Jim and Luann's back porch, Jim Williams confirmed:
"It's a big honor for another V8 bull to be used in the NCC Brahmans program. Australian breeders with an interest in Big Mack should contact Brett Nobbs."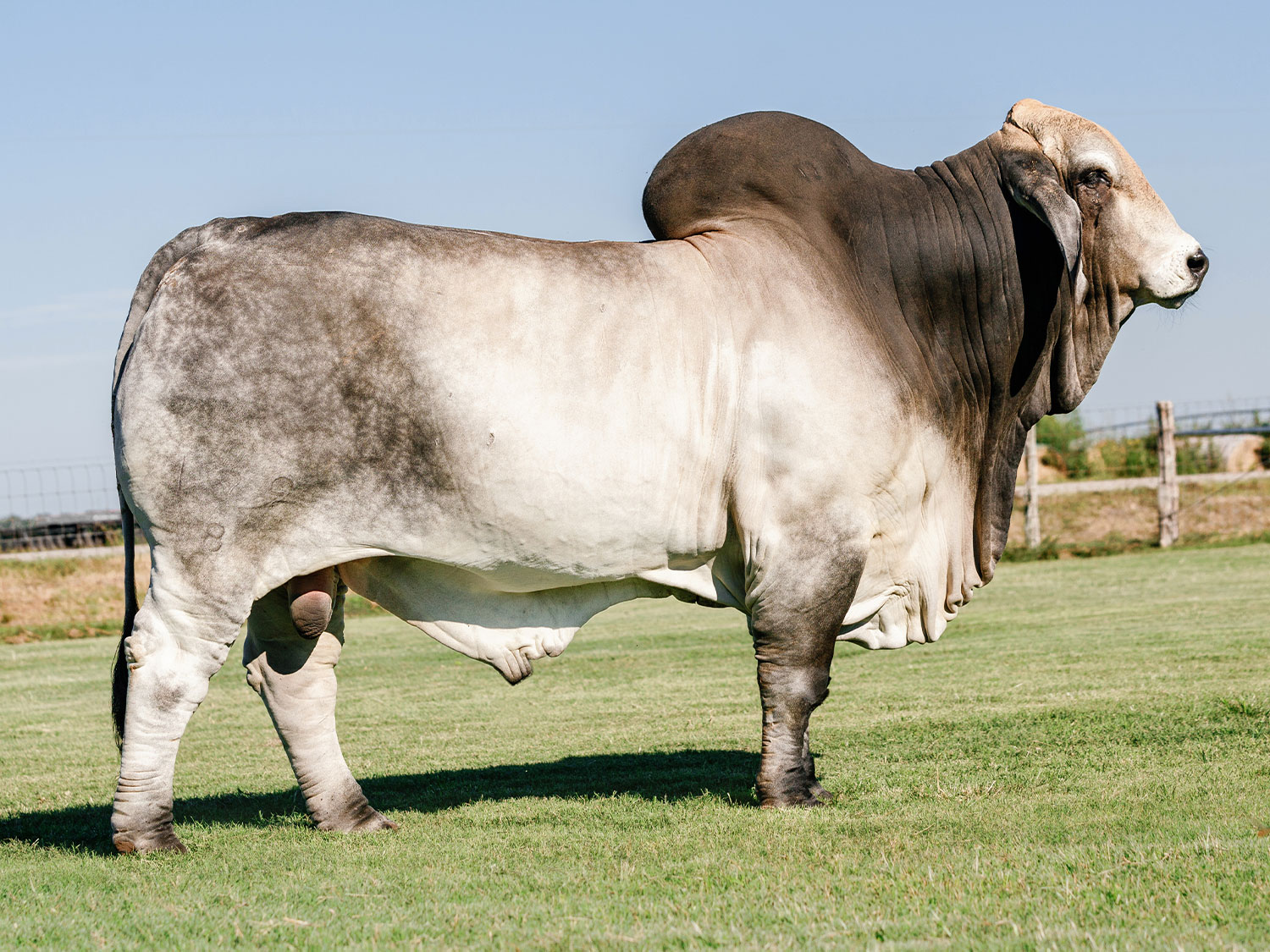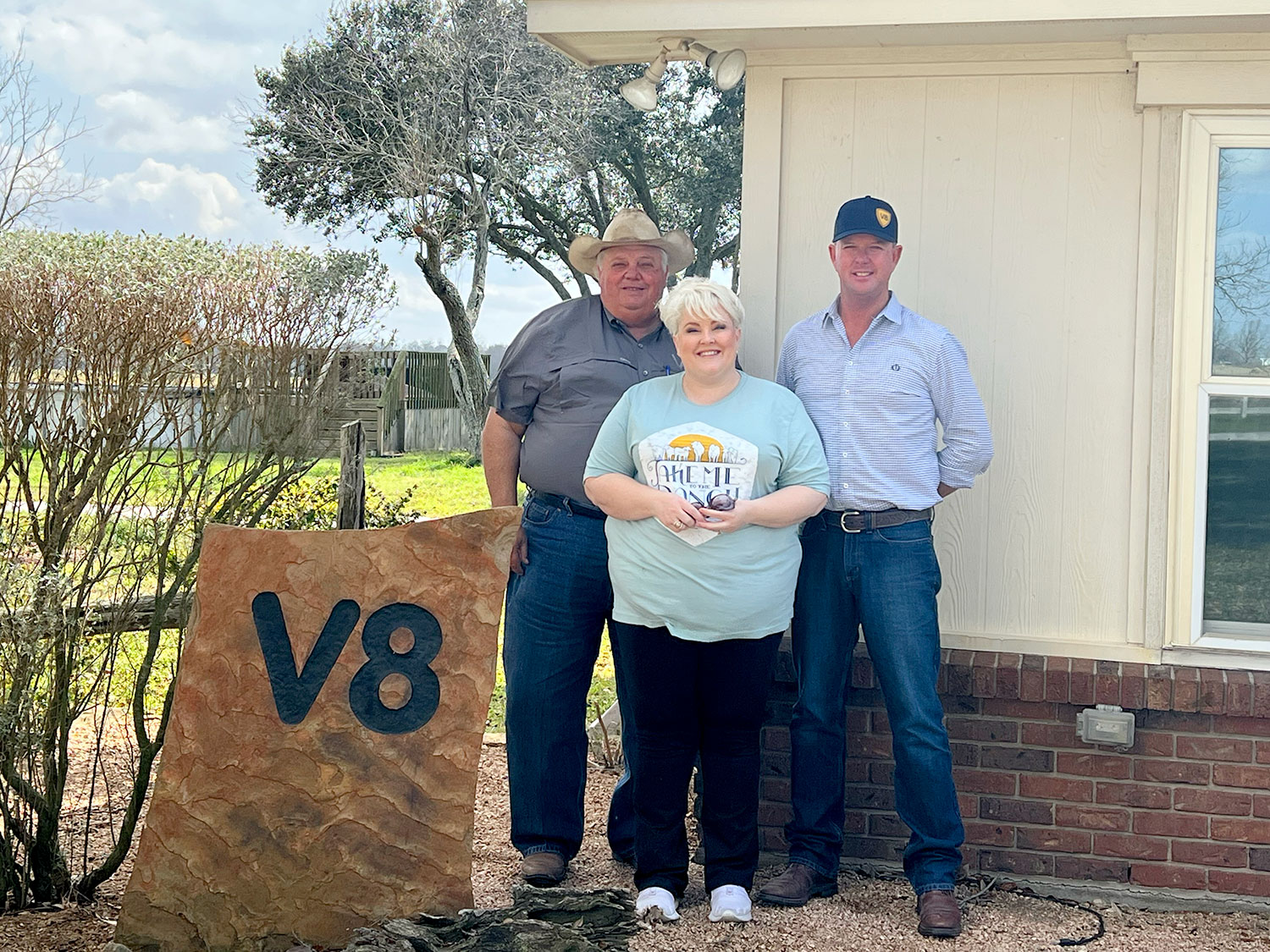 Jim Williams and Catherine Williams Neumayr of V8 Ranch with Brett Nobbs of NCC Brahmans after brokering the deal on Mr. V8 179/8 "Big Mack."
Big Laughs and Big Bone
To learn more about Brett Nobbs' fascinating cattle journey, and his lifelong commitment to Brahmans, click here. For all of his success (check out the light show at the NCC Global Genetics Sale during the International Brahman Congress!), Brett's demeanor is both humble and understated.  That's not to say he lacks confidence or a great sense of humor. We had plenty of laughs during our day on the ranch, so we know he'll appreciate this joke about our shared cultural drive to do everything bigger and better:
A Texan was touring rural Australia with an Aussie tour guide when they drove past a cornfield.
"You know, back in Texas, our cornfields are ten times that size", scoffed the Texan tourist, unimpressed.
Next, they drove past a couple of barns.
"You know, back in Texas, our barns are ten times bigger than those", the Texan boasted again.
They continued, eventually coming to an open field where kangaroos were jumping about.
"What do you call those things?", asked the shocked Texan.
The Australian guide replied, "Don't you have grasshoppers in Texas?"
On a serious note, we are thrilled to partner with Brett Nobbs again, and we look forward to seeing the results of Big Mack's genetics on his herd.  Mr. V8 179/8 "Big Mack" is one of the heaviest-boned bulls we've ever raised at V8 Ranch, with lots of muscle and eye appeal. To learn more about his pedigree, visit Big Mack's Brahman Sires page.
Mr. V8 179/8 "Big Mack" is from the Miss V8 906/2 cow family at V8, and is owned by V8 Ranch and 79 Cattle Company. Australian rights owned by NCC Brahmans.