Securing Ranch Internships at V8
In May 2020, during the height of COVID lockdown, a young student from Costa Rica reached out to V8 Ranch asking to be an intern. Planning for a future career as an agronomist, Francisco felt he could benefit from first-hand experience in a world-renowned Brahman ranch. Philosophically, we couldn't agree more.  Many of the best minds of our time have remarked on the wide divide between book knowledge and practical experience. Albert Einstein said: "Information is not knowledge. The only source of knowledge is experience. You need experience to gain wisdom." And Mahatma Gandhi said: "Knowledge gained through experience is far superior and many times more useful than bookish knowledge." 
But since we were handling other pressing concerns, we sent a polite reply to Francisco explaining that an internship would need to be set up with the support of his professors and his school administration. Then, we moved on to other business. To our surprise and delight, Francisco was determined to secure an internship at V8 Ranch. He took our advice and worked with his school, Earth University, to set up a livestock internship via The Ohio Program.   
Next thing you know, V8 Ranch was rolling out the welcome mat for not one, but two, students from Costa Rica – Francisco and Litzy.  The full-time paid internships, which include a housing and meal stipend, started in mid-September and end in late January. In addition to working a full work week, each student is required to perform five hours of community service each week. They will earn college credit for their practical, hands-on learning experience here on the ranch and go home with a broader perspective, improved English skills, and a solid working knowledge of ranch operations.
A Day in the Life – The Reality of Ranch Internships
Ranch interns work full days on the ranch, Monday-Friday. A typical day starts with "picking the pens" at the show barn. Once that task it done, the interns work with the show cattle – feeding them, washing them, brushing them, halter-breaking them, etc. Other duties vary according to what's on the daily schedule at the ranch. Interns might help tag calves, brand cattle, pick up storm debris, repair fences, and more. It doesn't sound glamorous, and it isn't. The intention is to bridge the gap between the theoretical information taught at university and the practical know-how needed to successfully operate on a working livestock ranch or farm.  At times, the interns are encouraged to "watch and learn" as experienced ranch hands tackle the more complex intricacies of ranching. Francisco has enjoyed learning how to tame the animals and prepare them for exhibitions; Litzy, who is considering starting up an animal production business with her family, was also fascinated by the process of getting the animals show-ready and the system used for animal identification.
On Saturdays, interns work a half-day. When their morning ranch duties are done, they head off for an afternoon of community service. Francisco and Litzy are currently spending their afternoons helping at a local church-operated thrift store.  On Sundays, they are given the opportunity to attend church services.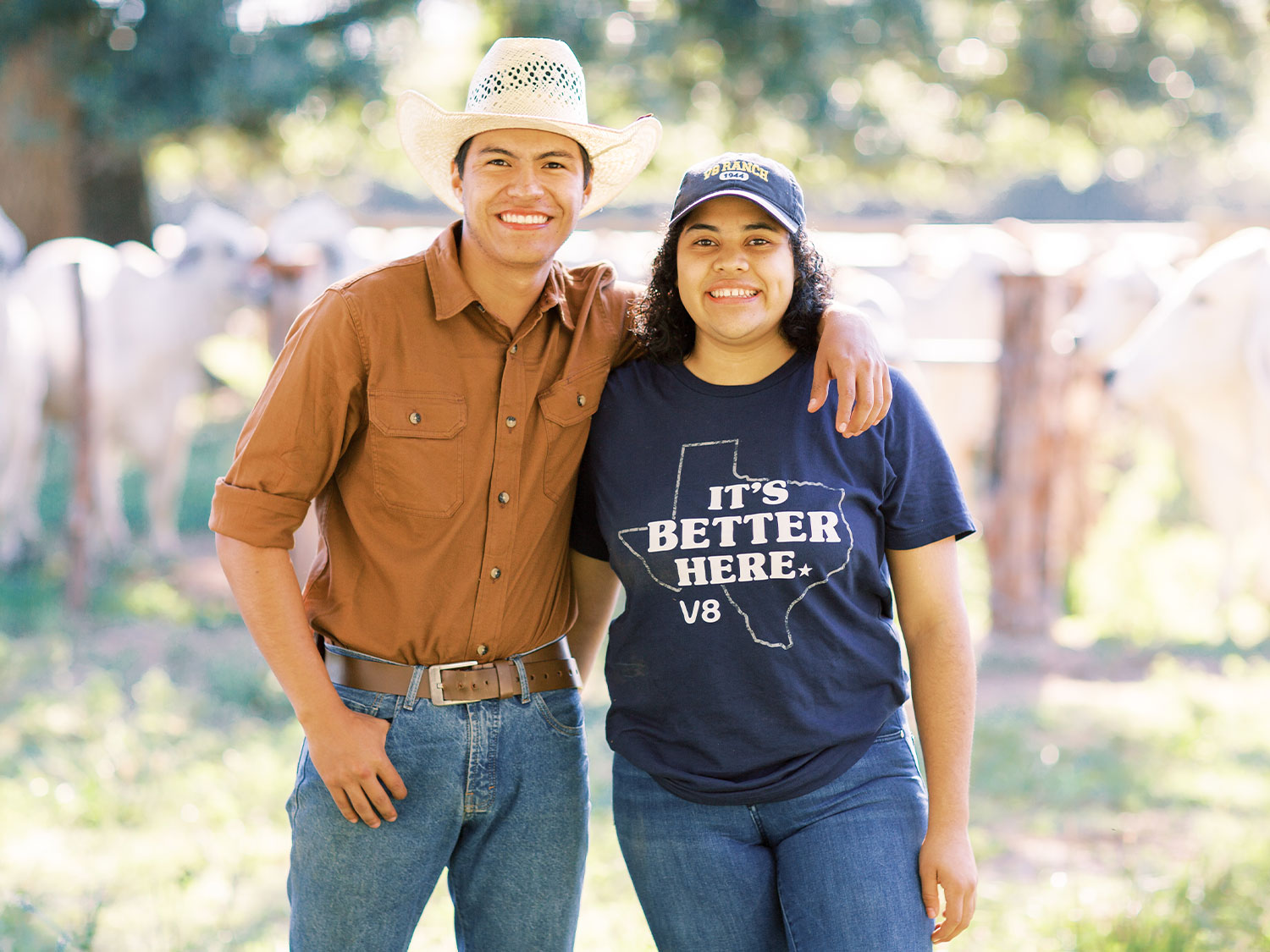 Fall 2021 V8 Ranch Interns
Francisco Cezar and Litzy Torres of Earth University, Costa Rica
Culture Shock – Additional Learning Benefits of Ranch Internships
Both Francisco and Litzy speak very little English, Google's translation app is now a go-to resource for everyone on the ranch. Our Office Manager, Lydia, speaks Spanish so she helps to translate as well. The interns' food stipend allows them to eat anywhere they like, and both students are decidedly impressed with burgers and fries; Whataburger is a favorite spot, and Buccees, too!  Litzy also cooks at the ranch house where both students are living during their internship.  Other things that surprised these young people? The lack of public transportation (buses), longer daylight hours, the abundance of single-use plastics coupled with the lack of recycling, and the quiet atmosphere in Boling, home of V8 Ranch.
Planning Your Future – Inquiring About Ranch Internships
If, like Francisco and Litzy, you're studying animal science, animal nutrition, or animal production, and you have an interest in working as a V8 Ranch intern, we encourage you to follow in Francisco's footsteps. Work with your school or the TOP program to apply. To quote Litzy: "I had heard of V8 Ranch on several occasions in conversations with teachers and producers. This awakened my interest in coming to V8 to learn about the management and production of Brahman cattle."  We look forward to helping these hard-working, proactive young people as they forge their path in this great industry. Let's all raise our Whataburger Chocolate Malts in a toast to these very impressive interns. ¡Salud!