V8 Ranch Products as The Ultimate in Ranch-Style Fashion
When it comes to fashion, a ranching uniform must be at once fashionable and functional.  The most stylish, classic choice is undoubtedly boots, jeans, a great t-shirt, and a hat. Whether you're a humble ranch hand who needs clothes tough enough to withstand daily chores, or a billionaire urban cowboy sporting handmade boots, a sterling silver belt buckle, and a custom hat from Leddy's, great t-shirts belong in your wardrobe.
There are several reasons t-shirts are a go-to wardrobe staple for ranchers, breeders, and other folk in the cattle industry – and here are a few:
V8 Ranch T-Shirts Are Versatile and Comfortable
We've designed an entire collection of V8 Ranch t-shirts that are just as practical for picking the pens as they are for greeting VIP visitors to the ranch.  You can start the morning tagging calves or branding bulls with a t-shirt layered under a work jacket. When it's lunch time, take off that jacket, clean up, and throw a duster, overshirt, or blazer over that tee and you're ready for lunch with a client. (As Ryan Seacrest says: "The combination of a blazer over any T-shirt with a pair of jeans is foolproof.")
To show you just how versatile V8 Ranch t-shirts can be, we asked two local Wharton-area fashionistas to style V8 tees.  Founders of Happi Neighbor, these self-proclaimed: "small town girls with a passion for fashion" demonstrated how the right t-shirt can make you feel comfortable, chic, and confident.
No matter the weather, no matter the occasion, a t-shirt is there for you. T-shirts work on their own in summer months but are great for layering under a V8 Ranch hoodie on cold winter mornings.
V8 Ranch Caps and T-Shirts Make a Statement
Whether you're wearing a V8 Vintage Brahman Christmas truck tee, a classic idiom from the Sloan Williams Collection of V8 Ranch t-shirts, or a vintage-inspired "Support Your Local Ranchers" shirt, it's more than a classic, comfy wardrobe item; it's also an opportunity to send a message, reveal your interests, and express your state of mind.
Take "Jim's cap" as an example.  Our best-selling Richardson-brand trucker's cap made its debut with our very own Jim Williams. Jim started wearing our design prototype around the ranch, and when a few photos of him wearing the cap surfaced, people started asking for it before it was even available for sale. We guess Jim can add 'Influencer' to his long list of titles; thanks to him, that cap became an instant best-seller.  To this day, the cap remains Jim's favorite; in fact, it's all he wears!
T-shirts and caps are forms of self-expression, representing your career, passions, interests, values, and personality – no wonder they're such great conversation starters!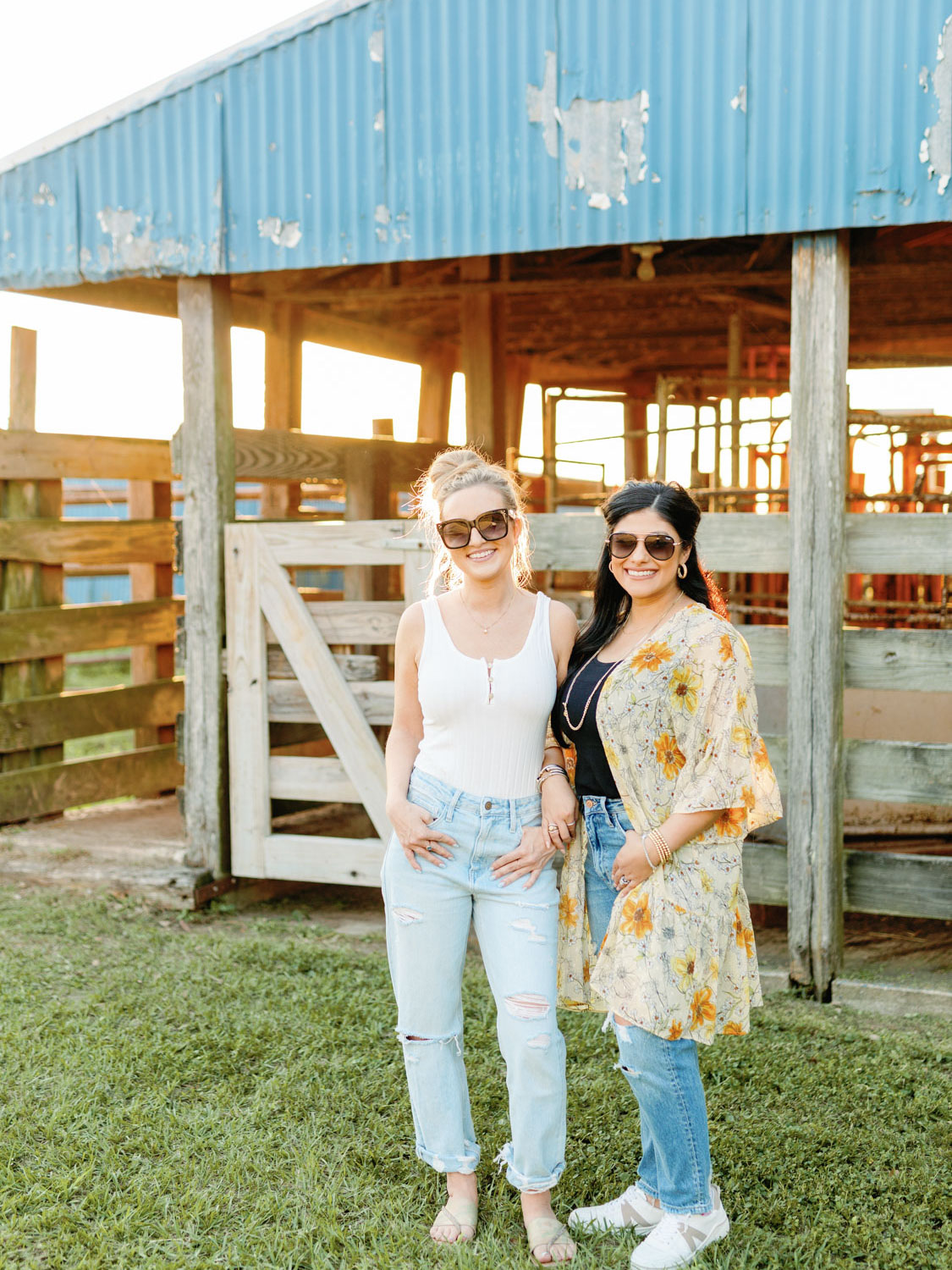 Haley Hubenak and Larissa Kulak, owners of Happi Neighbor and stylists for the V8 Ranch Fall Promo Shoot
V8 Ranch T-Shirts and Caps Are Perfect Souvenirs
Souvenir shops around the world sell local-inspired t-shirts to bring home for friends, family members or even yourself and guess what? So do we! From pint-sized future cowgirls to diplomats and heads of state, we've yet to meet a person who wasn't thrilled to receive a V8 Ranch shirt.
V8 Ranch t-shirts create opportunities to meet new and like-minded folks, impress, and even cultivate awareness about Brahmans and the cattle industry. We have seen more than a few great conversations get started at events like the Houston Livestock Show and Rodeo between people wearing V8 Ranch apparel.
V8 Ranch Merchandise Is an Affordable Luxury
Let's face it – ranching is an expensive passion. Not everyone can afford $25K for a straw of bull semen or $150K for a heifer of the finest pedigree, but they can still live the ranching dream with a hat or t-shirt that retails for less than $25. At such an affordable price point, you can collect V8 Ranch t-shirts for every day of the week (which also creates the luxury of fewer loads of laundry).
Because V8 Ranch t-shirts are custom-designed and sold exclusive through our ranch, you won't find a lot of people wearing them. You have to be "in the know" to get your hands on one of these great-looking shirts or trucker's caps, which puts you in an elite club. You'll stand out from the crowd almost anywhere you go.
It's easy to argue that t-shirts are an important asset in any one's closet. (Did you know that some vintage t-shirts have commanded $10K to upwards of $50K at auctions? We couldn't believe it either!)
V8 Ranch T-Shirt-Style in Texas and Beyond
If you haven't already done so, check out the V8 Ranch collection of stunning V8-themed, ranch-themed, and Brahman-themed merchandise designed exclusively for Brahman cattle ranchers and fans of the Brahman breed. With a wide selection of styles, colors and sizes, V8 Ranch apparel will help to show your affection for Brahmans and the V8 brand. At V8 Ranch, we believe that "the magic is in the cows." We also believe that withthe right t-shirt, anything is possible!
V8 Ranch Apparel Fall 2021 Promotional Shoot with Happi Neighbor