V8 Ranch has awarded the Outstanding Junior Breeder award at the American Junior Brahman Breeders (AJBA) All American and has done so since 2004. This year's recipient is Arkansas' Baylie Clay. She is an active junior member and exhibitor in her state, as well as on the national level.
This award is based on the applicant's past and future involvement with Brahmans and their success in breeding and raising quality Brahman cattle. Ambition, passion, and dedication are all considered in the selection process and the awarding of this prestigious honor. The Williams family of V8 designed this award to spotlight the up and coming breeders of Brahman cattle and recognize them for their commitment to the purebred industry.
Congratulations Baylie on this honor and you join a prestigious group who have been named honorees in the past.
Oustanding Junior Breeder Award for Brahman Juniors
Past winners of the V8 Ranch Oustanding Junior Breeder Award Include:
2004 – Clay Espey, Louisiana

2005 – Derrick Smith, Texas

2006 – Clint Galiano, Louisiana

2007 – Natalie Hughes, Texas

2008 – Kyle Towles, Mississippi

2009 – Janie Tipp, Texas

2010 – Matthew Pounds, Alabama

2011 – Kylie Sharp, Louisiana

2012 – Haley Herzog, Texas

2013 – Kaleb Bendy, Texas

2014 – Morgan Sharp, Louisiana

2015 – McKenna Schulte, Texas

2016 – Alyson Fontenot, Louisiana

2017 – Wesley Janik, Texas

2018 – Payton Herzog, Texas

2019 – Wesley Janik, Texas

2020 – Savannah Allen, Texas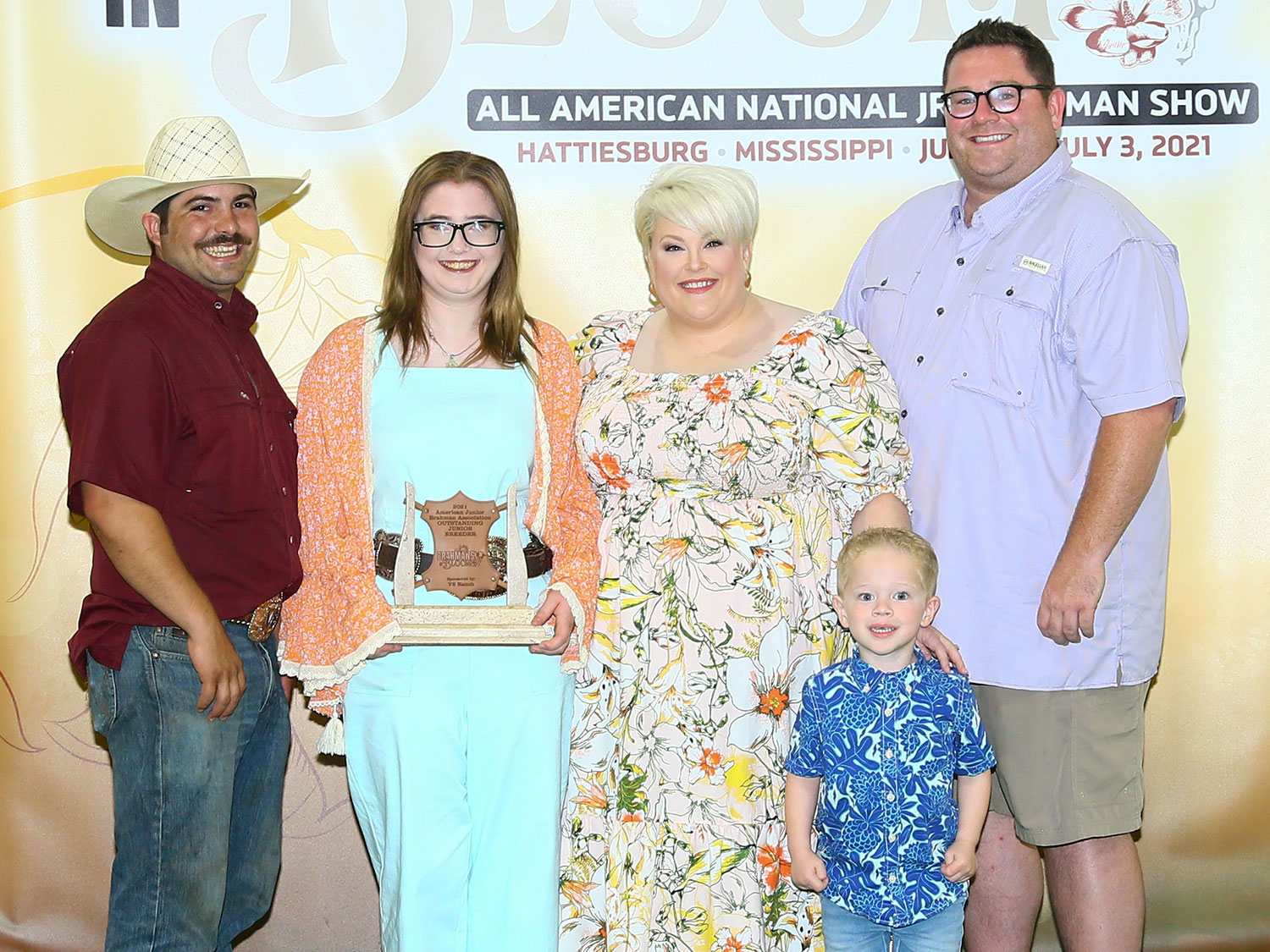 2021 AJBA Oustanding Junior Breeder
Baylie Clay
Pictured are Clyte Best, V8 Ranch Show Cattle Manager, Baylie Clay (recipient), Catherine Neumayr, Knox Neumayr, and Luke Neumayr