The 410/6 Cow Family
+Miss V8 410/6 Cow Family at V8 Ranch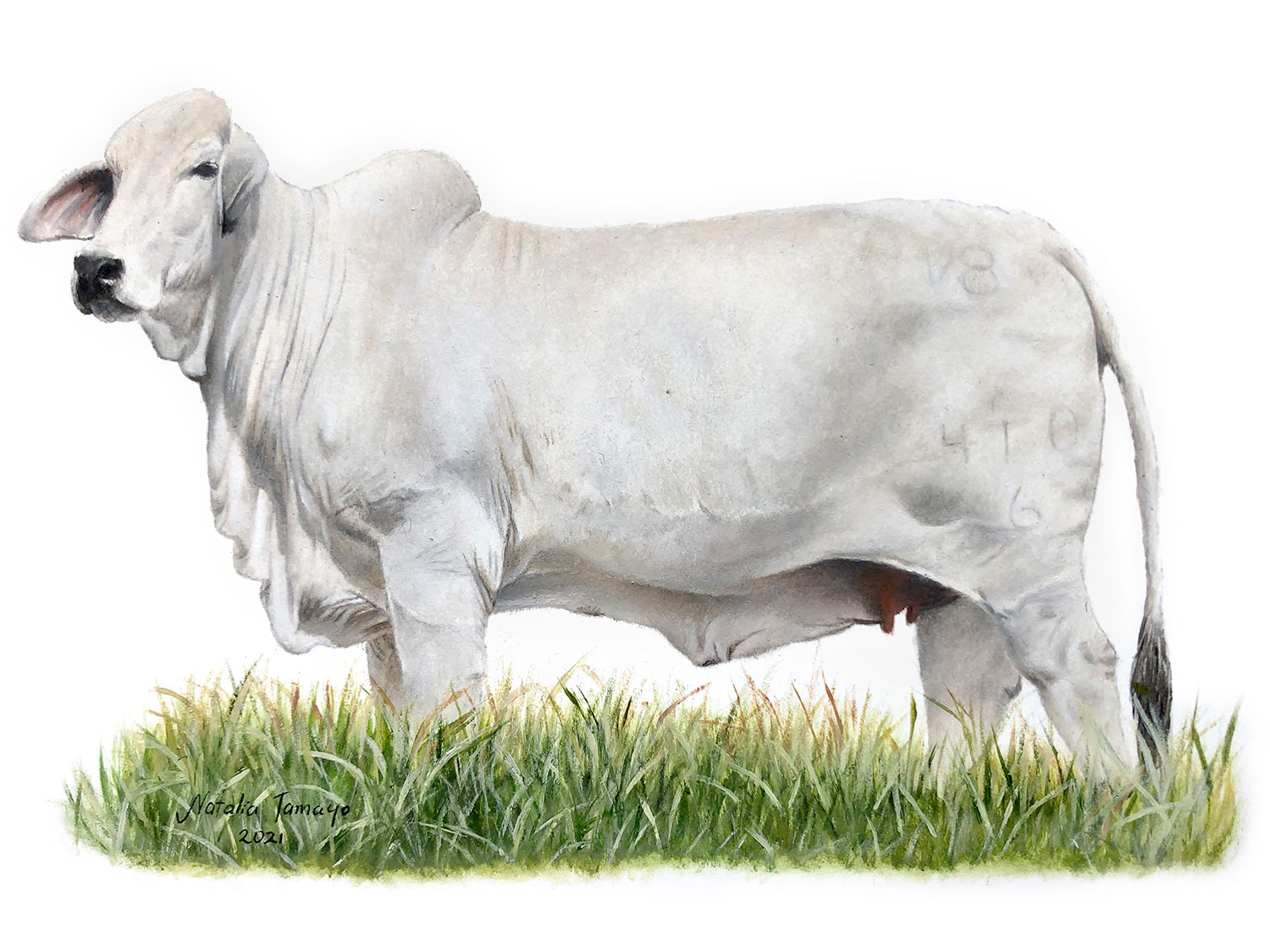 A Louisiana girl, +Miss V8 410/6 was born at Watson Land and Cattle. At the time of her birth, us and the Watsons were constantly looking for powerful females to add to our partnership that has spanned decades. Mr. Hilton Watson said, "I have some good 800 calves over here," and he sent them our way to see if we thought they would be good enough to add to the partnership. 410 was near weaning age when she unloaded off the trailer with her recip mother. The first impression was memorable! Jim recalls, "She was a knockout when we first saw her. Daddy (Sloan) looked at me and said: 'I don't think we have a better heifer here at V8 this year.'" That day, she was branded V8 and assigned number 410/6. Although never a national or international champion, +Miss V8 410/6 went on to become a highly decorated winner on our show string, and a family favorite. It was clear she had a promising future as a donor female and breeding piece. In 2020, at the age of 16, she passed peacefully from old age in the V8 front pasture.
I don't think we have a better heifer here at V8 this year.
The +Miss V8 410/6 pedigree blends some of the best of J.D. Hudgins, Double J Ranch of Johnny Jeffcoat, and V8. She goes back to 202/3 on the bottom side, the second winningest bull in the breed's history, behind +Mr. V8 146/8 "Sloan."  
JDH Manso Grande 488
(+)JDH Dakota Manso 599
JDH Lady Shano Manso
SIRE: (+)JDH Karu Manso 800
(+)JJ Didor Crata 389
JDH Lady Rem S. Manso
=JDH Ms. Rem Manso 7
(+)Mr. V8 202/3
+Mr. T.D. West 270
+WHD Miss Sucresto 0933
DAM: +JJ Ms West Didor 96
+Mr. S.C.R. Ringer 802
JJ Ms Ring Didor 636/1
JJ Ms Dos Didor Crata 733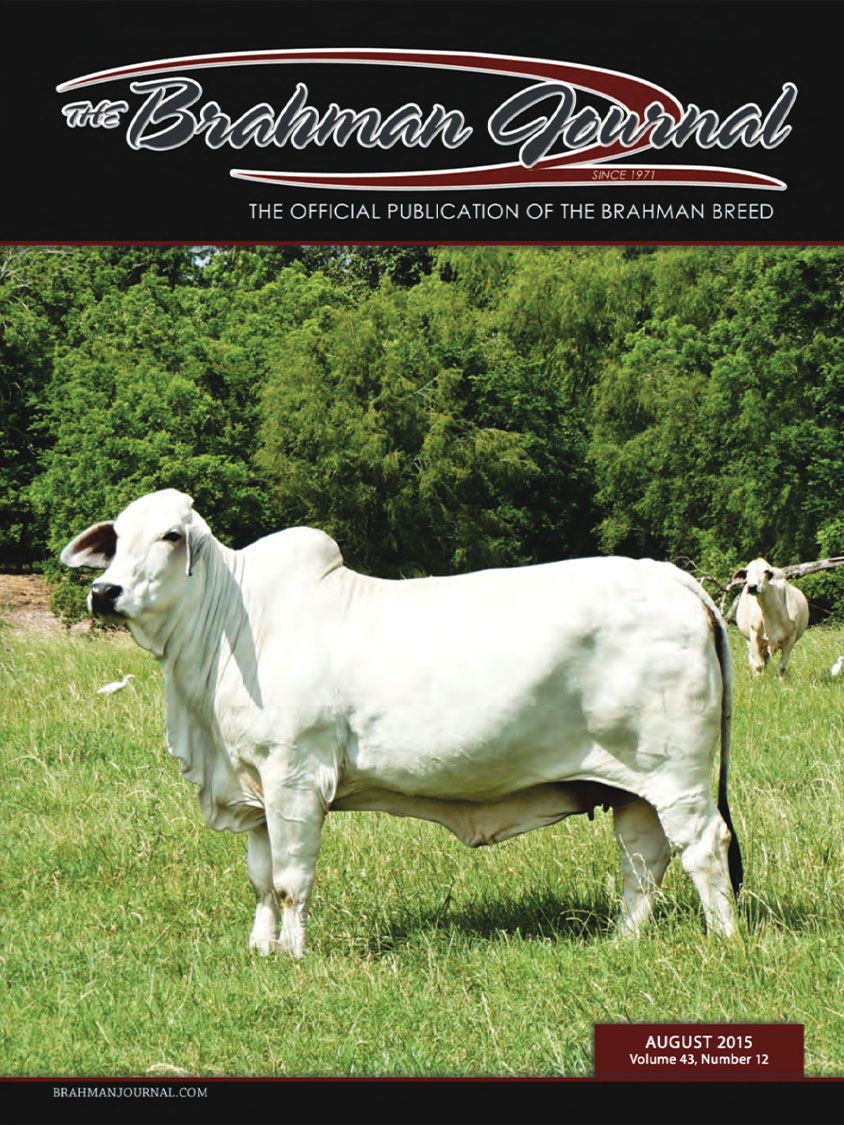 +Miss V8 410/6 was undeniably one of the most photogenic cows V8 Ranch has ever produced. She was a particular favorite of Manuel Amparan, who often photographed her when he came to visit. One of Manuel's photos of +Miss V8 410/6 was even featured on the cover of The Brahman Journal. It just so happened that Manuel was at the ranch the day 410/6 passed away; we like to believe she waited for him to visit one last time so she could say a proper 'goodbye'.
Born: Spring 2004, Jennings, LA
Death: Spring 2020, Boling, TX

Herd Sires at V8: 4
Daughters Kept: 14

Her sons: Ocho Cinco, Megastroke, and 715/7 are all siring calves at V8 Ranch today, and her daughters and granddaughters are currently working, too. One daughter is Miss V8 463/6, the 2011 Reserve National Champion under Judge Pasquale Swaner. She has exceptional calves, sired by Mr. V8 146/8, on the ground right now. We are confident this line will be a mainstay for decades. At this time, she has 62 progeny recorded in ABBA.
News Updates From This Cow Family…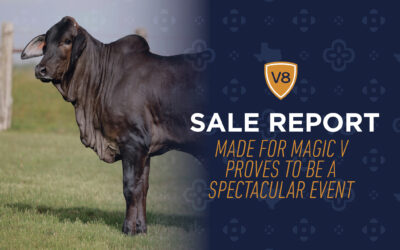 A Grand Finale as Spectacular as the Holiday Fireworks On Monday, July 4th and Tuesday, July 5th, 2022, V8 Ranch...
For further study, explore the 410/6 cow family through these sires and donors at V8 Ranch that are in production at this time.
Office Location
6329 FM 1096
Boling, Texas 77420
Phone Contacts
979-533-2056
979-657-3223 (fax)
Hours
M-F:  9:00 AM to 5:00 PM 
Weekends: Appointment Only

V8 Ranch, and the V8 brand are registered trademarks in the United States of America and may not be used without permission.