Two Guarantees in Cattle Country
When you grow up in cattle country, cattle and community are bound to be a big part of your life. It's not at all surprising, then, that Lydia Reyna, the V8 Ranch Office Manager and a Wharton, TX native, can trace her employment history back to both.
Wharton is a small, tight-knit community about 20 minutes away from V8 Ranch. It has all the charm of small Texan town – a county courthouse overlooking the main square, a local theater, a railroad depot, a few museums, quaint antique shops, coffee houses and bookstores. And let's not forget the post office!
It Takes a Village
Years ago, Lydia told one of her friends at the local post office that she was looking for employment. That conversation led her to a position working in the church office at St. Thomas' Episcopal Church where she handled bookkeeping and administrative duties.  Lydia and her family became active members of the church, and to this day, Lydia spends much of her free time volunteering at the church thrift shop. Proceeds from the thrift shop are spent on local community outreach.
Lydia's husband has a small commercial herd of crossbreds and Shorthorns, and her three daughters showed V8 Shorthorn cattle when they were in school, so Lydia is no stranger to ranch life.  When our job advertisement for the V8 Ranch Office Manager popped up on her Facebook feed, Lydia read the description and thought: "I can do all of that!" She applied on the last day that V8 was due to interview candidates, yet she was the only candidate who followed the application instructions to the letter.
The V8 Ranch team loved Lydia's qualifications, her winning smile, and her heart for customer service; she got the job! She trained one day a week through the holiday season in 2019, and officially started as our full-time Office Manager on January 1, 2020.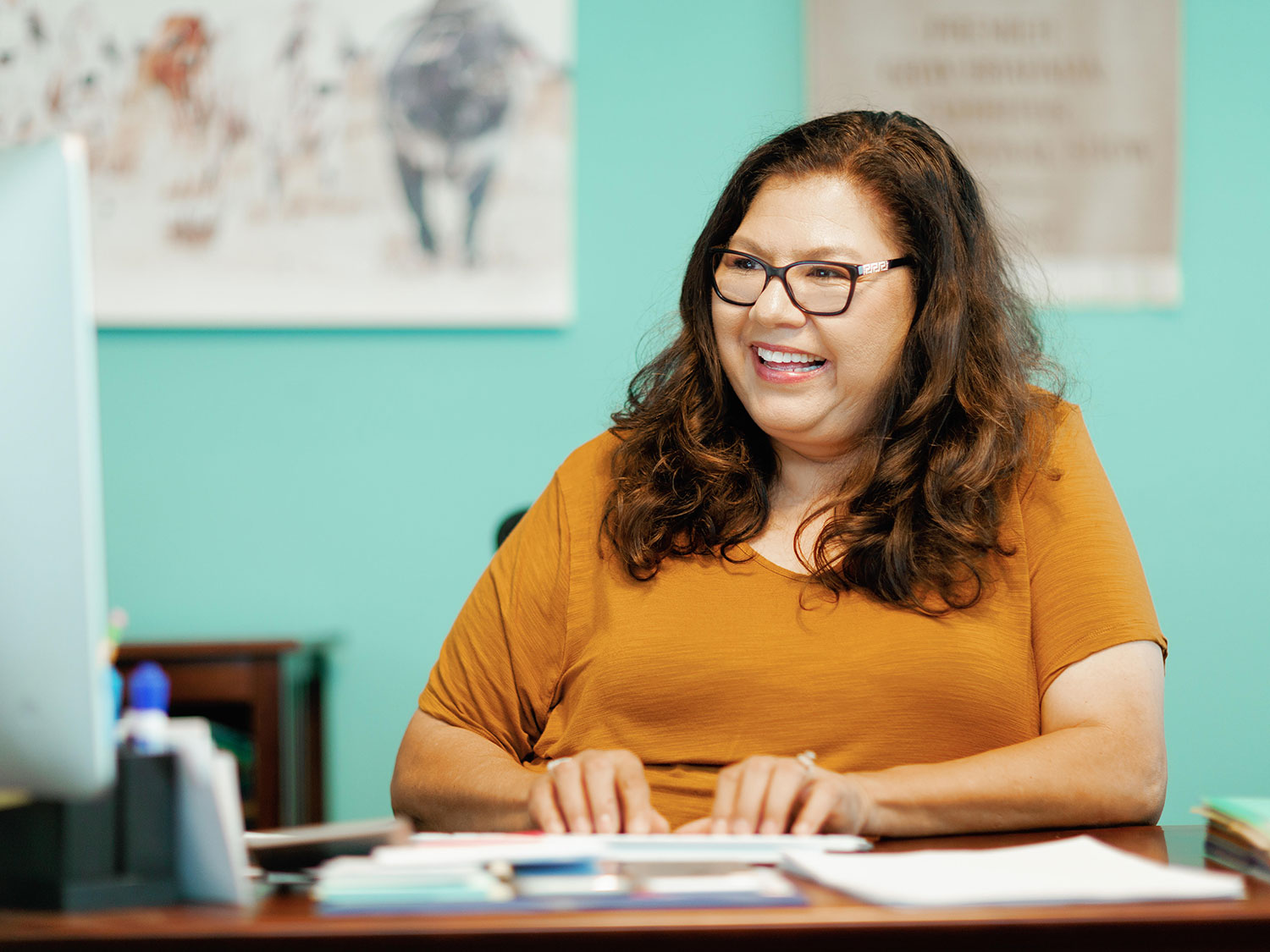 V8 Ranch Office Manager, Lydia Reyna at her desk at the ranch office.
A Day in the Life of the V8 Ranch Office Manager
Today, you'll find Lydia in the little house behind the famous blue show barn where she is the heart and soul of all things administrative – processing sales tickets, receivables, registration papers, semen orders, and much, much more. What's the best part of Lydia's job? She lights up and enthusiastically says:
"Meeting V8 Ranch customers! Often, we've developed a relationship on the phone before they visit the ranch. I love seeing their smiles, receiving their hugs, and helping to make them feel welcome by offering up snacks and drinks or helping them choose a little memento to take home. The customer service at V8 is top-notch, and I love being a part of it!"
We Judge Cattle, Not People
V8 Ranch customer, Chris Green of Pearl's Pasture Cattle, told us a story that perfectly illustrates how well Lydia embodies the V8 philosophy. Originally from Chicago, Chris is a relative newcomer to the Brahman world. He sports a tattoo sleeve and looks more like a rock star than your stereotypical rancher. While attending the 2021 International Brahman Sale in Waco, TX, he happened to be visiting the sales floor at a time when most people were ringside participating in the competition.
At this time during a show, vendors (including V8 Ranch) typically leave just one staff member to man the stalls while the rest of the team works at or watches the competition. For us, that representative was Lydia. Chris walked every aisle, past every exhibitor, but not a single person smiled, waved, greeted him, or engaged with him in any way.  Not a single person, that is, except for Lydia. She welcomed Chris to the V8 booth, chatted with him, gave him a herd reference guide and a V8 cap, and thanked him for his interest. Because of her hospitality, Chris subsequently scheduled a tour at V8 Ranch. He has become a cherished customer.
Great Work and Good Food = Our Love Languages
Fluent in Spanish, Lydia has also been a big part of the V8 Ranch internship program, helping our first-ever interns from Costa Rica acclimate to the United States and their duties on the ranch. She also travels with us to events like the Houston Livestock Show and Rodeo where it's 'all hands on deck' as we set up our stall and prepare for our legendary V8 Ranch stall party. Lydia says:
"My favorite V8 animal has to be +Mr. V8 146/8 "Sloan" because his history is intertwined with my beginnings at the ranch in 2020. I was at the show where "Sloan" won his 3rd International Grand Championship, and it was very, very exciting!"
If you visit the ranch, be sure to stop by the office so you can meet Lydia.  You also might want to ask her how she seasons her taco meat; one lucky day, she cooked tacos for our team, and her tacos were "absolutamente delicioso!"  Thank you, Lydia, for all that you do for the Williams family and V8 Ranch customers; we cannot imagine where we'd be without you.