Buyers Express High Level of Trust in V8 Genetics
The V8 Ranch Made for Magic Sale commanded the attention of the Brahman breed on July 6-7, as online bidding was at a rapid pace throughout the two day window. The sale which featured the ranch's five top fall 2019 heifers saw an average of $61,056 paid on 4.5 lots, as V8 Ranch retained half-interest in the top selling lot. The offering set a new record for the breed, as the Lot 1 heifer sold for the highest price ever at public auction. As a result, this set a new bar for the highest valued female of the breed.
"We have always said the 'magic is in the cows' at V8 Ranch. We believe the heifers that sold in this sale will provide magic in terms of production, performance, and influence for the new owners' herds. These five females represented some of our top cow families, as well as the sire power of our most notable sires and we have full confidence that they will excel.  We want to thank everyone who expressed an interest in the cattle, watched the videos and studied the catalog. Thank you to the new buyers. You expressed the highest degree of trust a program can possess and we are humbled and so grateful for your acceptance of this generation of V8 breeding. We are excited for their potential to become impact females in your herds and the breed," said V8's Jim Williams.
V8 Genetics Shine through the Made for Magic Heifer Offering
The Lot 1 heifer, Miss V8 203/9 saw half-interest command a final bid of $91,250, which puts her value at $182,500. That set a new record for the Brahman breed for price paid and value. Repeat customer, GKB Cattle, Waxahachie, Texas joined the Williams Family as the owner of this elite female. Her nickname is Dreamgirl and everything about her would fit a breeder's dream of a female.
She was described as one of the most powerful heifers to ever be born on the ranch and moreover, her EPD profile has six traits in the top nine percent of the breed. Her sire is  +Mr. V8 380/6, one of the most consistent sires for the ranch and one of the most in demand sires in the breed in terms of semen sales.  The maternal side of the pedigree includes Miss V8 499/7, as the dam and Miss V8 539/6 as the granddam, both revered females in the V8 program.
Miss V8 208/9 was the Lot 2 heifer in the V8 Ranch sale offering and she featured the sire power of Mr. V8 993/7 "Yeti", the 2019 V8 Ranch Bull of the Year. Her dam, Miss V8 102/8 was a former high seller herself for the program. In addition, she boasts some very strong EPD rankings for growth and REA. She generated a final bid of $70,750 from Razorback Farm, Oakwood, Texas.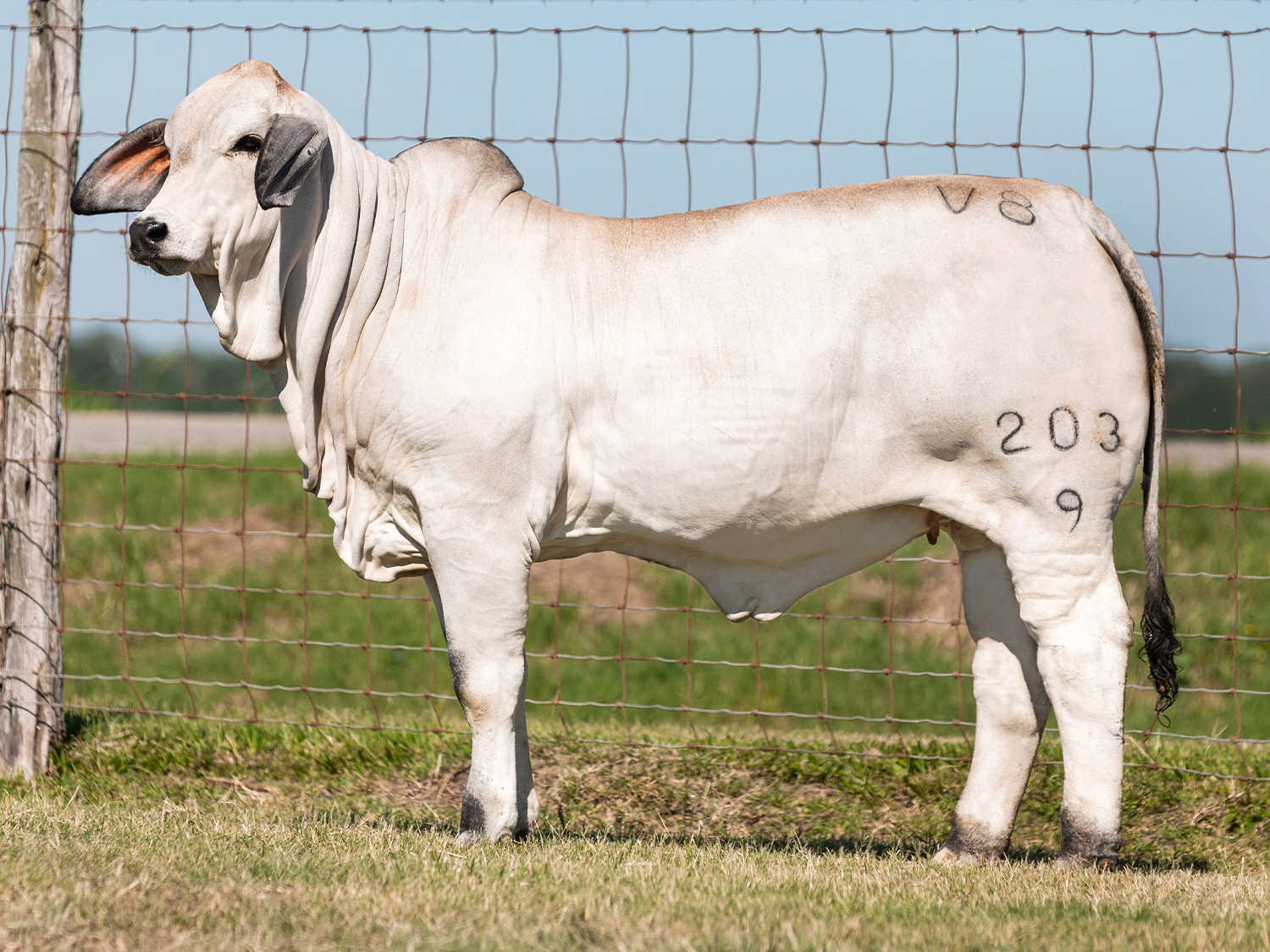 Lot 1, Miss V8 203/9
Sold one-half interest for $91,250 to GKB Cattle, Waxahachie, Texas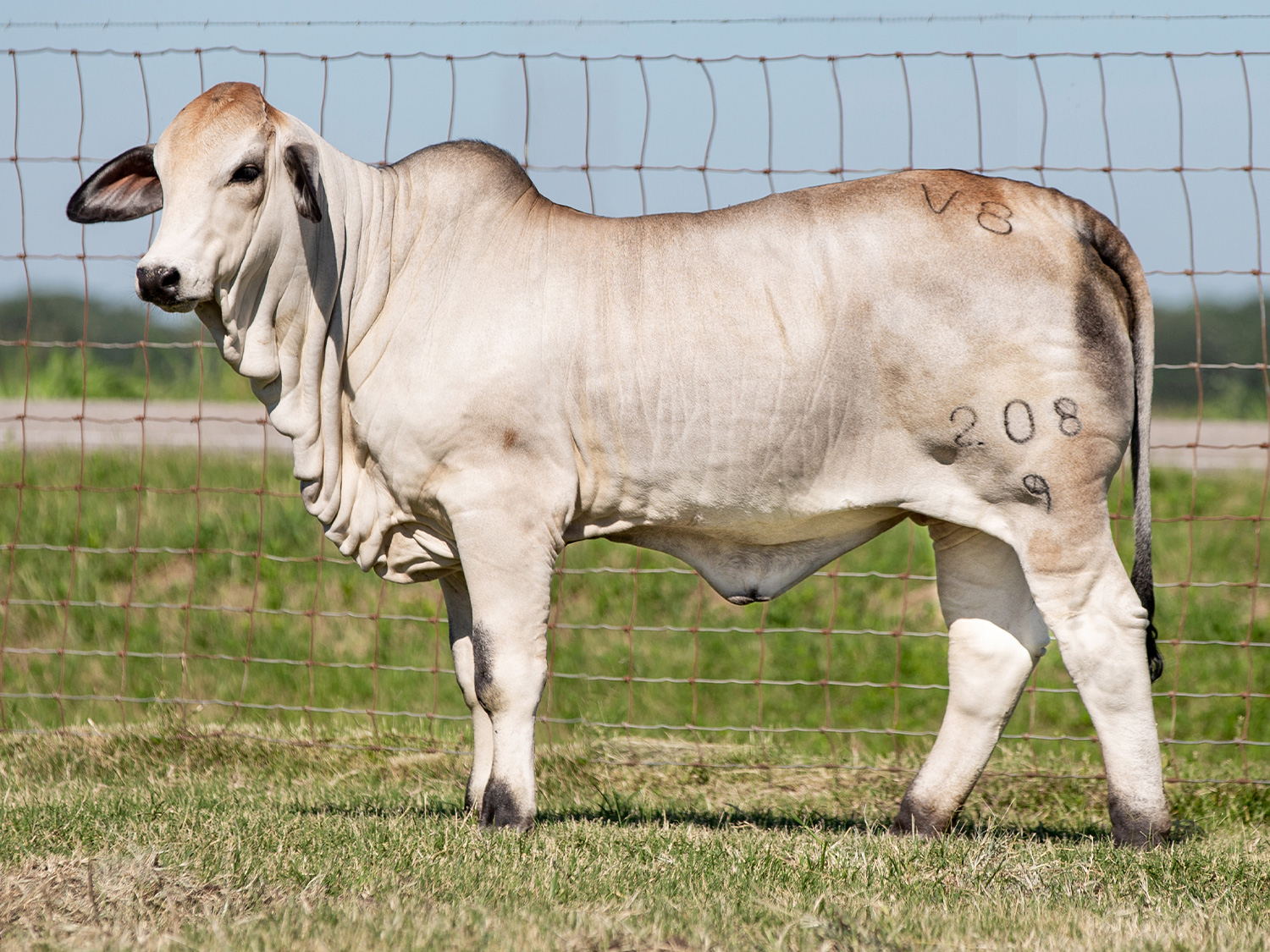 Lot 2, Miss V8 208/9
Sold for $70,750 to Razorback Farm, Oakwood, Texas
Repeat Customers from Texas and Louisiana place the final bids in the V8 Ranch Sale
Miss V8 242/9 was the third lot in the exclusive offering.  She is a daughter of Mr. V8 146/8, who just set a record himself as the 2020 American Brahman Breeders Association (ABBA) International Grand Champion Brahman Bull—an honor he has won for an unprecedented three times. Additionally, her dam, +Miss V8 128/7 is considered one of the three top donors at V8 and already has to her credit, the ABBA International Champion Bull, Mr. V8 604/7 "Man of Steel". She sold for $36,250 and will be joining the 79 Cattle Company program in Boerne, Texas.
Miss V8 246/9 was featured as Lot 4 in the sale. She is sired by Mr. V8 510/7, a bull that sold to Colombia and has produced many champions in Latin America, as well as many high producing females at V8. The dam's side of her pedigree is undoubtedly powerful as Miss V8 174/8 is a full sister to the 2015 ABBA International Grand Champion Female, Miss V8 844/7. Further, there are several donor females in her linage and 246/9's pedigree features the linebreeding of Mr. V8 287/5 "Superstroke" three times. Superstroke has sired five International Get-of-Sires. Miss V8 246/9 sold for $26,250 and was selected by buyer, Cecil Williams, Keithville, Louisiana.
V8 Ranch Sale Features Maternal Sister to Yeti Brahman Bull
The Lot 5 heifer, Miss V8 255/9 gave bidders an opportunity to own a magical pedigree. She is a another daughter of Mr. V8 146/8, the three time ABBA International Grand Champion Bull and she is a maternal sister to the Yeti bull, as they share the dam, Miss V8 997/6. When you evaluate 997/6's pedigree you find a long line of great show females, embryo donors and high sellers. Kyle and Susie Acosta, owners of Cattle Company 11, Covington, Louisiana placed the final bid of $50,250 for the heifer.

"V8 Ranch has a 75 plus year history in the Brahman breed and our goal has always been to see others excel using our genetics. We firmly believe these five females will do just that," summarized Williams.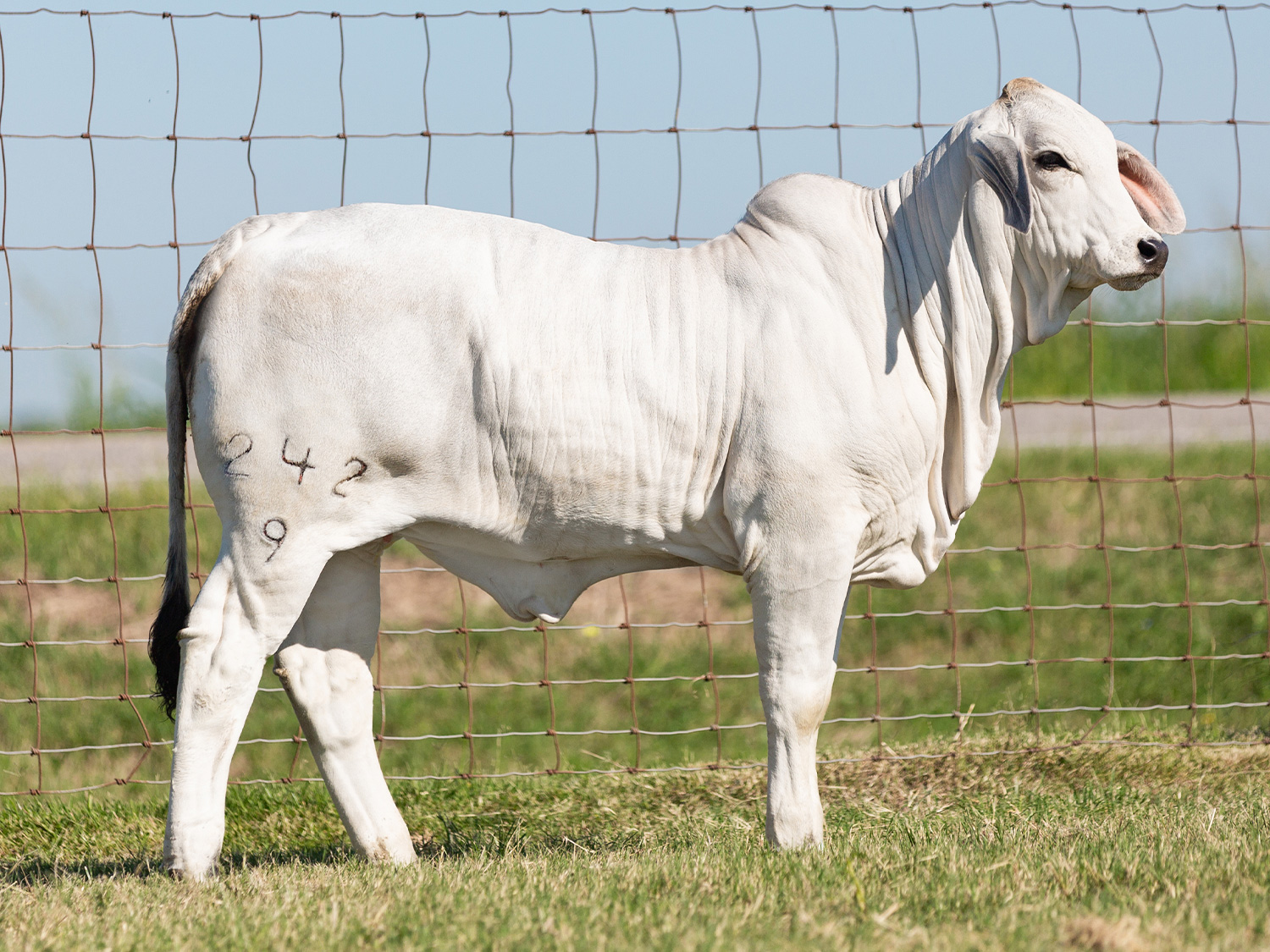 Lot 3, Miss V8 242/9
Sold for $36,250 to
79 Cattle Company, Boerne, Texas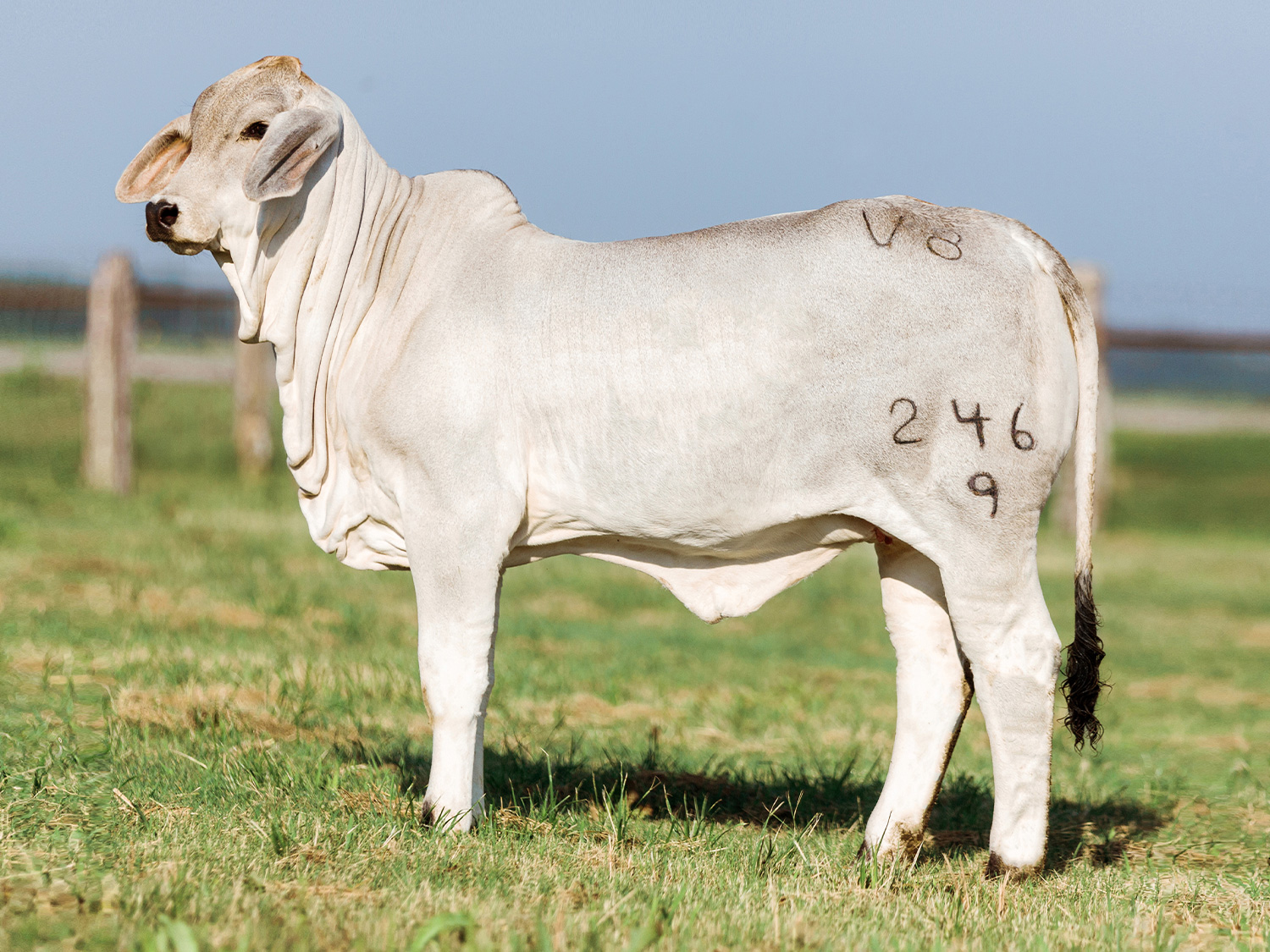 Lot 4, Miss V8 246/9
Sold for $26,250 to
Cecil Williams, Keithville, Louisiana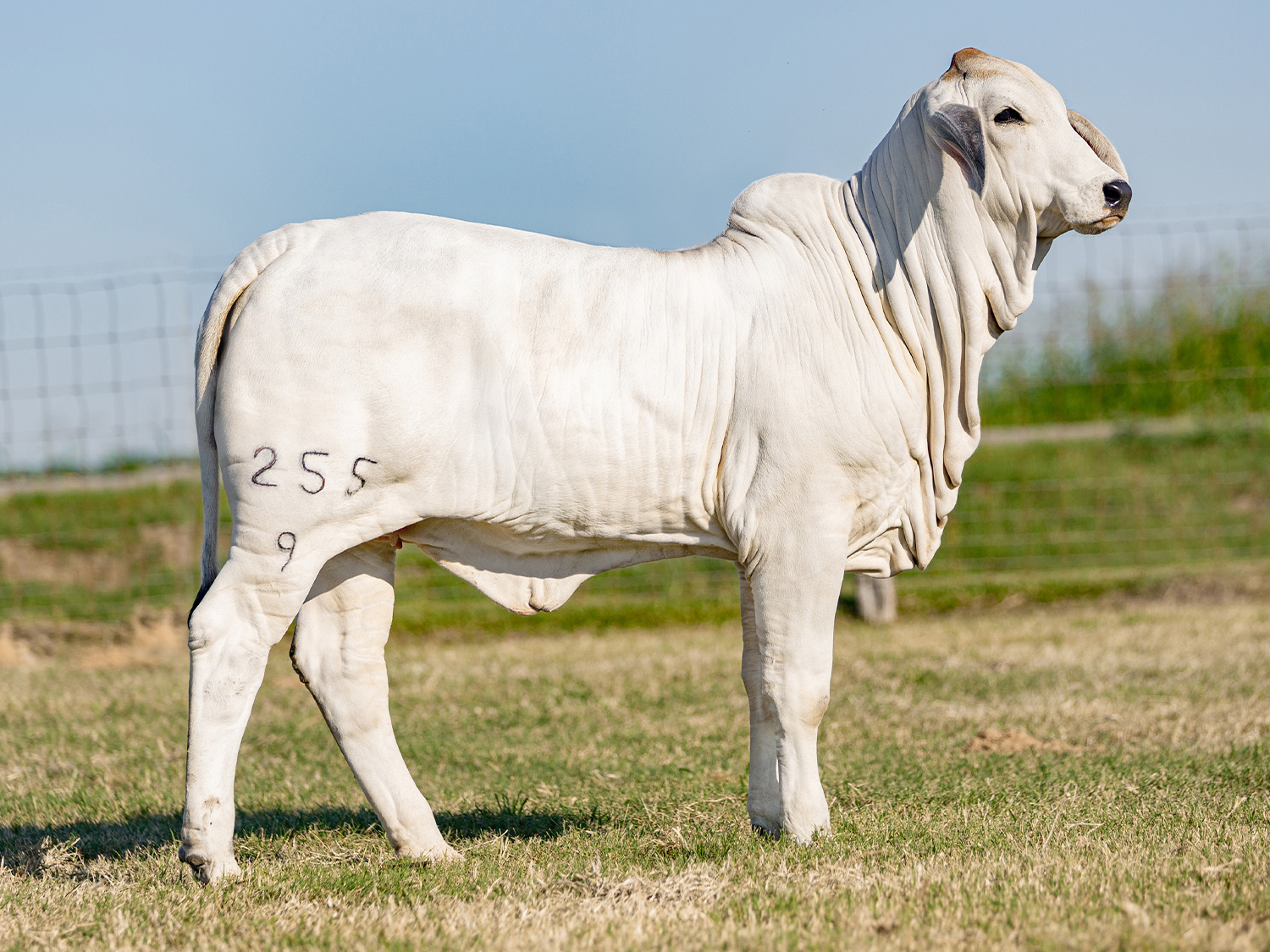 Lot 5, Miss V8 255/9
Sold for $50,250 to
Cattle Company 11, Covington, Louisiana