Bull of the Year
Mr. V8 933/7
Sire: +Mr. V8 191/7
Dam: Miss V8 997/6
ABBA: 950625
BW: 77 pounds
Mr. V8 933/7 "Yeti" joined the ranks of great Brahman Bulls like Man of Steel and 855 who also held the "Bull of the Year" title. 933/7 is a curve bending bull, due to his birthweight-weaning-yearling weight spread. He had an actual birthweight of 77 pounds coupled with a birthweight EPD of 2.2. His WW ratio was 116% and YW ratio of 108%. His weaning and yearling EPDs puts him in the top 1% of the Brahman breed. He is also in the top 1% for Carcass weight and Ribeye area. His carcass ultrasound data was well above average as well, scanning with a 14.7 square inch ribeye and 3.09% IMF.
All this comes as no surprise, as he is backed by two of the strongest cow families in the Brahman breed on both sides of his pedigree in terms of growth, performance, and maternal ability. 933/7 is sired by +Mr. V8 191/7 who is a ABBA EPD trait leader for Ribeye area (#1), Yearling Wt, Carcass Wt, and Scrotal Circumference. Oh, and yes, he still has a flawless phenotype and perfect structure.
Yeti has seen extensive use at V8 and his calves are very impressive and highly marketable. His first two daughters to sell at public auction commanded $39,000 and $70,750 in the 2019 V8 Ranch Elite Spring-Born Online Sale and the 2020 V8 Ranch Made for Magic Online Sale, respectively. A son of Yeti was Calf Champion Bull at the 2020 International Brahman Show.
Includes one complimentary AI certificate. Additional certificates are $250.
Notable Progeny of Mr. V8 933/7 "Yeti"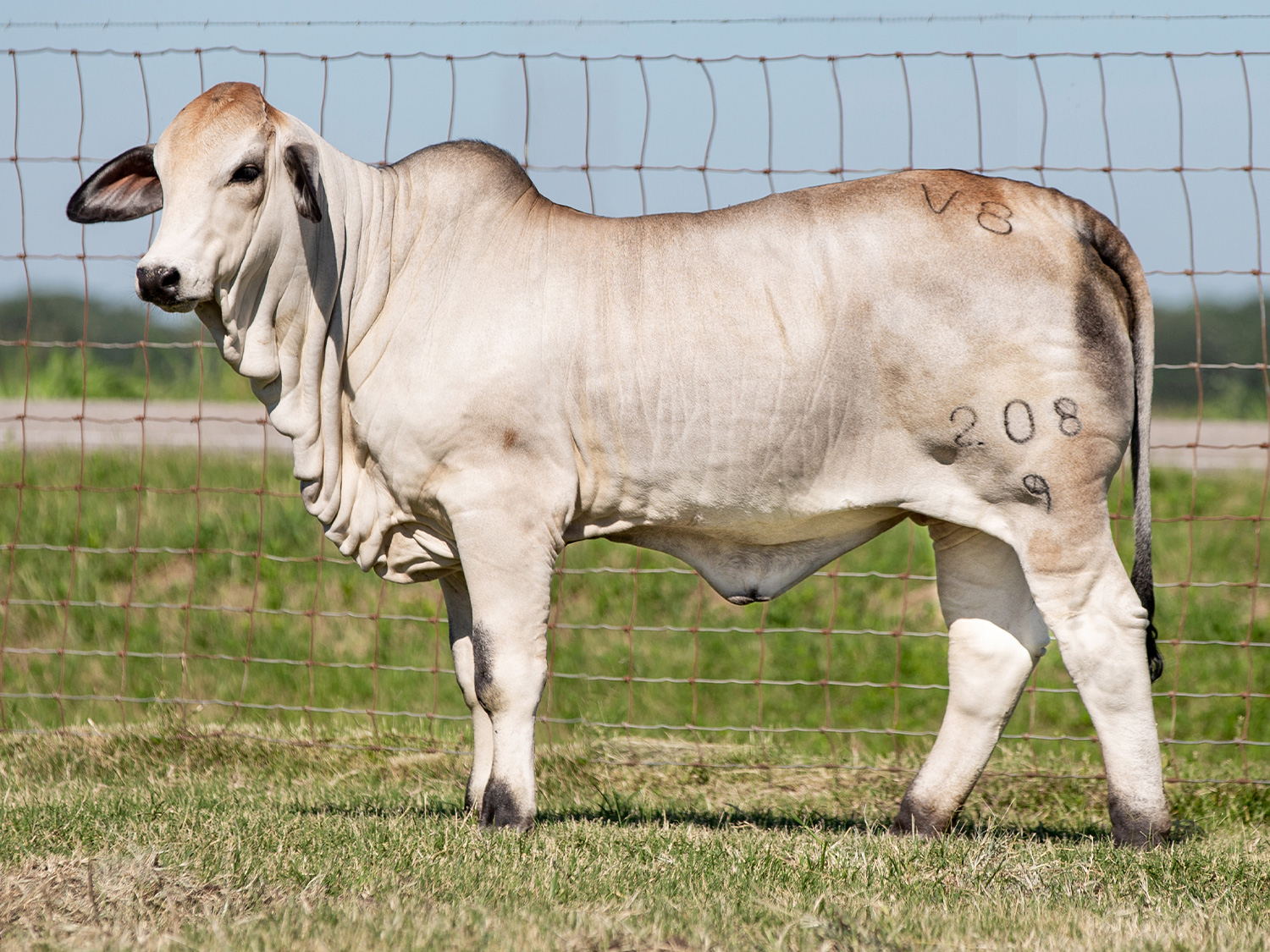 Sold for $70,750 in 2020 V8 Made for Magic Online Sale
Miss V8 203/9
Sire: Mr. V8 933/7
Dam: Miss V8 102/8
Office Location
6329 FM 1096
Boling, Texas 77420
Phone Contacts
979-533-2056
979-657-3223 (fax)
Hours
M-F:  9:00 AM to 5:00 PM 
Weekends: Appointment Only

V8 Ranch, and the V8 brand are registered trademarks in the United States of America and may not be used without permission.