The Rose Cow Family
+Miss V8 495/5 at V8 Ranch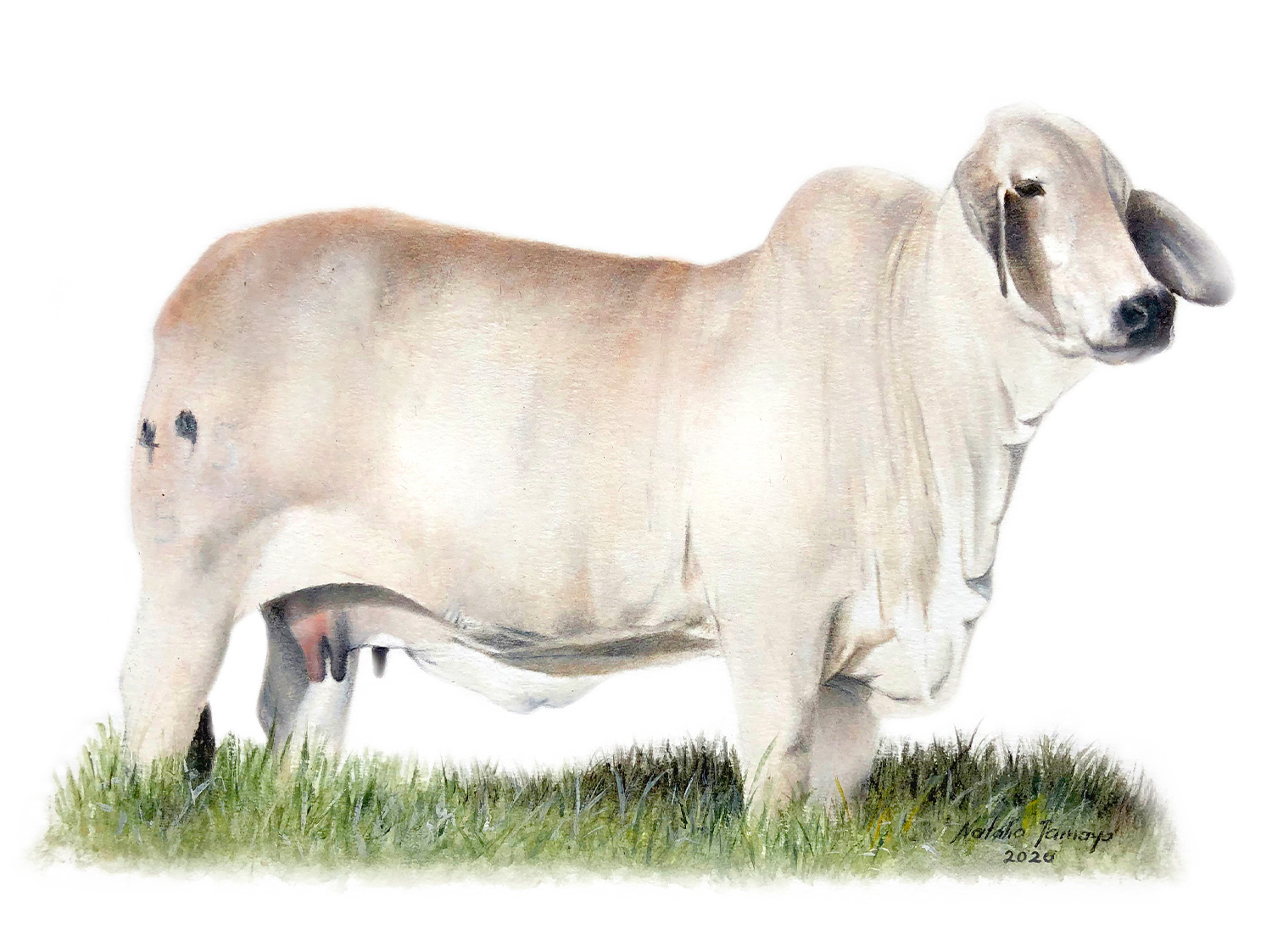 If you asked Jim Williams to name his top three all-time favorite cows on the ranch, chances are he'd include +Miss V8 495/5. In fact, it was Jim who nicknamed her "Rose" because of her enviable, red-tinted coat. Born and raised on the V8 Ranch, she was indeed the rose of Boling, Texas for her entire life; everyone agreed she was the loveliest cow on the ranch. Rose passed away in the summer of 2012. Today, when we see her red-tinged great-granddaughter, +Miss V8 33/8, in the front pasture, we can't help but remember Rose.
Rose is one of three Register of Renown daughters out of the JDH Mr. Manso 288/1 bull, who was himself a Forgason-bred son of (+)JDH Dakota Manso 599.
JDH Manso Grande 488
(+)JDH Dakota Manso 599
JDH Lady Shano Manso
SIRE: JDH Mr. Manso 288/1
+IW's Rexcrata 262
=JDH Ldy Olga De Manso
JDH Lady Celeste Manso
(+)WR Suva 203
Mr. V8 92/3
SBR Imperator Joy
DAM: +Miss V8 570/3
USSC's Suville 76
Miss V8 154/3
JDH Miss Esther Manso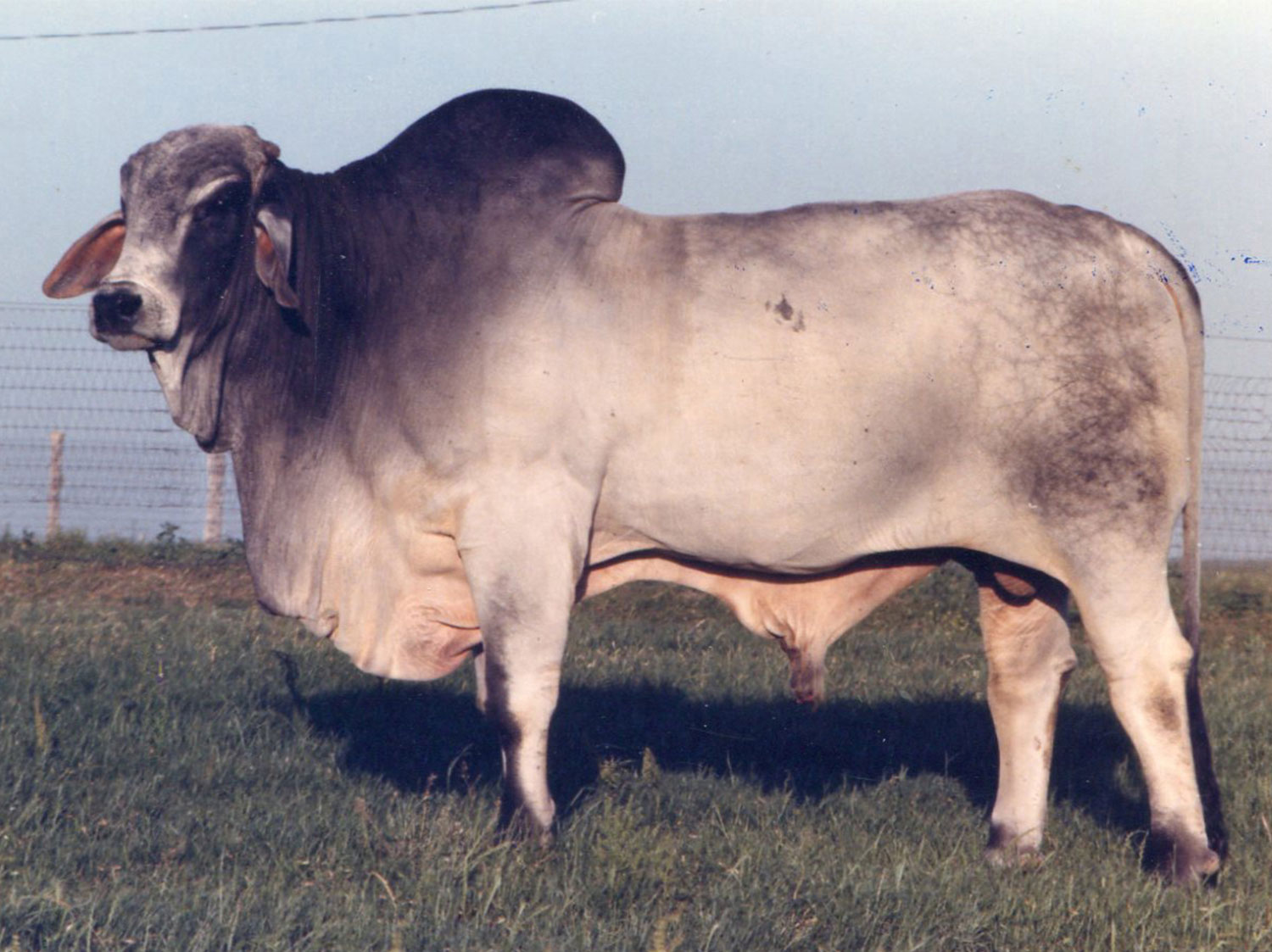 (+)WR Suva 203, one of the greatest Brahman bulls of all time, maternal great-grandsire of +Miss V8 495/5 "Rose."
This red-tinged female has been a personal favorite of mine since birth. I know she can produce a great one!
People often ask us how Rose and her descendants got their interesting rusty red color. It's in their genes! Jim Williams explains: "In the 1970s, I was looking for an outcross line of cattle. Bubba Sartwelle and his family of Sartwelle Brahman Ranch had concentrated and linebred the Imperator bull in their herd for years. He gave us the pick of the cows on his ranch. We picked three dark pigmented cows. One of the cows was SBR Imperator Joy 349/4, Rose's maternal great granddam. She was the most intensely linebred cow on the ranch to Imperator, known for his dark (sometimes, even black) pigmentation. Rose's paternal grandsire, (+)JDH Dakota Manso 599, was also known to sometimes sire red-pigmented cattle.  When we mixed the Imperator bloodline on Rose's dam side with that of (+)JDH Dakota Manso 599, who Jim also thought was the sire of some of the best females at J.D. Hudgins, the result was the unique red tinge we now call 'V8 Rose Red'."
Born: Spring 1997, Boling, TX
Death: Summer 2012, Boling, TX

Number of Sons: 33
Number of Daughters: 24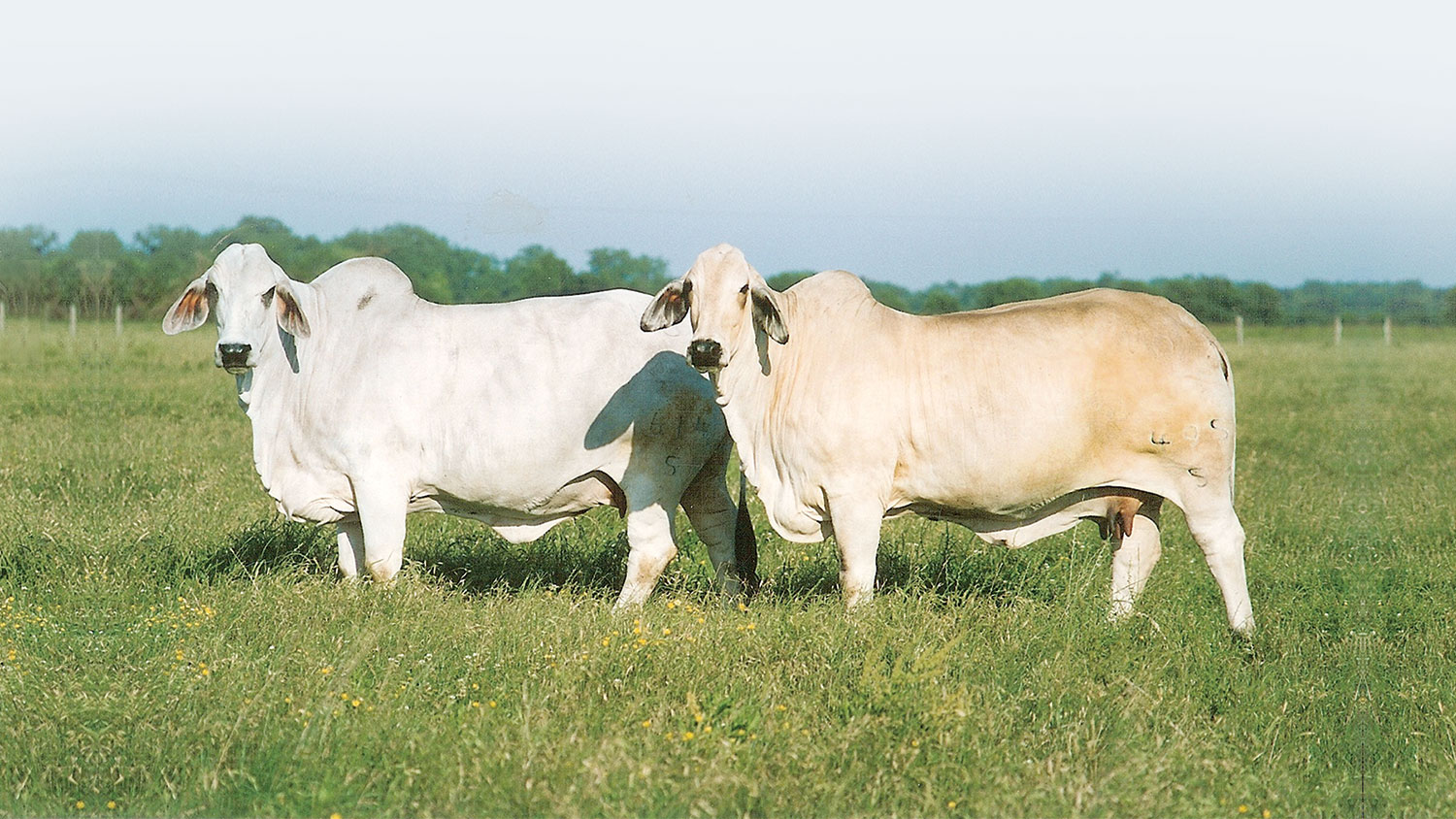 Rose's daughter, +Miss V8 209/6, sired by +Mr. V8 901/4, is the base of the modern Rose cow family. This family produced Mr. V8 322/8, the 2020 National Champion Bull, who is also our 2021 Bull of the Year.
News Updates From This Cow Family…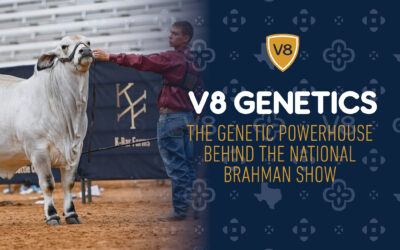 The National Brahman Show, held in Bryan, Texas, on November 9-10, 2023, became a platform for showcasing the top-tier...
Office Location
6329 FM 1096
Boling, Texas 77420
Phone Contacts
979-533-2056
979-657-3223 (fax)
Hours
M-F:  9:00 AM to 5:00 PM 
Weekends: Appointment Only

V8 Ranch, and the V8 brand are registered trademarks in the United States of America and may not be used without permission.