The 805/6 Cow Family
+Miss V8 805/6 at V8 Ranch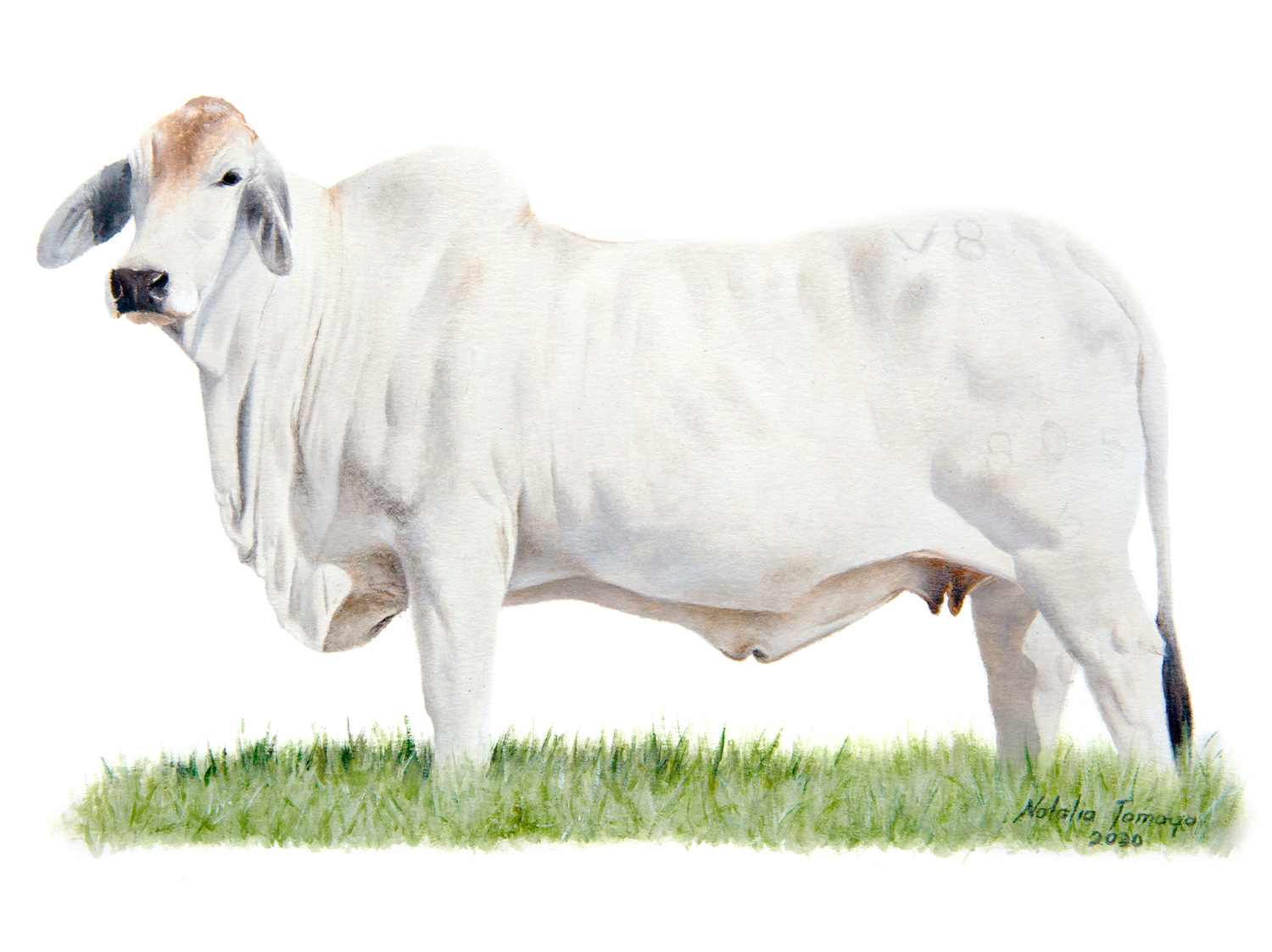 Born and raised on the ranch in Boling, Texas, +Miss V8 805/6 was sired by +JDH Sir Avery Manso 159/7, a Liberty son that Jim purchased from J.D. Hudgins, Inc. Avery was bred to our best V8 cows, creating a tribe of powerful females, including our beloved 805/6. A heavily muscled, deep-sided, and very feminine cow, she is the mother of national and international champions. In fact, her influence has carried worldwide through her son, three-time Houston Champion, +Mr. V8 146/8, "Sloan."  
+Miss V8 805/6 boasts a pedigree that is a unique blend of Avery, Liberty, Datapack, and Imperator. Her mother, +Miss V8 827/4, also raised an International Champion Bull, Mr. V8 612/5 (sired by Powerstroke).
JDH Mr. Brahman Manso 175
(+)JDH Sir Liberty Manso
+JDH Lady Remington Mans
SIRE: +JDH Sir Avery Manso
(+)JDH Datapack Manso
JDH Miss Acacia Manso
JDH Lady Etta Manso
(+)JDH Remington Manso
+Mr. V8 700/3
Miss V8 166/3
DAM: +Miss V8 827/4
SBR Nob Esto Imperator
Miss V8 21/3
Miss V8 534/2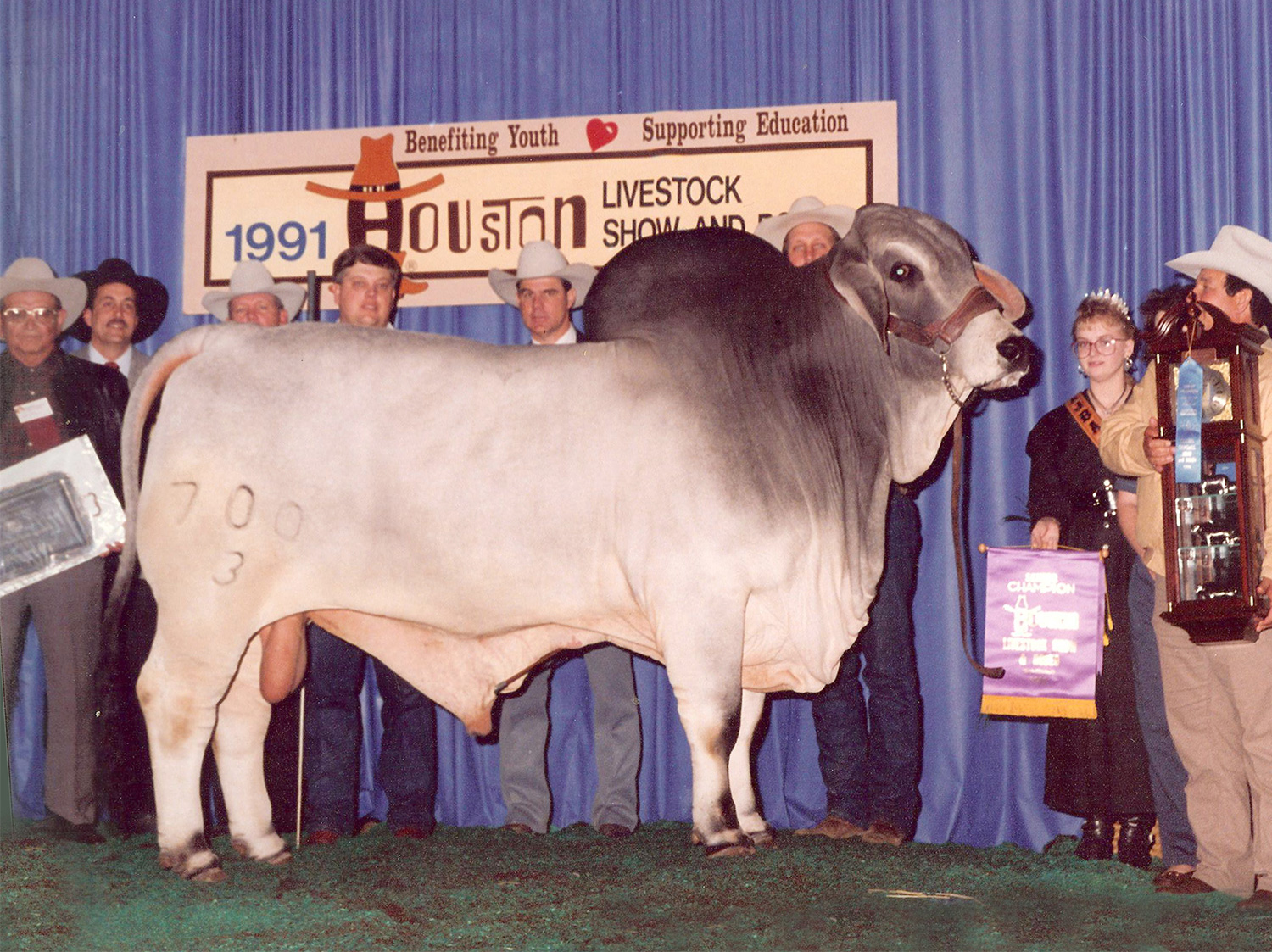 +Mr. V8 700/3, raised by V8 Ranch. An International Champion bull and the maternal grandsire of +Miss V8 805/6.
She was never named a national or international champion, but +Miss V8 805/6 still enjoyed a phenomenal show career. She was Calf Champion at the 2008 World Brahman Congress in Fort Worth, Texas under judge Billy Wayne Key, and a division winner at many major shows. Judges admired her tremendous length of body, outstanding profile, and big powerful hip. Although she excelled in the show ring, it was her production in the pasture that really earned +Miss V8 805/6 her place in Brahman breed history.
Born: January 2007, Boling, TX
Death: February 2019, Boling, TX

Number of Sons: 20
Number of Daughters: 23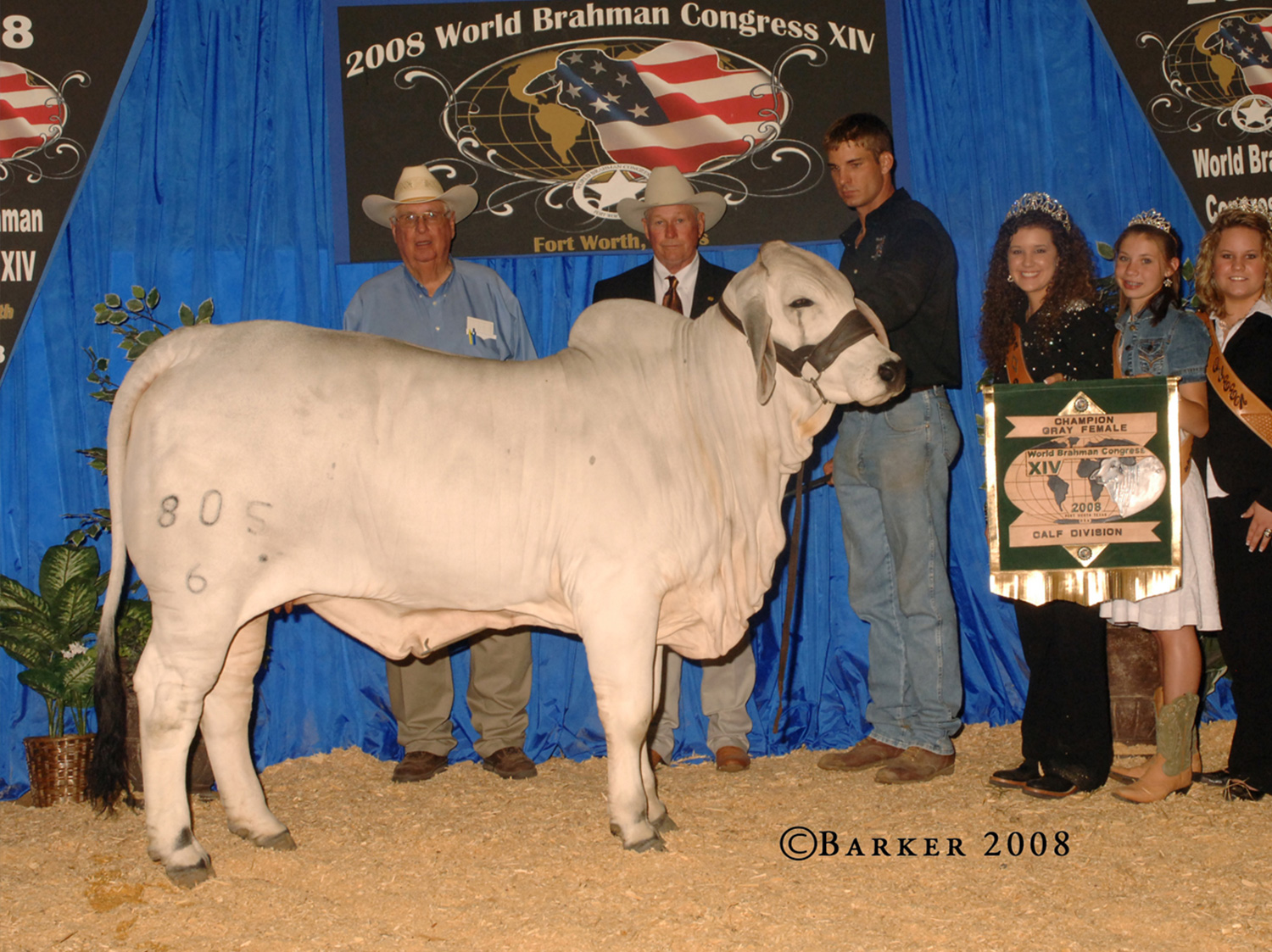 Miss V8 805/6 as Calf Champion Female at the 2008 World Brahman Congress held in the USA. Past V8 Herdsman Brett Muegge on the halter.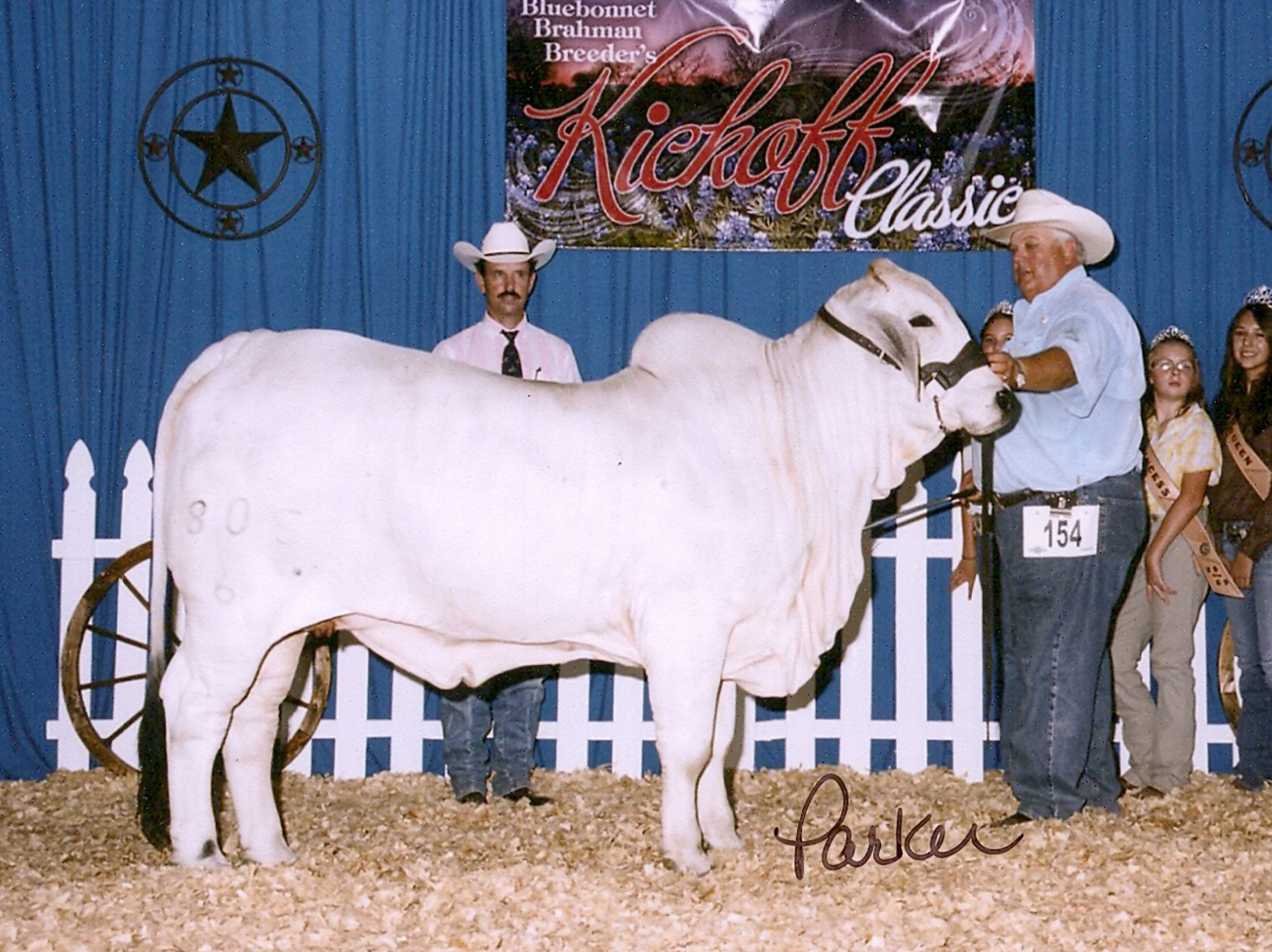 Jim Williams showing Miss V8 805/6 to Junior Champion at the 2008 Kickoff Classic Brahman Show.
In early 2019, we lost +Miss V8 805/6 at the age of twelve, which means this cow family is relatively new. At this writing, the second generation is entering prime production with an already well-established reputation for producing a legion of power bulls and females. This family is one of the most sought after in our herd, yet we rarely offer cattle from this group for sale because we keep so many of them. +Mr. V8 146/8 "Sloan," +Miss V8 805/6's son, is the breed's only three-time International Champion. Expectations for his first calf crop were very high, and yet, he exceeded all of our predictions and projections!
News Updates From This Cow Family…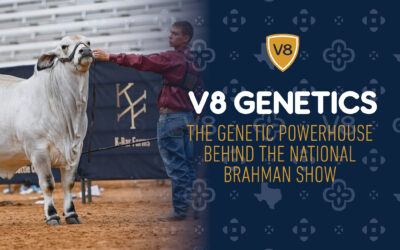 The National Brahman Show, held in Bryan, Texas, on November 9-10, 2023, became a platform for showcasing the top-tier...
Office Location
6329 FM 1096
Boling, Texas 77420
Phone Contacts
979-533-2056
979-657-3223 (fax)
Hours
M-F:  9:00 AM to 5:00 PM 
Weekends: Appointment Only

V8 Ranch, and the V8 brand are registered trademarks in the United States of America and may not be used without permission.