2020 International Brahman Show Results 
On the biggest stage of the year for the American Brahman breed, V8 genetics dominated at the 2020 Houston International Brahman Show. Individuals wearing the V8 brand brought home the coveted Grand Bull and Female titles, as well as five division championships and the Embryo Produce of Dam and Get-of-Sire crowns. 
"It's the equivalent of the Super Bowl and it's where the world comes to see American Brahman cattle. It's the show we work towards for 365 days a year, 24 hours a day, seven days a week. It's the hardest days of the year in many ways, but winning there means everything," described V8's Jim Williams.
This year will go down in the history books of the breed as Mr. V8 146/8 captured an unprecedented third consecutive title and his paternal sister, Miss V8 824/8 joined a long line of V8 branded females to be named the International Champion female.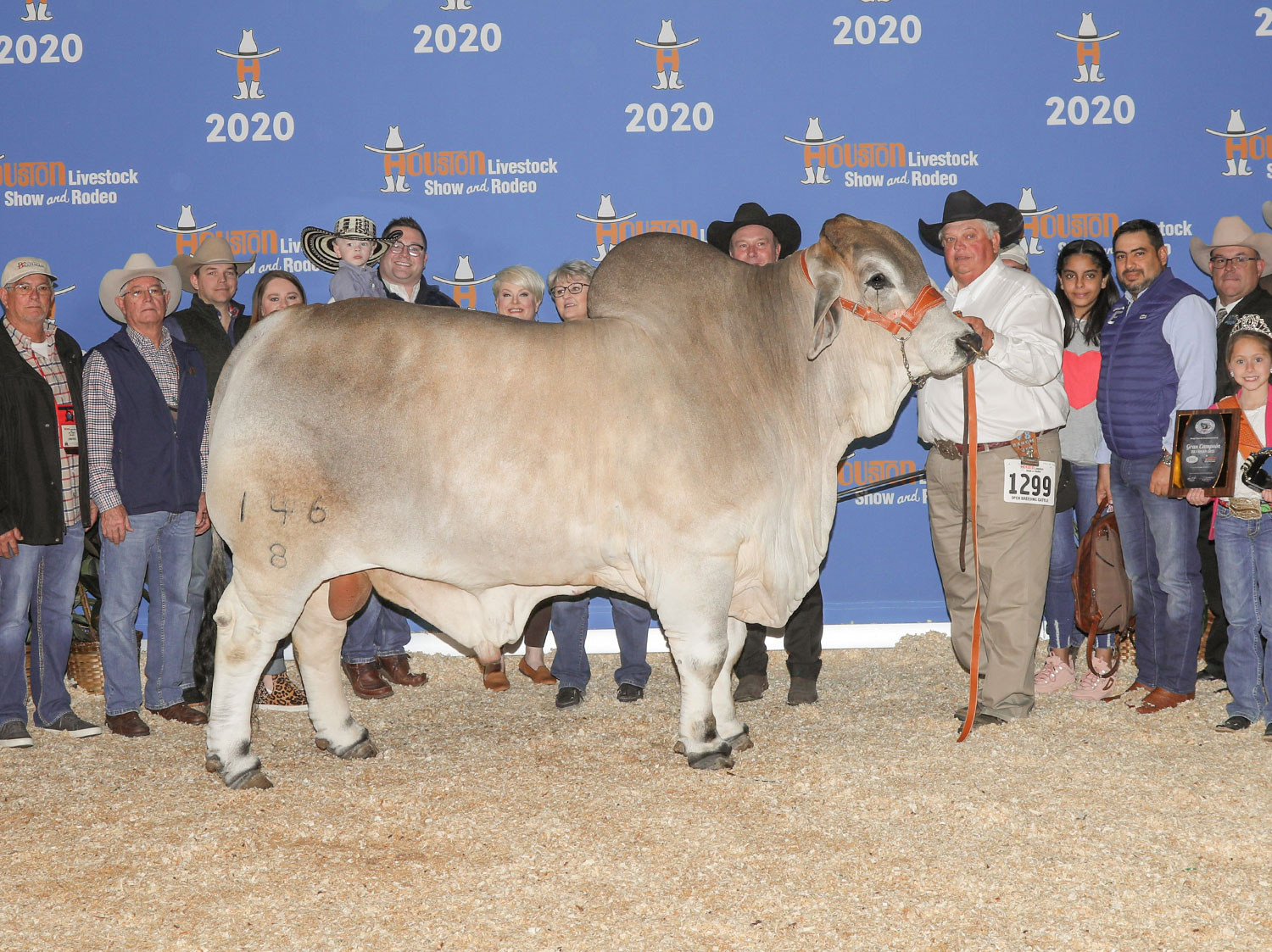 Grand Champion Bull
Mr. V8 146/8
Sire: +Mr. V8 458/7
Dam: +Miss V8 805/6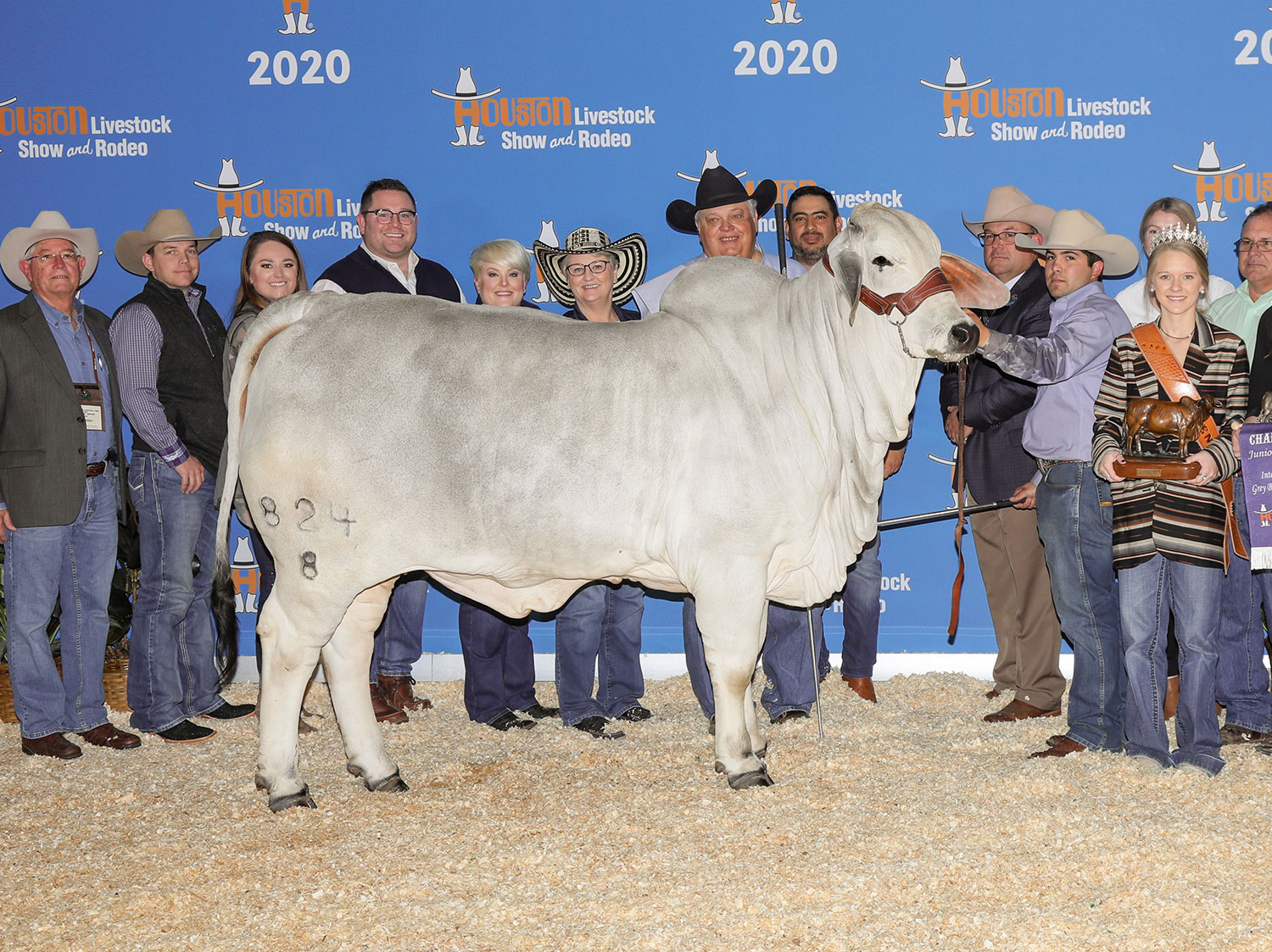 Grand Champion Female
Miss V8 824/8
Sire: +Mr. V8 458/7
Dam: Miss V8 21/8
Our 2020 International Champions are:
Mr. V8 146/8, sired by +Mr. V8 458/7 and out of +Miss V8 805/6. International Grand Champion Bull. Third time to win the honor and the only bull in breed history to do so.

Miss V8 824/8, sired by +Mr. V8 458/7 and out of Miss V8 21/8. International Grand Champion Female.

Mr. V8 562/8 "Guardian," sired by Mr. V8 933/7 "Yeti" and out of Miss V8 49/8. International Bull Calf Champion.
Mr. V8 322/8, sired by +Mr. V8 380/6 and out of Miss V8 33/8. International Junior Champion Bull and in 2019 he was the International Bull Calf Champion.
Miss V8 671/8, sired by +Mr. V8 458/7 and out of Miss V8 917/7. Owned by Walters Livestock Enterprises. She is a full sister to Mr. V8 195/8, "Red Man."
International Champion Get-of-Sire, progeny of +Mr. V8 380/6. This marks the fourth time his progeny have won this honor.

International Embryo Produce of Dam, progeny of +Miss V8 805/6, who is the dam of Mr. V8 146/8. 
The International Brahman Show is held in conjunction with the Houston Livestock Show and Rodeo. This year's judge was Pasquale Swaner.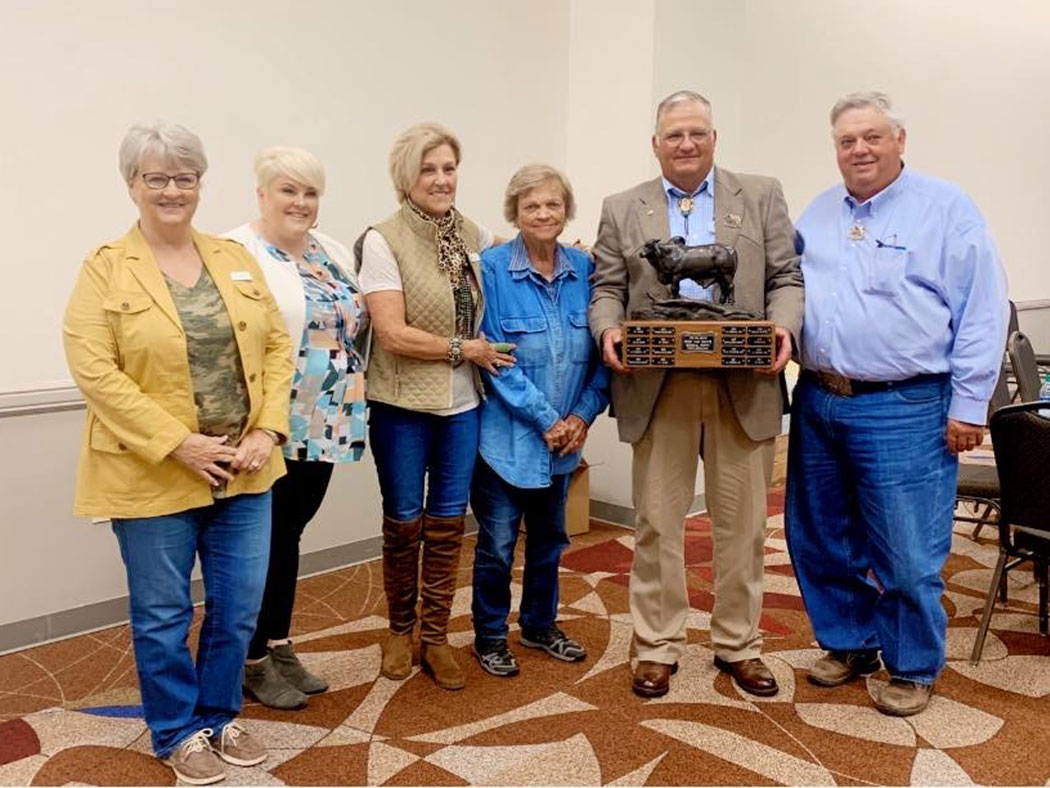 Pictured accepting the HK Trophy on behalf of V8 Ranch are (L-R) Luann Williams, Catherine Neumayr, Jan Powell, Mollie Williams, ABBA President Loren Pratt, and Jim Williams.
V8 Ranch Awarded HK Memorial Trophy at 2020 International Brahman Show
The ranch also was awarded The HK Memorial Trophy for the 2019 show season during this year's Houston. This is presented each year in memory of Henry Clay Koontz and is given to the ranch or individual who accumulates the most points at the previous year's International Brahman Show. This marked the 11th time V8 has won the award since its inception in 1986.
V8 Ranch Stall Party is Brahman Week Highlight
Another highlight of Houston is our annual V8 Ranch Stall Party and it was held the afternoon of March 4th.  We made it a festive time with hand passed appetizers and fellowshipping with our customers both from the U.S. and abroad.
During the party, exclusive offerings of semen were available on Mr. V8 146/8, +Mr. V8 191/7, Mr. V8 604/7 "Man of Steel", Mr. V8 195/8 "Red Man" and sexed semen on Mr. V8 274/7 "George".  Within two hours of the party, the offering was sold out and every buyer at the stall party was entered into our Luck of the Straw drawing. This was a new feature which created more excitement and fun at the party. The winners received rare semen from V8 Ranch bulls and the final winner took home a new semen tank donated by Elgin Breeding Service.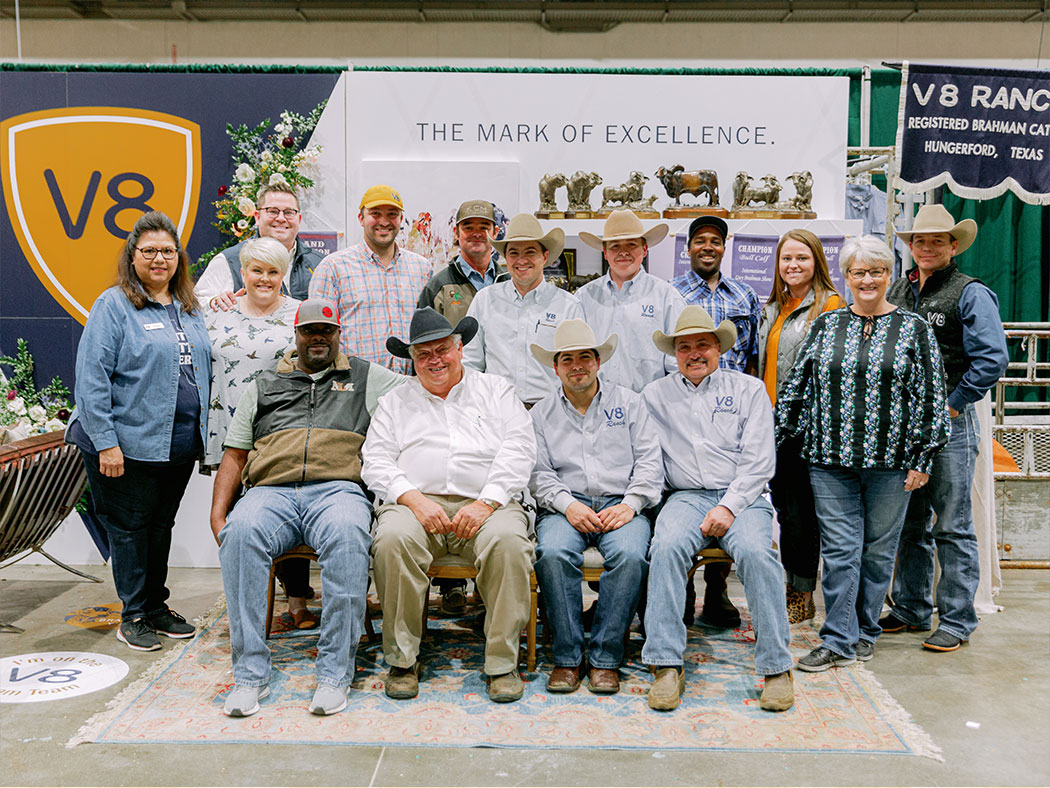 The V8 Ranch team pictured at the 2020 International Brahman Show. Standing L-R, Lydia Reyna, Catherine Neumayr, Luke Neumayr, JR Humphrey, Chris McCall, Brett Richard, Tyler Sanders, Marcus Faniel, Payton Jessee, Luann Williams, Joe Dodge Jessee. Seated L-R, Larry Fisher, Jim Williams, Clyte Best, Jeff Richard.