For the sixth year running, V8 Ranch has selected an official Bull of the Year from its herd. The title of 2021 Bull of the Year goes to Mr. V8 322/8. No stranger to titles, he is also the 2020 USA National Champion Bull. Representing the next generation of the +Mr. V8 380/6 Brahman Sire Line, the Williams family expects 322/8, who has already produced outstanding calves, to have a significant impact on the breed. In this video clip, Jim Williams details his many exceptional characteristics including masculinity, eye appeal; a very long, straight top line; a desirable long, level hip; good thickness and muscle, and excellent American Brahman breed character.
322/8 is sired by +Mr. V8 380/6, who is known for his power and consistency, with dam +Miss V8 33/8 of the Rose cow family, a matrilineal cow line that has been a mainstay of V8 Ranch for decades. The picture of femininity, +Miss V8 33/8, is a beautiful red-tinged, long-bodied daughter of +Mr. V8 191/7. But don't let her beauty fool you; she also possesses impressive muscle mass and depth of body. Phenotypically, she is one of V8's most impressive cows, embodying the ideal the Williams family strives for.
As a result, the 2021 Bull of the Year, Mr. V8 322/8, is balanced and stylish, with the length of body you'd expect from his dam, but the power and masculinity of his sire. Heavy-boned with excellent pigment and breed character, he has captured the limelight since his first time in the showring. 322/8 was also a two-time division winner at the Houston Livestock Show & Rodeo (aka the International Brahman Show), and is expected to have continued success in the Brahman breed.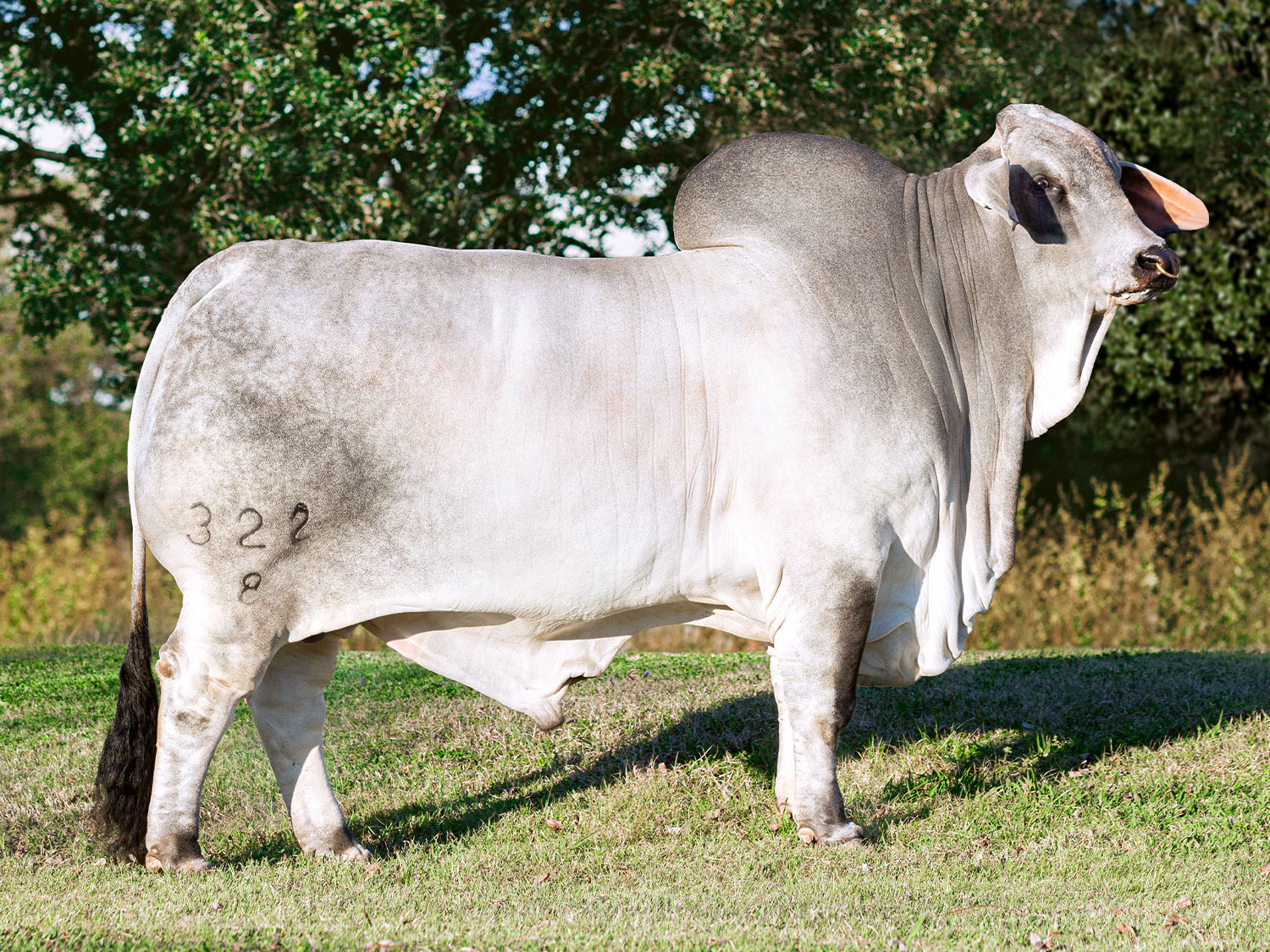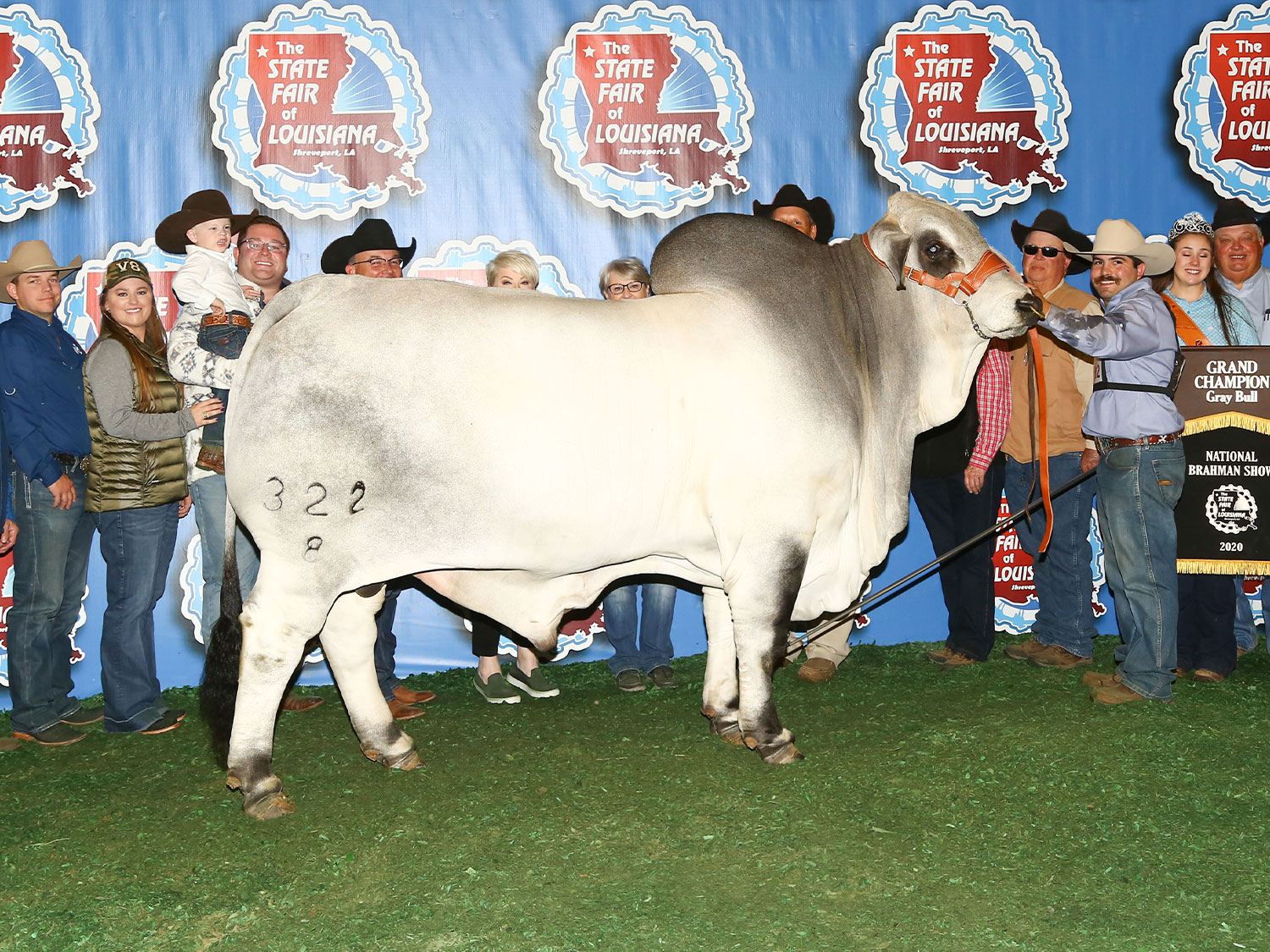 Mr. V8 322/8 was selected as 2020 National Champion Bull by judge Doug Pierce.
V8 Ranch Bulls of the Year
V8 Ranch named their first Bull of the Year in 2016, prior to the Houston show. Each year's selection is made by a family consensus as to which bull is the most promising and likely to join rank with the family's long line of legendary sires. During the International Stall Party, which takes place during the Houston Livestock Show Brahman Week, the family offers a limited amount semen of units from the Bull of the Year for sale. Last year's ten units sold out almost immediately.
The 2021 Bull of the Year Semen Offering
The 322/8 semen offering will take place during the V8 Ranch International Stall Party, taking place Thursday, March 25, 2021 at Waco, Texas from 2:00 to 4:00 PM CST. Only 20 units of semen on 322/8 will be sold, first come, first serve. The investment will be $10,000 per unit and this will include 5 certificates. Additional certificates will be available for $250. Buyers can purchase in person, online at shopv8ranch.com, or by phone at 979-533-2056.
To learn more about Mr. V8 322/8 and hear Jim Williams analysis of his strengths and potential, watch the 2021 Bull of the Year video clip.
Previous V8 Ranch Bulls of the Year were:
2020: Mr. V8 146/8, "Sloan"
2019: Mr. V8 933/7, "Yeti"
2018: Mr. V8 855/7
2017: Mr. V8 604/7', "Man of Steel"
2016: +Mr. V8 458/7, "Noble"