The 165/4 Cow Family
+Miss V8 165/4 Cow Family at V8 Ranch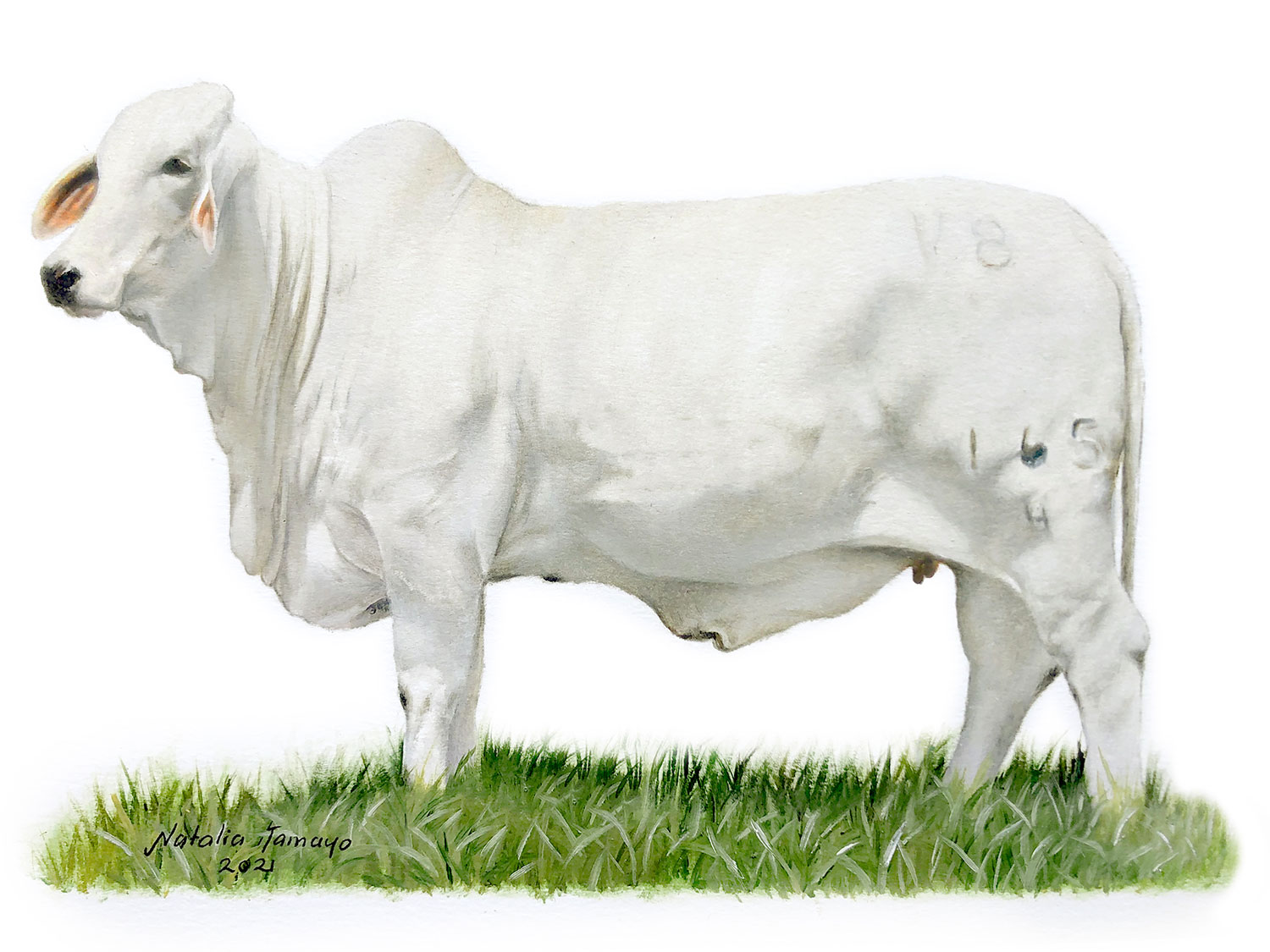 Born in 1990, +Miss V8 165/4 is a prime example of the outstanding daughters produced by +Mr. V8 666/3. Her dam, +Lady Bevo 910, joined our herd from the Herman Beville Ranch in Florida. Mr. Beville's cattle had a significant amount of Indu-Brazilian blood, and when the industry shifted to a preference for larger-framed animals, his cattle were right where they needed to be. Our good friend, Marcus Shackelford, was familiar with the Beville herd, and he had identified 910 as its top heifer. He and Sloan bought her for the V8 herd, and the rest is history! +Miss V8 165/4 was selected as the 1992 National Champion in Dallas, Texas, under Guatemalan breeder Neil Potter. In Houston, Judge Johnny Jeffcoat of Louisiana selected her as the 1993 International Champion. In total, +Miss V8 165/4 produced 55 offspring recorded by ABBA. A spinal injury during her early days as a donor female resulted in +Miss V8 165/4 living the rest of her life in isolation at V8 Ranch. For years, Jim and Luann's view from the window above their kitchen sink was of the majestic 165/4 in her pen. She weighed over 2,100 pounds at maturity.
One of the highest-valued Brahman females in the USA.
We've traced this cow family back to our original 1944 herd, beginning with Miss V8 9th, the 9th Brahman female to wear the V8 brand.
(+)JDH Atari Manso 601/1
(+)Mr. V8 202/3
+Empress of Sugarland101
SIRE: +Mr. V8 666/3
Mr. V8 827/1
+Miss V8 617/2
JRT Miss Burt Manso 093
Bevo 583
Bevo 951
Miss Bevo 511
DAM: +Lady Bevo 910
Bevo 167
Lady Bvo 697
Lady Bevo Repucho 389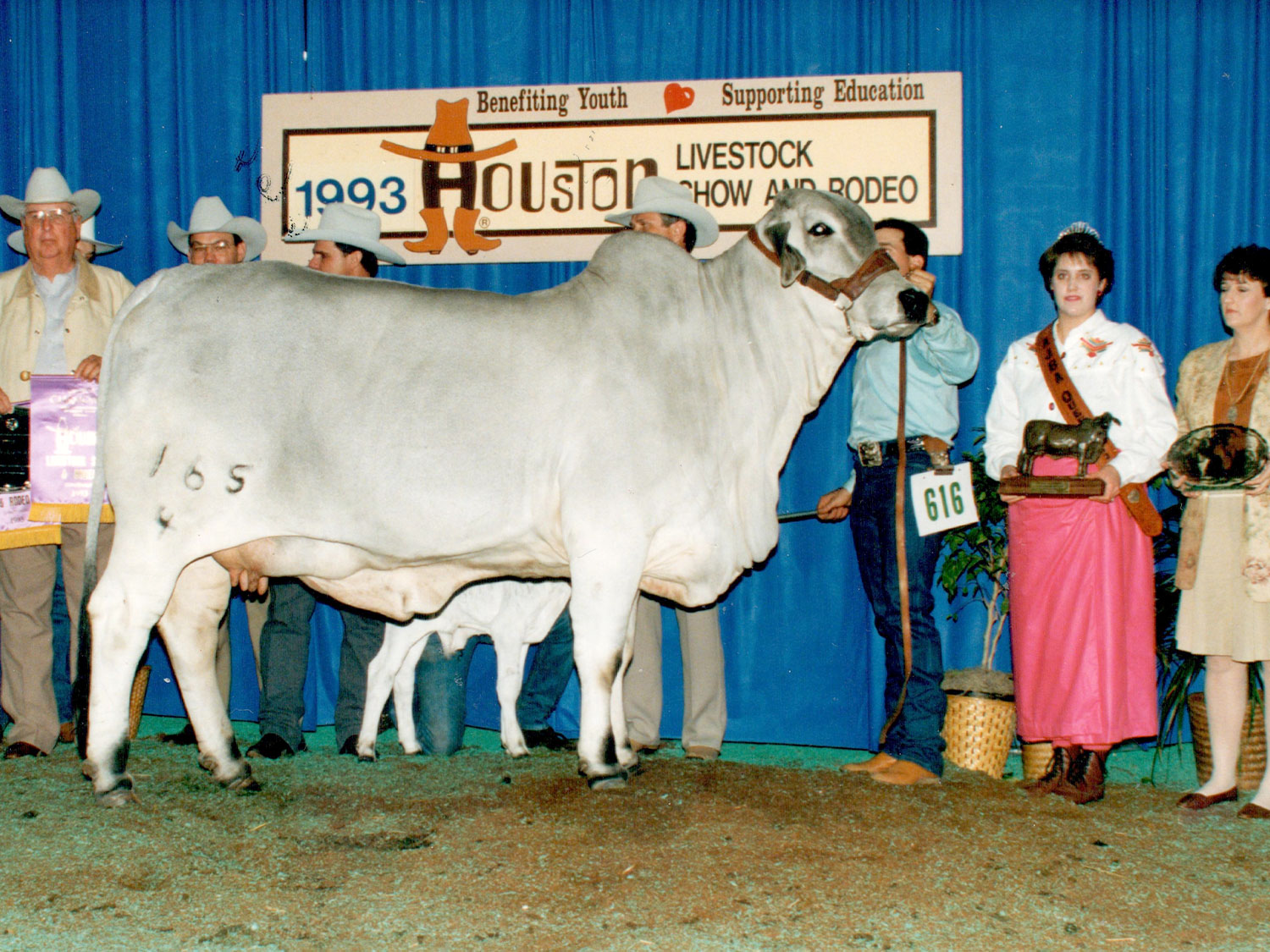 Pictured as the 1993 International Champion Female being shown by past V8 Ranch herdsman John Bedwell. She was also the 1992 National Champion Female.
This family boasts an impressive 5 National or International Grand Champion Titles.
Born: Spring 1990, Boling, TX
Death: Summer 2003, Boling, TX

Number of Sons: 29
Number of Daughters: 26

Three daughters of +Miss V8 165/4, each sired by a different bull, were International Champions. The next generation produced an International Champion bull, Mr. V8 730/5, "Tomcat." Today, the third and fourth generations are carried by the outstanding donor females Miss V8 829/6 and Miss V8 997/6, and their sons. 
News Updates From This Cow Family…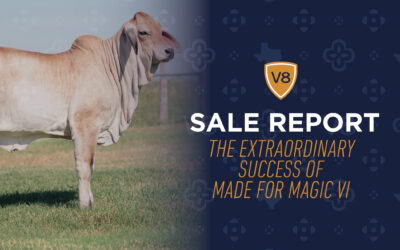 Made for Magic VI Showcases Elite Brahman Heifers and Shatters Expectations The highly anticipated Made for Magic VI...
For further study, explore the +Miss V8 165/4 cow family through these sires and donors at V8 Ranch that are in production at this time.
Office Location
6329 FM 1096
Boling, Texas 77420
Phone Contacts
979-533-2056
979-657-3223 (fax)
Hours
M-F:  9:00 AM to 5:00 PM 
Weekends: Appointment Only

V8 Ranch, and the V8 brand are registered trademarks in the United States of America and may not be used without permission.