Strong Interest and Bidding for V8's Made For Magic II Offering
An elite lineup of six January born heifers from V8 Ranch, Hungerford, Texas drew a ranch record of 1,002 bids in the Made For Magic II Online Sale, October 19 and 20th. The offering averaged $59,542, as breeders expressed a strong desire to add the V8 brand and genetics to their herds.
"One thing that's been a mainstay for years at V8 Ranch is outstanding females. As I always say, 'the magic is in the cows,' and this spring we had what we feel was the deepest set of January heifers we've ever had born. The interest in this set of females was exceptionally strong and we're humbled by the number of breeders who evaluated and bid during the two day sale, " described V8's Jim Williams.
The six head chosen for this sale were separated by only five days in age and featured some of the leading genetics of the V8 program. All were products of V8's extensive embryo transplant and have been standouts since birth.
V8 Genetics Shine through the Made for Magic II Heifer Offering
Garnering the top selling position was the Lot 5 heifer, Miss V8 281/9 as Ki Cattle Company of San Augustine, Texas made the final bid of $85,500 to own her. She is a daughter of Mr. V8 146/8, the reigning and only three-time International Champion and her dam, Miss V8 33/8 traces back to the Rose Cow Family at V8. Miss V8 281/9 has been a very popular heifer on the ranch — not just since she was born, but even as the mating was decided. She is a maternal sib to the 2019 International Calf Champion and 2020 International Junior Champion Bull, Mr. V8 322/8. She commanded attention throughout the sale and has the pedigree, profile and performance to be an impact female in producing both grey and red Brahmans.
Ki Cattle Company also purchased the second high selling female, the Miss V8 280/9 heifer at $65,500 and she was the Lot 4 heifer.  This female offered generations of predictability, a desired profile, strong performance numbers and epitomized V8's maternal magic.  Miss V8 280/9 is a daughter of +Mr. V8 458/7 "Noble" and her dam, Miss V8 442/8, adds the genetics of +Mr. V8 191/7. In addition, her maternal granddam is +Miss V8 696/6, who has two daughters bred by V8,  currently considered the "Queens of ABBA Performance." She can be used to produce grey and red Brahman genetics, which added to her value. She is in the top 1% in the breed for yearling weight and docility; top 2% for weaning weight;  top 3% for ribeye area; top 4% for carcass weight and top 5% for tenderness.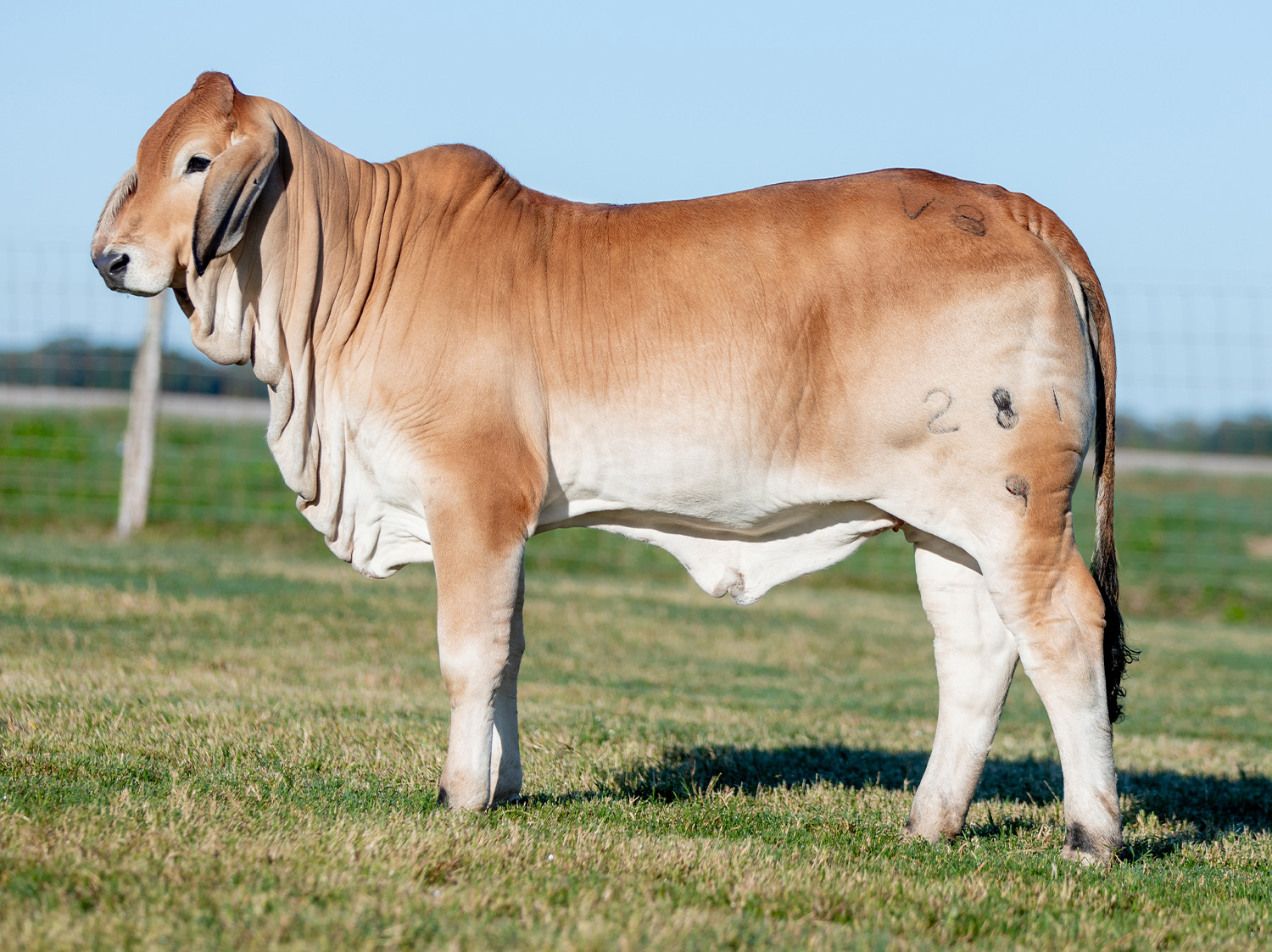 Lot 5, Miss V8 281/9
Sold for $85,500 to Ki Cattle Company, San Augustine, Texas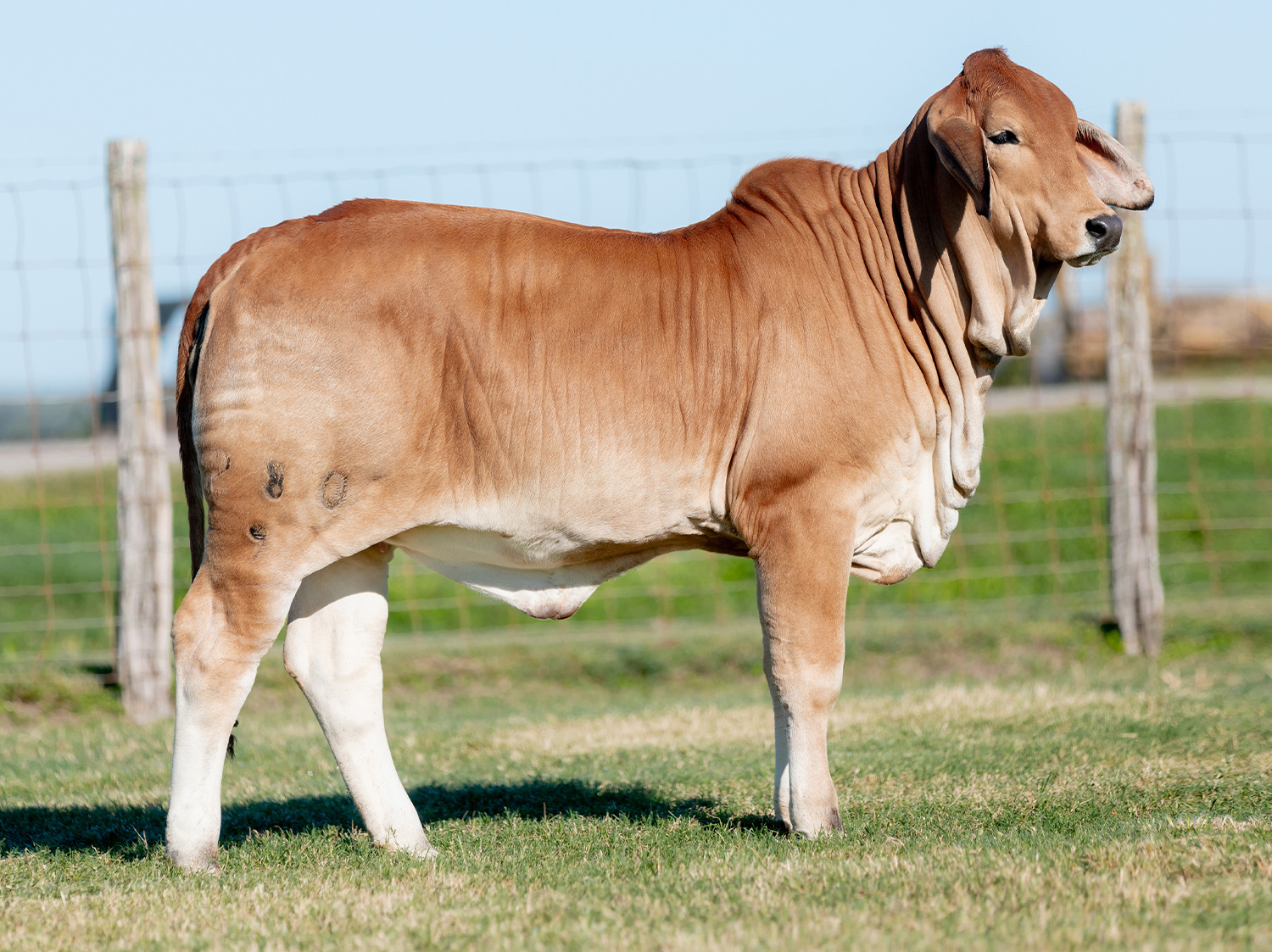 Lot 4, Miss V8 280/9
Sold for $65,500 to Ki Cattle Company, San Augustine, Texas
New Brahman Breeders Select V8 Females from Made for Magic II
Tate Barnes of 76 Ranch in Timpson, Texas placed the top bid of $62,500 to add the Lot 2 heifer to his program. Miss V8 275/9 is a daughter of +Mr. V8 191/7 and goes back to +Mr. V8 380/6 on the maternal side. Her dam, Miss V8 401/8 was selected as the heifer Sloan Williams gave to his great grandson, Knox to start his herd and tradition says the heifer selected for the Williams' grandchildren and great grandchildren are the best of that crop. Miss V8 275/9 has a double dose of the +Ms Claydesta 203-807U5 cow, which originated one V8's most prominent cow families. The Lot 2 heifer is also a paternal sister to Mr. V8 604/7, "Man of Steel" and Mr. V8 933/7 "Yeti."  In addition, she has tremendous length of body and a striking profile.
Miss V8 282/9 sold for $52,500 and joined the growing program of Razorback Farm in Oakwood, Texas. Her pedigree features the proven cross of "Noble" and "The Machine." Her sire is  +Mr. V8 458/7 "Noble" and Miss V8 591/7, a +Mr. V8 380/6 "The Machine" daughter is her dam. She traces back to some of V8's highest performing donors, +Miss V8 188/5 and +Ms Claydesta 203-807U5. She offered bidders an opportunity to own a heifer with dark pigment, refinement, femininity, muscle and shape.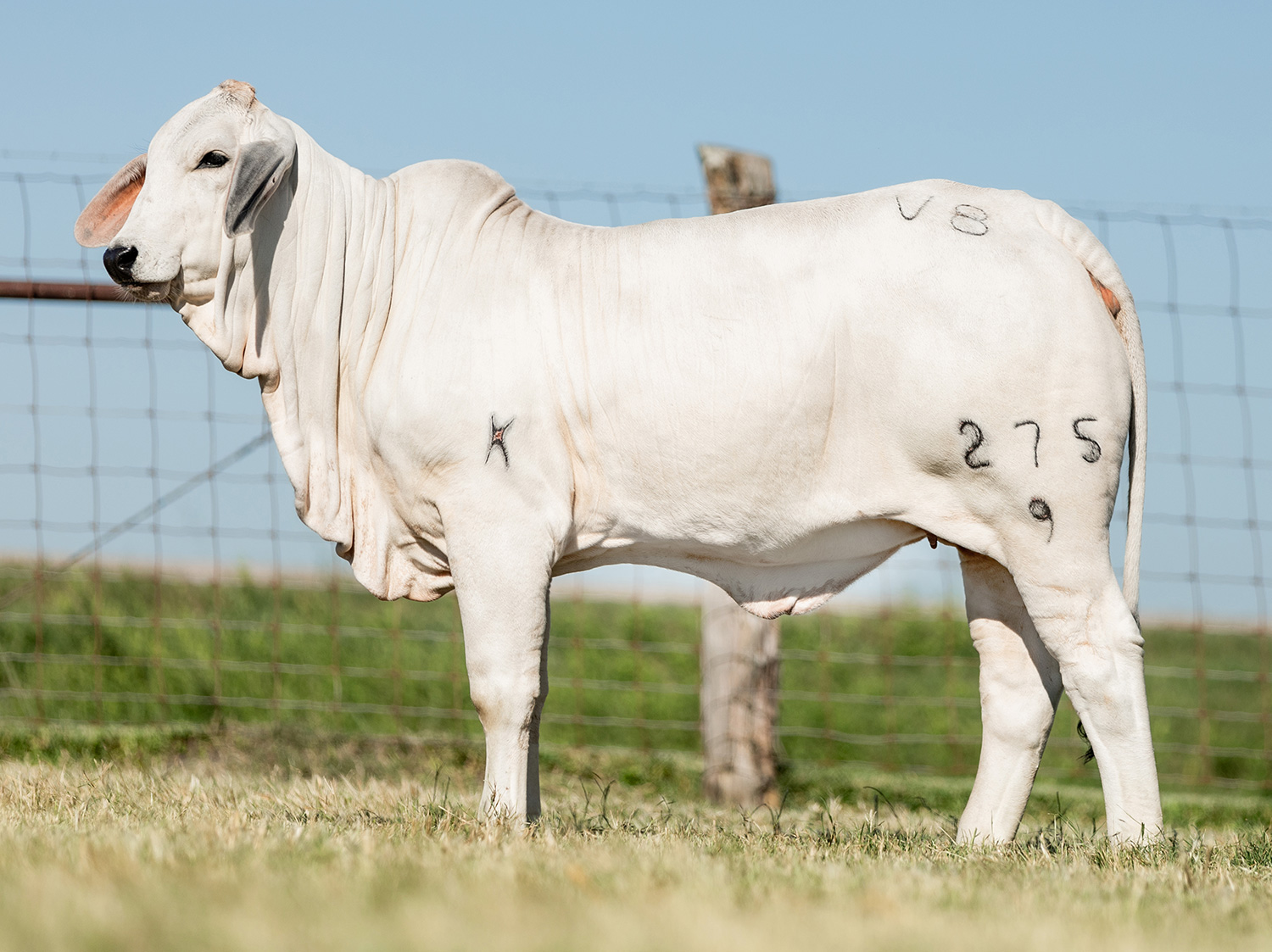 Lot 2, Miss V8 275/9
Sold for $62,500 to 76 Ranch, Timpson, Texas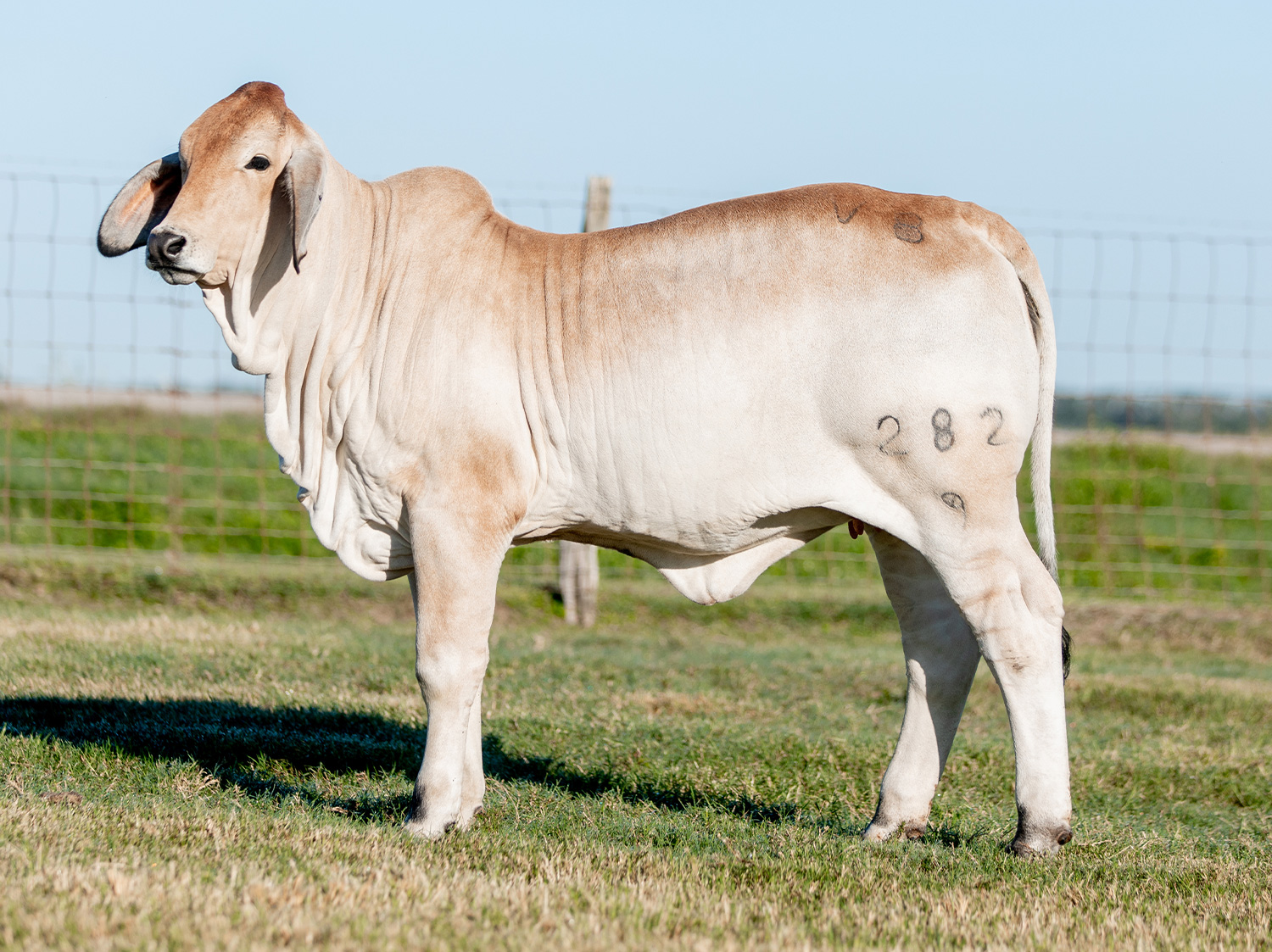 Lot 6, Miss V8 282/9
Sold for $52,500 to Razorback Farm, Oakwood, Texas
Repeat Customers from Texas Place the Final Bids in V8 Ranch Sale
The Lot 3 heifer featured a genetic cross that has been one of the most successful for the V8 Ranch, now in its 76th year of production. Miss V8 276/9 is a daughter of +Mr. V8 380/6 and out of the Avery Manso daughter, Miss V8 952/6, who is a sister to the dam of Mr. V8 146/8. This cross has generated several outstanding breeding pieces for V8 and a number of other breeders. Miss V8 276/9 presented a package of femininity, refinement, thickness and muscle, plus she is a carcass EPD powerhouse as she ranks in the top 5% for carcass weight, marbling, retail product and top 3% for ribeye area. She was purchased by SRS Land & Cattle, Mercedes, Texas for $48,750.
The final heifer in the offering, Miss V8 273/9  was purchased by Bradley Arms of Pasadena, Texas for $42,500. She featured the sire power of Mr. V8 146/8, the only three-time International Champion in the breed's history and her dam is a cow purchased by V8 Ranch from J.D. Hudgins, who is proving to be a very consistent producer of quality in embryo transplant. This female combines the best of V8 and JDH breeding and provides a tremendous foundation for the new owner. In addition, 273/9 ranks in the top 3% for weaning weight and top 2% of the breed for yearling.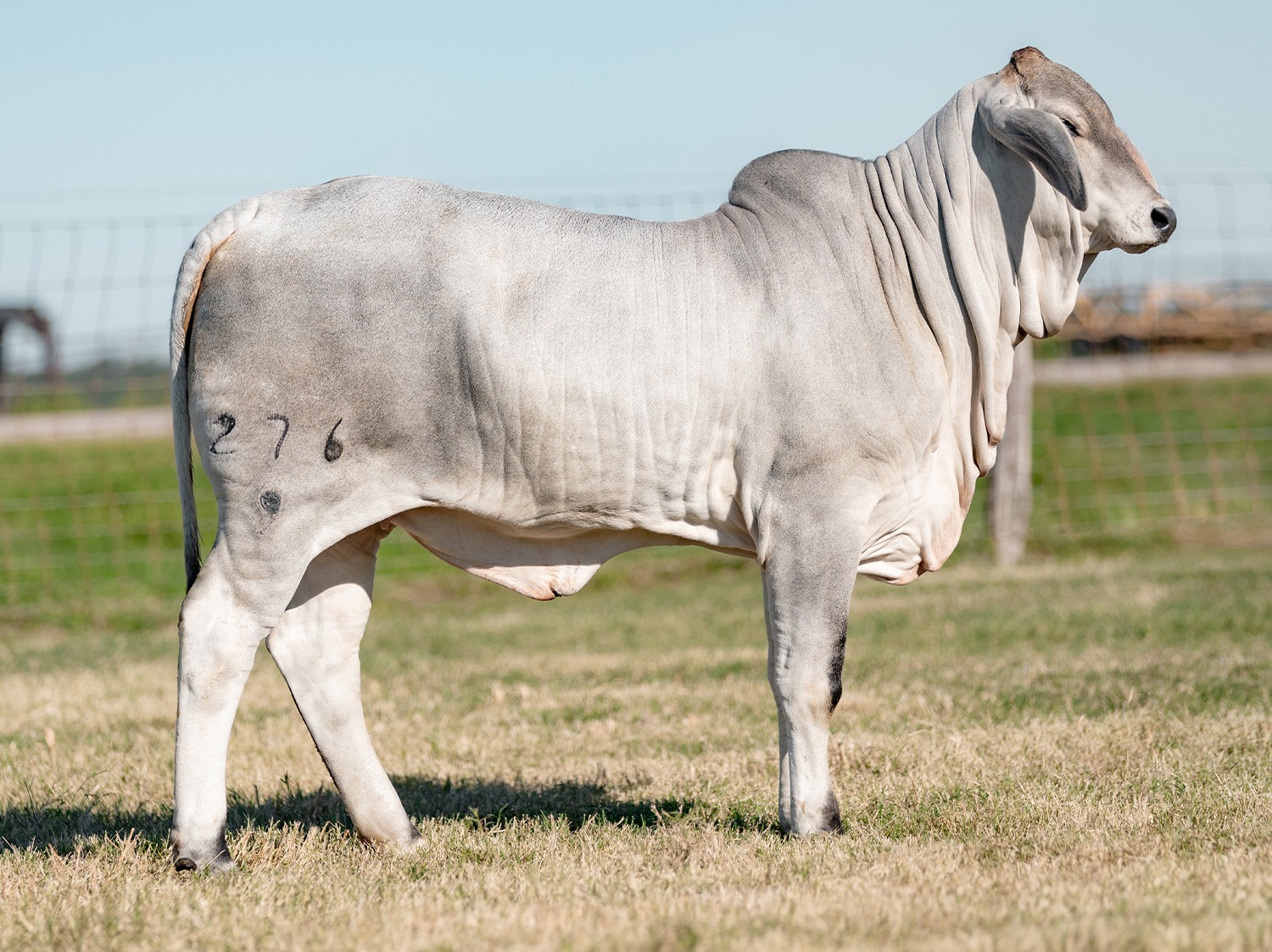 Lot 3, Miss V8 276/9
Sold for $48,750 to SRS Land & Cattle, Mercedes, Texas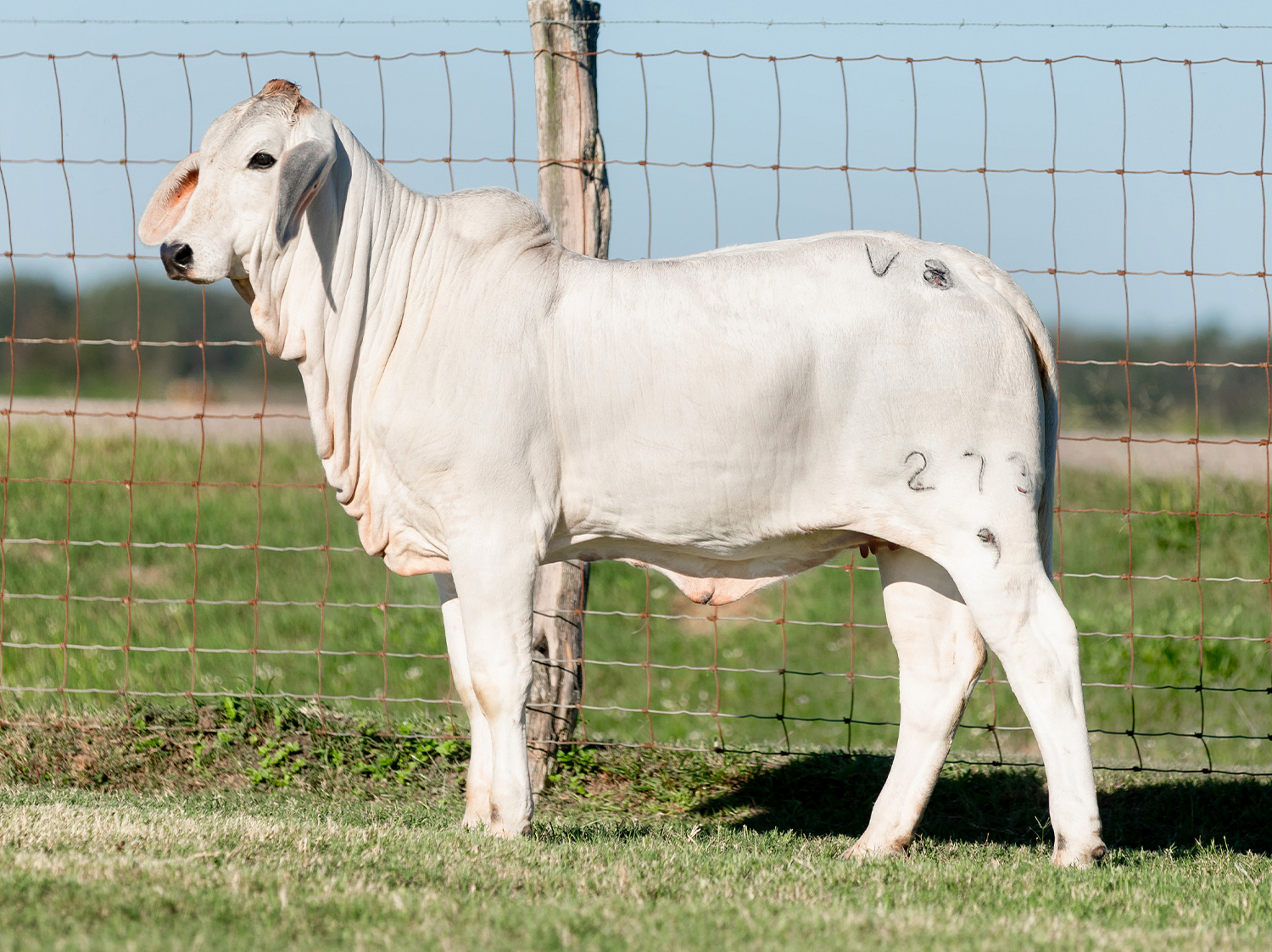 Lot 1, Miss V8 273/9
Sold for $42,500 to Bradley Arms, Pasadena, Texas
V8 Ranch Sale Garners Excitement and Confidence
The two day sale concluded at the designated time with no extending bidding as breeders bid and purchased with full confidence in the elite offering, the storied V8 breeding program, and Williams family.  V8 Ranch, headquartered in Hungerford, Texas is owned by Sloan and Mollie Williams and today involves four generations of their family.
"Nothing makes us prouder than seeing the V8 females that sell in our sales grow into leading donors for their new buyers. We appreciate the interest and confidence expressed for V8 genetics and our family looks forward to watching these young females develop and impact the breed," concluded Williams.
For additional information and contact information on V8 Ranch, please visit their website at www.v8ranch.com.